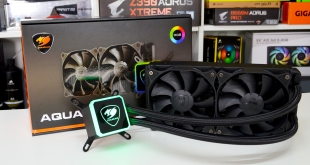 While Cougar may not be the most well-known or household name in the enthusiast computing scene, the company does offer some pretty good value gear. Currently the Cougar Aqua 240 all-in-one closed-loop CPU cooler is priced under £55 here in the UK, which sounds like amazing value for a 240mm closed-loop CPU cooling solution. But the question is, how does it stack up against the big boys in terms of performance and how much does that low price tag compromise the features and build quality? Let's find out.
Watch via our Vimeo channel (below) or over on YouTube at 2160p HERE
If the specifications are anything to go by, on paper the Aqua 240 should perform as well as any other 240mm AIO with its 27mm thick aluminium radiator, 3200 RPM pump and high speed 2000 RPM fans. The Aqua 240 also includes PWM fan speed control, reinforced rubber tubing with premium looking braided sleeving and a wide range of CPU socket support covering all mainstream desktop platforms from Intel and AMD.
The Cougar Aqua 240 also includes full addressable RGB lighting effects integrated into the pump/CPU block housing. The RGB lighting can be controlled in two ways, either directly connected to a 5V ARGB motherboard header and configured in sync with the motherboard software or by using the wireless remote controller Cougar has bundled inside the box. The Aqua 240 has all the features of a premium AIO but without the premium price tag, so how has Cougar managed this?
Cougar has remained tight-lipped about who is the OEM supplier for the Aqua 240 AIO series, a keen eye tells us that this is supplied by neither of the big players such as Asetek or CoolIT, so an educated guess would suggest that the OEM supplier for this cooler series is a lesser-known Chinese company which instantly could be a worry since the cooler only comes with a one year warranty.
Other manufacturers of all-in-one closed-loop coolers often provide up to a five-year warranty on their products these days, however, such coolers can cost anything up to four times the price of the Aqua 240 so should we really expect the same level of warranty? Perhaps not.
Cougar has equipped the Aqua AIO series with a 12V DC pump that operates at up to 3200RPM powered by a standard SATA power connector, which indicates that manual adjustment of pump speed is not possible. At the base of the CPU block is a copper thermal transfer plate with micro skived fins typical of all-in-one closed loops coolers these days.
RGB lighting features are reserved for the CPU block top cover only, the fans feature a subtle plain black colour scheme. RGB lighting can be connected directly to the motherboard 5V ARGB header or controlled using the wireless controller which doesn't require any drivers or software installing to use, which in my opinion is another big plus point.
The Vortex WB 120 fans included with the Aqua 240 offer full PWM speed control via standard 4-pin motherboard connections so no proprietary connections with this AIO. The fans have a broad PWM speed range of 600-2000 RPM offering great scope to tune fan curves to suit the user's preference. Vortex WB 120 fans are equipped with a Hydro-Dynamic type bearing, 87.1 CFM max airflow and high static pressure of 2.93 mm-H2O, perfect for use in conjunction with radiators.
In terms of CPU socket compatibility, the Cougar Aqua supports all current desktop platforms including Intel socket LGA 775 / 1155 / 1156 / 1151 / 1150 / 1366 / 1200 / 2011 / 2066 as well as AMD AM4/FM2 / FM1 / AM3+ / AM3 / AM2+AM2. Aqua 120 and 240 AIOs do not support AMD socket TR4, which is no great surprise at this price point, however, the 280mm and 360mm Aqua AIOs do offer TR4 compatibility.
Key Features
Low cost
Addressable RGB lighting
High-speed pump
PWM fan control
Wireless RGB controller
Specification
Water Block & Pump Dimensions
60 x 60 x 50 mm (WxDxH)
Cold Plate Material
Copper
Pump Speed
3200 ± 10% R.P.M
Pump Rated Voltage
12 VDC
Pump Rated Current
0.39 A
Pump Power Consumption
322mm x 137mm x 27mm
Software Compatibility
4.68 W
Water Block Connector & Control
SATA & 3-pin 5v RGB
Radiator Dimensions
274x120x27mm  (WxDxH)
Radiator Material
Aluminium
Tubing Material
Durable Rubber with Sleeves
Tubing Length
400mm
Fan Model
Vortex WB 120
Fan Dimensions
120 x 120 x 25 mm (WxDxH)
Fan Speed
600-1800 ± 200 R.P.M
Fan Air Flow
87.1 CFM (Max.)
Fan Air Pressure
2.93 mm-H2O (Max.)
Acoustic Noise
<40 dBA (Max.)
Fan Rated Current
0.32 A
Fan Rated Voltage
12 VDC
Fan Power Consumption
3.84 W
Fan Bearing Type
Hydro-Dynamic Bearing
Fan Cable Length
600mm
Fan Connector & Control
4 Pin PWM
Socket Compatibility
Intel Socket LGA 775 / 1155 / 1156 / 1151 / 1150 / 1366 / 1200 / 2011 / 2066
AMD AM4/FM2 / FM1 / AM3+ / AM3 / AM2+AM2 CPU / TR4 CPU*
*(AQUA 120/240 NOT compatible with TR4 socket)
Warranty
One Year
Be sure to check out our sponsors store EKWB here