In terms of outright value for money, the Cougar Aqua 240 is difficult to ignore, although there is some tough competition in this price range from the likes of the Arctic Liquid Freezer II 240. The Liquid Freezer II 240 does slightly outperform the Aqua 240 when noise levels are normalised, but in raw thermal performance tests with the fans running at full speed, the Aqua 240 just overtakes the Liquid Freezer II 240.
This raw thermal performance comes at a cost, which is the higher noise levels with those high-speed fans running at 2000 RPM, although the Aqua 240 is by no means the loudest all-in-one cooler we have tested. At just over 46dbA, noise levels are noticeable but not too distracting, however, some may find the noise level at full speed a little annoying so fan curves may need to be tuned to your preference.
One area where you can't knock the Cougar Aqua 240 and where it offers a little more than the Arctic Liquid Freezer II is the built-in features, particularly the addressable RGB lighting. Cougar has done a great job by shoehorning in ARGB lighting effects at this price point, with two modes of control and all for under £55 which is the really impressive part.

Sometimes when RGB lighting effects are added to products on the cheaper end of the scale, they don't always look great. This is not the case with the ARGB lighting built into the Aqua 240, the light is diffused well, there are no real LED hotspots, lighting is bright and vivid and the fact that you get the choice of either control via direct connection to the motherboard or via a wireless remote is pleasing too.
Another area of the Cougar Aqua 240 that I am impressed with is the installation and final appearance of the installed product. Hardware installation is very straightforward, with easy to understand instructions and there are no additional drivers or software installations needed for the cooler to be fully functional nor any proprietary or additional cables which provides a very neat installation.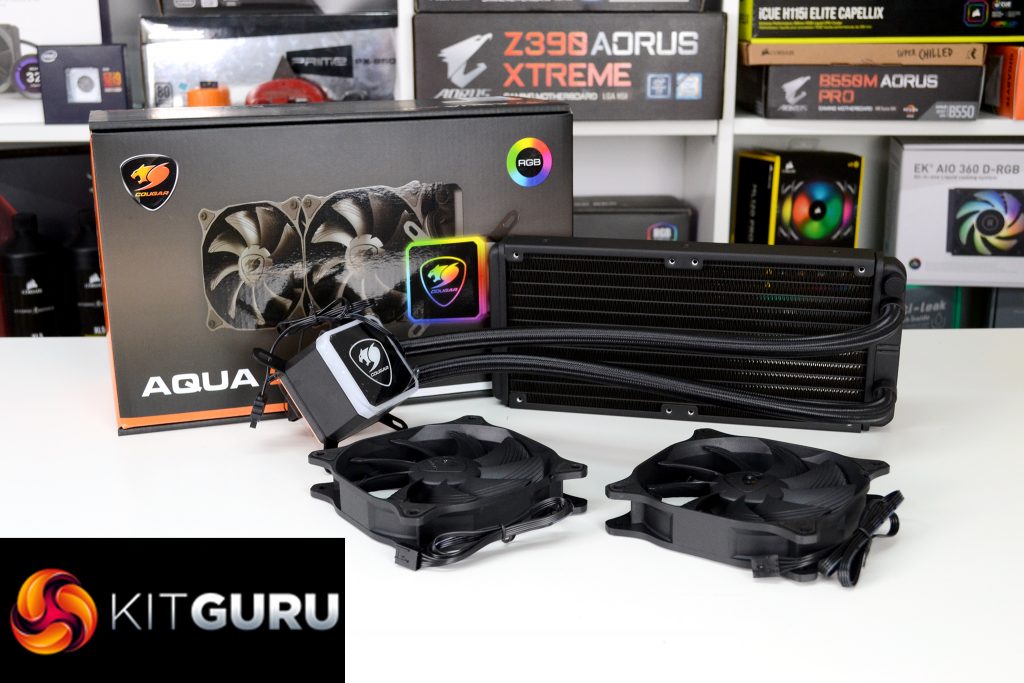 So, the thermal performance is solid, the built-in features are great for the money, how about the appearance and build quality? Again this is another area that is difficult to find fault, you get all the aesthetic enhancements and features of premium AIO coolers such as the RGB lighting, braided tube sleeving, articulating 90-degree fittings, all the plastics seem to be of decent quality and the black coating on the radiator is as good as any.
All this does start to make you wonder why other companies keep on getting away with charging so much for AIO coolers when Cougar can offer all these features for under £55 when others are charging twice as much or even more. If you want all the features of a premium AIO as well as solid thermal performance, the Cougar Aqua 240 is a very good bet.
The only thing I will say that may sound slightly negative towards the Aqua 240 is the fact that it is manufactured by an unknown OEM and Cougar are only offering a standard one year warranty with it. Other higher-priced AIOs often come with up to a five-year warranty which may partly justify the additional costs. Without being able to find the durability or longevity of the product during the short time we get to test them during a review, it is impossible to say whether the cooler will stand the test of time.
However, if you are on a budget but determined to use all-in-one closed-loop liquid cooling for your next build and need some addressable RGB lighting, the Cougar Aqua 240 may well be worth a punt at this incredibly low price. I would certainly be tempted to purchase one myself for a budget RGB build in the future.
The Cougar Aqua 240 all-in-one closed-loop CPU cooler can be purchased from Amazon UK for £52.98.
Discuss on our Facebook page HERE.
Pros:
Excellent value for money.
Solid thermal performance.
Good RGB lighting effects.
Cons:
Short warranty.
Lack of pump speed control.
KitGuru says: When it comes to value for money you can't fault the Cougar Aqua 240, it has all the features of more expensive alternatives but without the premium price tag. Thermal performance and build quality didn't prove a concern either, but only time will tell whether the short one year warranty period could prove to be an issue.