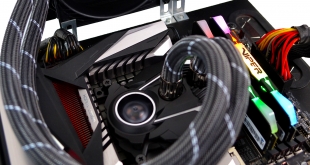 Arctic is back with a brand-new all-in-one liquid CPU cooler. The Liquid Freezer II is a follow up to their original Liquid Freezer range of AIO coolers. With some interesting features on show, the Liquid Freezer II will attempt to knock our current best performing all-in-one cooler, the Deepcool Castle 240EX off its throne when we put it through its paces on our test bench later.
The Liquid Freezer II features a completely new, PWM-controlled pump design, which offers improved efficiency with low power usage and quiet operation. Arctic says the new Liquid Freezer II pump ensures an ideal ratio of a high CPU cooling performance and a low noise level.
In addition to the new pump design, Arctic has fitted the Liquid Freezer II with an integrated motherboard VRM cooling solution – something which we have often hoped to see on an AIO cooler. Arctic has designed a 40mm blower type fan setup into the pump body which potentially can blow cool air out in three directions; this should help with VRM cooling, which in turn can improve performance.
Arctic claim the Liquid Freezer II is more efficient than all-in-one solutions from competitors. Unlike most pumps from other manufacturers' competitors, which run at full load even when idle, Arctic say their pump clocks down, consuming less power and producing reduced noise when less cooling performance is needed.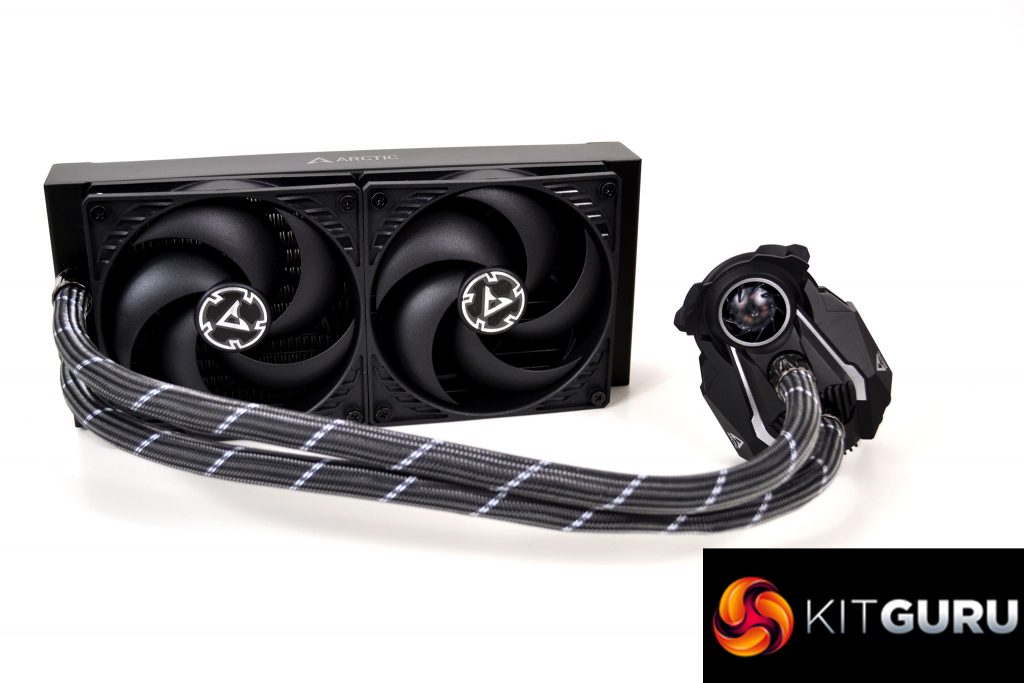 Another very interesting design feature of the Arctic Liquid Freezer II is its extremely neat and tidy appearance. Arctic has integrated cable management into fully sleeved tubes for a clean look in your PC's case. Both fan cables run inside the tube sleeving and connect to the pump housing. A single cable then comes from the pump and connects to the motherboard, which drives both fans and the pump.
Arctic markets the Liquid Freezer II as an all-in-one liquid cooler that is designed for extreme overclocking and claims it can dissipate heat up to 300 W TDP. The Liquid Freezer II is fitted with two Arctic 120mm pressure optimised fans, which are designed for high static pressure output and best performance when radiator mounted.
Overall, the aesthetics of the Liquid Freezer II are very simple. Most of the cooler is black, there are a few silver highlights here and there and some white detail on the tube sleeving. One glaringly obvious omission from the Liquid Freezer II is LEDs, there's no hint of RGB lighting anywhere, which is a refreshing change. However, some users may not follow our train of thought on this.
Key features
Motherboard VRM cooling fan
Efficient pump design
Integrated cable management
Designed for extreme overclocking
Braided sleeved tubing
Specifications
Pump/Cold Plate
VRM Fan – 40 mm, 1.000 – 3.000 RPM (Controlled by PWM)
Pump – 800 – 2.000 RPM (Controlled by PWM)
Power Consumption – 1.0 W – 2.7 W (Pump and VRM Fan)
Cold Plate – Copper, Micro Skived Fin
Tube Length – Liquid Freezer II 240: 450 mm
Tube Diameter – Outer: 12.4 mm Inner: 6.0 mm Dimensions w/o tubes (L x W x H) 98 mm x 78 mm x 53 mm
Fan
Fan – Liquid Freezer II 240: 2x P12 – 120 mm fan
Fan Speed – 200 – 1 800 RPM (Controlled via PWM)
Airflow – 56.3 CFM
Static Pressure – 2.2 mm H2O
Current/Voltage – 0.08 A/12 V DC
Bearing – Fluid Dynamic Bearing
Noise Level – 0.3 Sone
Connector – 4-pin-Connector
Dimensions – 120 x 120 x 25 mm
Radiator
Material – Aluminium
Dimensions – (L x W x H) – Liquid Freezer II 240: 277 mm x 120 mm x 38 mm
General
Socket Compatibility – Intel 115X, 2011-3*, 2066* AMD® AM4
Thermal Compound – MX-4 (0.8 g)
Total Weight (Fans, Radiator, Pump, Tubes) – 1191g
Be sure to check out our sponsors store EKWB here