The Arctic Liquid Freezer II is packaged in a rather compact box, meaning nothing has been wasted and the cooler is packed in tightly to prevent it rattling around and getting damaged easily. On the front of the box is a large image of the cooler with logos and branding around it. On the rear are images detailing the key features.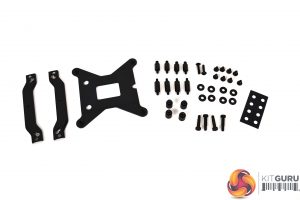 Arctic has included installation hardware for both Intel and AMD socket types. Arctic seems to have simplified the installation procedure as the number of fixings included is relatively minor compared to some other all-in-one designs.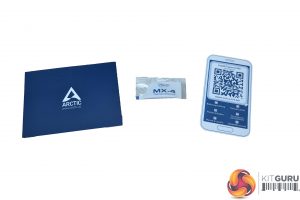 Along with the installation hardware, Arctic has included a compliment card with support information inside, a sachet of Arctic MX-4 thermal compound and a QR code to scan, which takes you to their support site for installation instructions.
The cooler is designed in a way that creates a compact and neat looking aesthetic. The fans arrive pre-installed to the radiator in a push configuration so will save the end-user time during installation if this is their desired configuration.
An all-black design has been applied to the radiator and fans with Arctic branding on the top and bottom edges of the radiator. An Arctic A logo is applied to the central hub of the fans with no RGG lighting in sight, which is a refreshing change.
Another great feature of the Arctic Liquid Freezer is the cabling. Arctic have thought about making the design look neat. By doing so, they have routed the fan cables inside the tube sleeving which then connect to the pump.
With this cable design, Arctic has created a neat look – the only wiring on show is a single 4-pin cable from the pump and when connected to the motherboard fan header, it will power the pump and fans together.
On either ends of the tubing are high-quality metal fittings with a black chrome look. An ample length of tubing has been applied at approximately 460mm and covered with a dark grey sleeving with white stripes.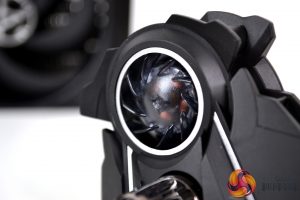 The pump/block combination looks very interesting with an integrated blower type fan, which I can only think has been applied to cool the motherboards power delivery system, surrounding the CPU socket.
A copper thermal transfer plate is situated on the underside of the pump and fastened to the body with four black Philips head screws. The outer pumps outer casing is constructed from black plastic, with some silver accents and Arctic logos on either side.
Overall, the cooler has a very pleasing aesthetic design. The hidden cabling and pre-installed fans are a great feature which makes it look a very tidy and compact unit. It will be interesting to see if the integrated VRM cooling fan has any effect on temperatures of motherboard components surrounding the CPU socket.