The Arctic Liquid Freezer II offers users great cooling performance and quiet operation, which makes it a serious contender in any new PC build. The lack of RGB lighting may not be to everyone's taste, however, there is always the option to replace the included fans with other RGB LED versions if you wish.
In our thermal testing, the Liquid Freezer II outperformed all the previous coolers we have tested at both base and initial overclocked CPU frequencies. In our final 4.9 GHz frequency test, it was virtually on par with the current best-performing cooler we have tested. Since the Core i9-9900K we use to test is such a difficult CPU to keep cool, we think the Arctic Liquid Freezer II did an excellent job.

Not only did the Liquid Freezer II perform excellent in thermal testing, it also ranked very high in our charts during acoustic testing. Considering how well it performed in thermal dissipation, its low noise level is even more impressive. The fact it could keep the Core i9-9900K CPU temperature under control with such low noise level was a great achievement.
Earlier we touched on the inclusion of the motherboard blower fan that has been integrated into the Liquid Freezer II. It is an interesting feature we feel could have been applied in all-in-one coolers a long time ago.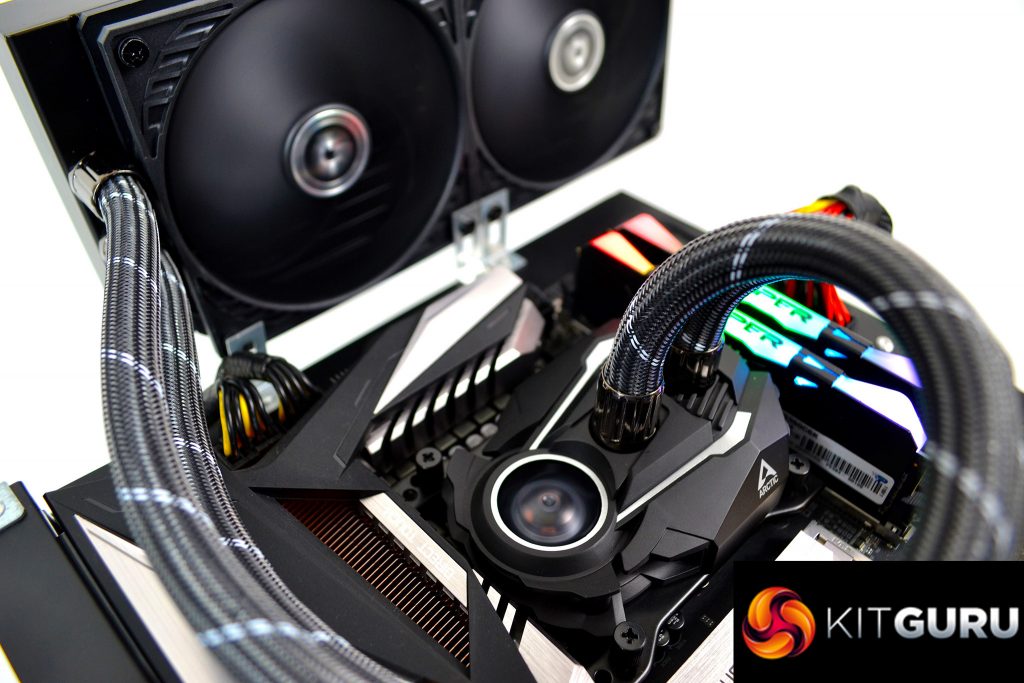 We looked back at our old data to compare the motherboard VRM temperatures, when stress testing previous CPU coolers, to compare it against the Arctic Liquid Freezer II with its integrated VRM cooling solution. We found the VRM temperature delta when stress testing at 4.9 GHz frequency with the Arctic Liquid Freezer II, was 6.6°C cooler than the previous leading AIO and 2.3°C cooler than the leading Air cooler we have tested.
This might not sound like much. However, the Gigabyte Z390 Aorus Master motherboard we use for CPU cooler testing has an excellent VRM cooling solution, with its Fins-Stack array. We imagine a motherboard with sub-standard VRM cooling would greatly benefit from the Arctic Liquid Freezer II and its motherboard VRM cooling fan.
The Arctic Liquid Freezer II has a subtle, mostly black design which we like. The little silver accents here and there ensured it fitted in well with our test motherboard. We found it a refreshing change that there was no RGB LED lighting included. With so many RGB LED fans available to purchase separately these days, you could always add them later to suit your preference.
Another feature of the Liquid Freezer II that we love is the hidden cables. Arctic have routed the fan cables through the tube sleeving to the pump. With this design, you end up with a neat and tidy looking unit with just one cable coming from the pump housing to manage. This is something we would like to see on AIO's from other manufacturers.
Overall, we think the Arctic Liquid Freezer II is an excellent all-round product, which is worth splashing your hard-earned cash on. Therefore, it is fully deserving of our worth buying award. The lack of RGB is the only reason why it didn't score higher.

The Arctic Liquid Freezer II series will include 240mm, 280mm and 360mm versions available from overclockers, with prices starting from £59.99 HERE.
Pros:
Excellent thermal performance.
Low noise levels.
Neat cable design.
Neutral colour scheme.
Motherboard VRM cooling.
Cons:
Lack of RGB option out of the box.
KitGuru says: Arctic seem to be at the top of their game right now with CPU cooling products. This all-in-one liquid cooling solution is a great addition to their CPU cooling range and even offers a motherboard VRM cooling solution that works – something which other AIO manufacturers should take note of!