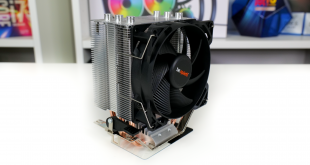 AIO liquid coolers and beefy air heatsinks grab plenty of attention. But vast swathes of the PC DIY building community do not require and cannot justify such expense, especially for cooling lower powered CPUs. That is where the cost-effective be quiet! Pure Rock Slim 2 comes in.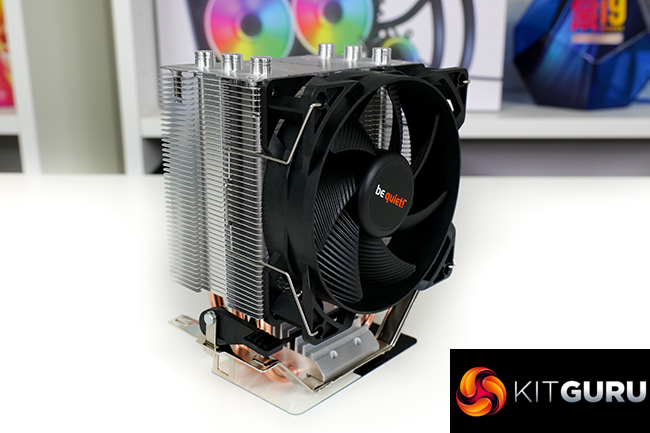 Introduction and Closer Look:
Priced around £23 in the UK, this single tower cooler aims to offer a reasonable upgrade over the likes of an AMD Wraith cooler supplied with a Ryzen 5 processor. And it aims to do so whilst also maintaining the compact form factor that should aid chassis compatibility.
The be quiet! Pure Rock Slim 2 uses a single tower aluminium heatsink with 44 total fins. Three 6mm copper heatpipes extend out of the copper/aluminium heatpipe direct touch (HDT) base to shift heat away from a processor.
be quiet! adds a small quality touch by using aluminium caps on the six tips of the three U-shaped heatpipes; this enables a consistent colour scheme across the cooler's most-viewed top side.
Compared to the original Pure Rock Slim, that adjusted design for focus on AMD looks to be the key difference for the Pure Rock Slim 2. The new heatsink is also a little larger and with more fins.
Fan-wise, be quiet! deploys a 92mm Pure Wing 2 PWM unit. This rifle-bearing fan uses a 4-pole motor and is rated for up to 2000 RPM. Power and speed control are deployed via the 220mm-long 4-pin PWM cable which is also black in appearance – a good quality touch.
In terms of overall cooler dimensions, the length is 82mm, width is 97mm, and height is 135mm. That makes RAM interference a very unlikely concern. And it also means that installation in cases with confined CPU socket areas in terms of height – such as the Mini-ITX Cooler Master NR200p – should be a doddle.
Rated for up to 130W of cooling capacity (whatever that means, given such differing interpretations of the term TDP in the processor market), be quiet! focusses the Pure Rock Slim 2 for cooling AMD chips.
This is obvious given that the unit comes with the AMD latch mounting mechanism pre-applied. Novice users – or those who simply want a quick cooler switch or install – will value the latch mounting mechanism that does not require removal of the stock AMD cooler brackets on an AM4 motherboard.
And in terms of installation, this is about as easy as it gets. The thermal paste is pre-applied, so it is simply a case of positioning the cooler atop an AMD CPU, locking the mounting latches, and then clipping on the fan and connecting it to a 4-pin PWM motherboard header.
Of course, there are also Intel brackets included if you are using a mainstream Intel platform based around the LGA115X mounting holes. And the instruction manual is very clear with its guidance.
Testing:
We are testing the be quiet! Pure Rock Slim 2 CPU cooler up against AMD's Wraith Spire CPU cooler that is supplied with some of the CPU maker's decent mainstream processors. Testing is done on a six-core Ryzen 5 3600XT processor, as this is closely related to one of the fan-favourite chips – the Ryzen 5 3600/3600X – neither of which we had at hand for testing, unfortunately.
It will be interesting to see how the dynamics of the processor's Precision Boost 2 algorithm adjust when switching from the 3500RPM-rated Ryzen 5 3600X Wraith Spire cooler to the 92mm, single-tower be quiet! Pure Rock Slim 2.
CPU Cooling Test System:
Processor: AMD Ryzen 5 3600XT at Stock PB2
Motherboard: Gigabyte B550 Aorus Master
Memory: 32GB (2x16GB) Corsair Vengeance LPX 3600MHz 16-18-18-36 DDR4 @ 1.35V
Graphics Card: Gigabyte RTX 2060 Super 0dB Mode
Chassis: Fractal Design Meshify 2
Chassis Fans: 2x140mm 1000 RPM Fractal Front Intake, 1x140mm 1000 RPM Fractal Rear Exhaust
Power Supply: Seasonic Prime TX-1000
OS SSD: Corsair MP600 NVMe M.2 SSD
Operating System: Windows 10 Pro 64-bit
Comparison Coolers:
AMD Wraith Spire – Bundled with many AMD Ryzen CPUs – approx. £12 retail value (Novatech), 1x92mm 3500 RPM top-down fan, Ryzen 5 3600X version (not older copper core version)
Testing Methodology:
For testing, we use a 10-minute looped run of Cinebench R23 and record the steady-state CPU temperature at the end of the test.
Ambient is maintained around 25 degrees Celsius which is representative of UK summertime.
Performance Results: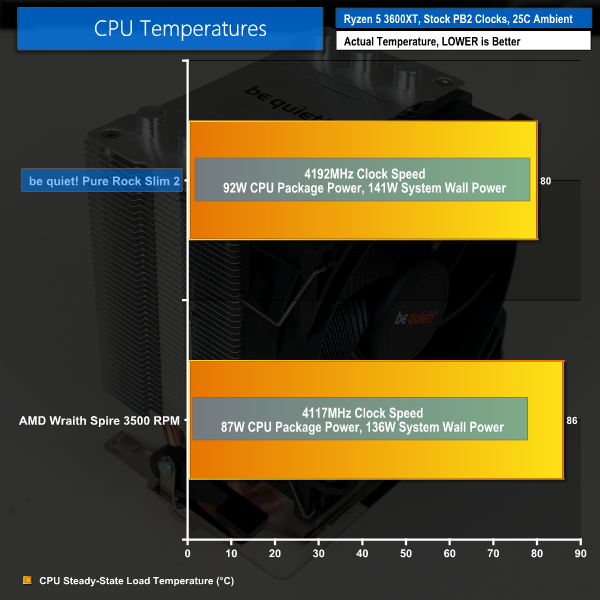 Right off the bat, we see the be quiet! Pure Rock Slim 2 showing a solid cooling performance improvement over the AMD Wraith Spire cooler.
In terms of pure temperatures, we recorded a 6C reduction for our Ryzen 5 3600XT when switching over to the be quiet! tower-style unit. This, in of itself, is a solid result.
Add in the fact that the be quiet! cooler allowed the six-core Ryzen 5 CPU to push 5W additional power through the CPU – whilst still running cooler than AMD's stock heatsink – and that, again, is a good showing.
The additional power delivery allowed by the be quiet! Pure Rock Slim 2 translated into higher operating clocks for the Ryzen 5 3600XT thanks to the Precision Boost 2 algorithm. We registered an average clock speed of 4192MHz, which is an increase of 75MHz. That may not sound like a particularly noteworthy increase in clock speed; but it is extra frequency nevertheless and it resulted in around 200 extra points in terms of Cinebench R23 scoring.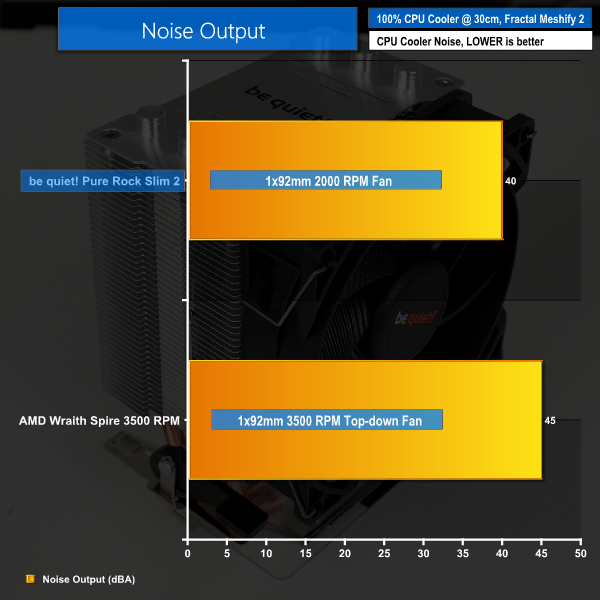 Noise output delivers another victory for the be quiet! Pure Rock Slim 2 versus AMD's Wraith Spire cooler. Operating a single 92mm fan at 2000 RPM, it comes as no surprise that the Pure Rock Slim 2 is quieter than the 3500 RPM AMD blower.
Nonetheless, it still represents a solid noise performance improvement offered by be quiet! especially when the enhanced cooling numbers are also factored in.
As a side note, AMD's top-down cooler did beat be quiet! in terms of VRM MOSFET temperatures on our Gigabyte B550 Aorus Master motherboard. The be quiet! cooler had the VRM running at around 45C whereas AMD's unit registered 41C thanks to its preferential airflow direction for MOSFET cooling.
This is a factor to bear in mind, especially if you have a motherboard with a poor VRM cooling solution that needs all the assistance it can get.
Closing Thoughts:
With the Pure Rock Slim 2, be quiet! has achieved the goal of offering a basic, budget CPU cooler that represents a reasonable performance upgrade from the likes of an AMD stock CPU cooler.
Our Ryzen 5 3600XT CPU saw operating temperatures that were lower and PB2 clocks that were higher when running the Pure Rock Slim 2 as opposed to the Wraith Spire 3500 RPM cooler. And the noise output was also reduced by a noticeable level.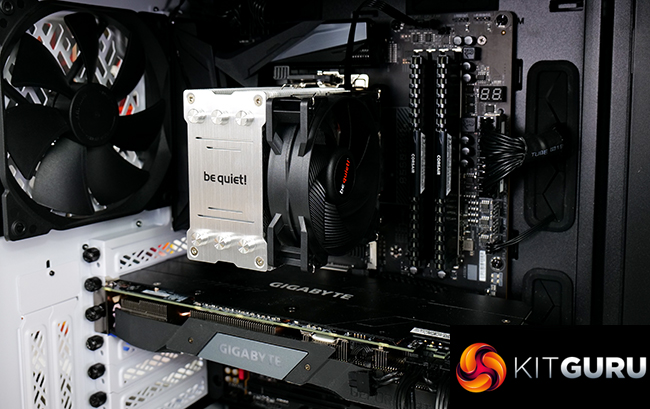 Installation is quick and easy thanks to be quiet!'s use of the standard AM4 latch mechanism. In fact, the be quiet! cooler has a more straightforward installation method than AMD's bundled Wraith coolers that require removal of the front-side AM4 retention clips.
RAM and general components interference is unlikely thanks to the Pure Rock Slim 2's modest size. And looks wise, we have no complaints with the metallic silver heatsink alongside a black fan and be quiet! logo.
Currently available for £22.99 from Overclockers UK and featuring a 3-year warranty (which is OK but a bit stingy compared to Arctic's typical 6-year offering), it is hard to identify many complaints from the be quiet! Pure Rock Slim 2. There are other options at this price point – most notably from Arctic and DeepCool – but I am perfectly happy with the quality that be quiet! is bringing to the market for less than £25.

The be quiet! Pure Rock Slim 2 is priced at £22.99 at Overclockers UK.
Discuss on our Facebook page HERE.
Pros:
Solid cooling performance upgrade versus Ryzen 5 AMD Wraith Spire cooler.
Low noise operation.
Quick and straightforward installation process.
Support for Intel and AMD mainstream CPU sockets.
Cons:
3-year warranty is OK but not as good as some competitors such as Arctic.
Some additional (not pre-applied) thermal paste would be useful.
KitGuru says: Quiet, good-looking, and low cost – the be quiet! Pure Rock Slim 2 represents a reasonable upgrade versus the AMD Wraith Spire stock cooler.

Be sure to check out our sponsors store EKWB here