Currently, ambient temperatures are high in the UK where basically nobody has air conditioning in their home. That got us thinking about cooling our hardware adequately, and then we remembered the Cooler Master ML360 Sub-Zero that we got sampled with a while back. The £340 / $350 Cooler Master MasterLiquid ML360 Sub-Zero uses Thermoelectric Cooling (TEC) hardware with Intel Cryo Cooling Technology to permit sub-ambient CPU temperatures, even down to 0C, albeit under limited power draw situations.
Watch via our Vimeo Channel (Below) or over on YouTube at 2160p HERE
Video Timestamps:
00:00 Start
00:15 ML360 Sub Zero Overview – Intel only!
02:07 The Key feature
03:11 Power consumption – 200W!
03:50 Sensors and seals
04:56 The pump and cables
05:55 The Radiator
06:15 The fans – no RGB (does it matter?)
06:45 Support and compatibility
07:55 Test System
08:59 125W Testing
13:33 MSI 'Crazy stock mode' testing
16:20 Disappointing
16:57 Thermal velocity boost overclocking lighter work loads
18:23 Luke's thoughts so far / Cryo mode
20:52 Gaming with the cooler @ 5.5GHz
22.40 Noise output
23:09 Luke's closing thoughts
The ML360 is intended for use with smart overclocking methods – such as Intel's Thermal Velocity Boost – which allow higher frequencies on a small number of cores when the CPU is below a certain temperature target. In theory, this would work very well with the Precision Boost algorithm for AMD Zen chips, but it is not supported in its current form.
The key feature of this Cooler Master ML360 Sub-Zero is the Thermoelectric Cooler (TEC) hardware – or Peltier – if you prefer. Put simply, this hardware mounted inside the Cooler Master block unit takes power from a 6+2-pin PCIe power connector and translates that into cooling capability with sub-ambient temperatures being a possibility.
The key point is that electrical power is being input into the cooling system to allow for the removal of thermal energy from a heat-producing source such as a CPU. Of course, this is a stark contrast to standard – unpowered – air or AIO CPU coolers whereby achieving sub-ambient temperatures would be physically impossible. That electrical power input into the system is then cooled by the radiator and fans, in addition to any excess CPU thermal energy beyond what the TEC device is capable of handling.
There's more information available on TEC technology and how it uses Peltier cooling, so check that out if you're even more intrigued by the dense science that isn't really necessary for this piece.
The total power consumption rating of just the cooler itself is 200W according to the Cooler Master webpage. Yes, the cooler draws up to 200W – the cooler! So, somewhere below that 200W limit is where we expect to see the TEC actually work without being overpowered.
This also emphasises the requirement for the 8-pin supplementary power connector just for the cooler, as well as a beefy power supply for your system.
Inside the block unit which houses the TEC are sensors. These measure conditions such as temperature and humidity to calculate dew point. This allows the cooler to operate in the 'CRYO' mode without concern of creating condensation around the CPU socket.
Aiding this condensation concern further is a seal component that Cooler Master mounts around the copper contact plate to further prevent ambient air entering the CPU cooling zone.
Of course, if you aren't concerned about condensation risk, the cooler's software allows you to run in 'UNREGULATED' mode whereby maximum cooling power will be applied, irrelevant of ambient conditions and dew point.
The cooler uses an in-line pump unit which is hefty and far bigger than what we would get in a conventional AIO. The pump ran at around 5700 RPM in our testing and is powered via a proprietary connector from a supplied break-out cable. For installation, the pump has a mounting bracket and screws to fit on a 120mm fan slot.
There is no 140mm fan slot mounting which is annoying in our dual-140mm intake fan chassis. We had to remove one fan to get to the 120mm mounts. And there is also plenty of inflexibility and tension in the pump unit nearby tubing.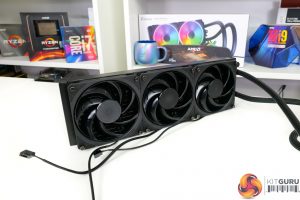 A 360mm aluminium rad is used and is very much conventional. It is pre-installed with 3x120mm SF120R 1900 RPM fans which are black with no RGB lighting.
In terms of compatibility, the cooler requires Intel Cryo Cooling software, a BIOS update for older Z490 boards, and ideally XTU to work properly. Intel Cryo software works with 10th and 11th Gen K/KF CPUs, but there is no support for HEDT or older chips according to the product page.
Only the LGA 1200 mounting system is compatible; there is no AMD mounting support, which is a bit disappointing given that this is a Cooler Master product, not a direct Intel one (aside from the software).
Installation is reasonably straightforward overall. The backplate is stuck to the rear of an LGA 1200 motherboard and stand-offs are screwed in from the front side. The block unit is then sat atop a CPU and its pre-applied, spring-loaded screws can be tightened into position.
You will then want to mount the in-line pump to an accessible 120mm fan mount. Don't forget the usual pump rules of keeping it as low as possible in the cooling loop and certainly not above all other hardware. The 360mm radiator screws in as normal and the pre-applied fans speed this up.
There is some tension on the tubing when forcing everything into position, especially around the pump area. But we didn't have too many complaints other than being forced to ditch one of our 140mm fans due to 120mm support only for the pump bracket.
Connecting the cables is easy, but the USB connection to the block is short, as is the pump cable. And making that 8-pin power connector cable look tidy is not an easy task.
Once installed, you can download the Intel Cryo Cooling software and – ideally – the latest version of XTU.
Test Procedure:
Our usual cooling test system is based around AMD's Ryzen 9 5950X, but this is not a possibility with this cooler. As such, we run the ML360 Sub-Zero AIO with the best 10th/11th Gen CPU available in our opinion – the Core i9-10900K processor.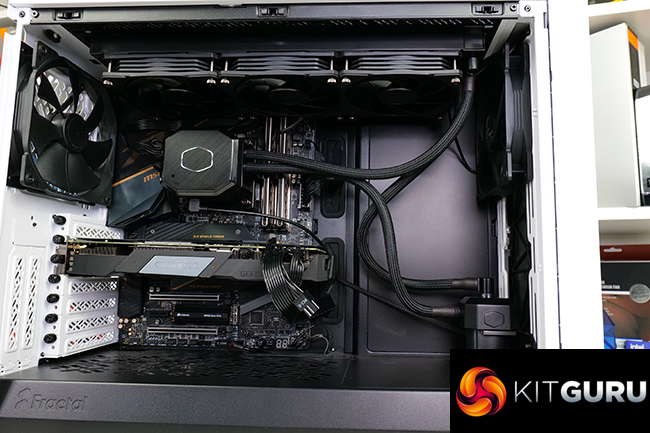 Processor: Intel Core i9-10900K.
Motherboard: MSI MEG Z490 ACE.
Memory: 16GB (2x8GB) KLEVV 4000MHz DDR4.
Graphics Card: Gigabyte RTX 2060 Super.
Chassis: Fractal Meshify 2.
Power Supply: Seasonic Prime TX-1000.
SSD: Corsair MP600 NVMe M.2 SSD.
Operating System: Windows 10 Pro 64-bit.
Typically, we would outline some test procedures and settings for comparisons against a barrage of other CPU coolers. However, that's not possible in this review given the genuinely unique intended usage and performance behaviour of the ML360 Sub-Zero.
As such, we will instead be showing some of the cooling and performance characteristics using hands-on testing so that you can see how this cooler performs, including its victories and several quirks.
It is best to view the video analysis to understand how the CPU cooler behaves. We will summarise our findings for the individual test cases in this written review.
Testing Summaries:
Stock – 125W – Mode
For stock 125W testing, the performance is… OK, I guess. Sub-50C for a 125W 10900K isn't bad but it's only 125W. And 0C under idle conditions is really cool to see.
But let's up the cooling demand.
Stock MCT Mode at around 200W+ package power
Stock multi-core turbo performance is very unimpressive as the cooler lets the CPU spiral to thermal throttling of 99C even after just a couple of minutes. This is simply too much power from the 10-core chip.
For reference, a Phanteks 360mm Asetek AIO scored under 75C for a 30-minute Cinebench R23 loop under the same Stock MCT settings. And CPU package power was 220W in that test.
So, very comparable conditions but far better cooling from a normal 360mm AIO. Heavy multi-core loads at elevated CPU clocks are clearly off the table with the Sub-Zero.
Let's try some Thermal Velocity Boost overclocking with less strenuous, lightly-threaded workloads instead.
5.5-5.6GHz TVB Unregulated Mode
OK, so with some XTU tweaking and application of lightly-threaded workloads well below 125W CPU power draw, you can indeed get excellent temperatures for crazy high clock speeds. It's not all that useful in the real world and still requires loads of cooling power though.
5.5GHz Sensible Cryo Mode
For reference, a 360mm Asetek AIO was around mid-to-high 50s CPU temp and over 70W package power when running the Cinebench 1T test using our 5.4GHz manual OC. Therefore, actual temps of the cooler in Cryo Mode here are pretty good.
Clearly a target such as 5.5GHz with the Cryo Mode running sensibly is better for power and still good for temps and clocks.
Games
It looks like some games are a light enough load to be able to handle ludicrously high frequencies under this cooler. If that's what you're interested in and you don't care about the price or the downsides of the ML360 Sub-Zero, knock yourself out, I guess.
Noise
Looking at noise output, the cooler is undeniably loud when pushing the temperatures low. Our video review shows the noise meter hovering around 50 dBA which is well into audible and noticeable territory.
The fans are not particularly quiet and there is also a noticeable hum from the pump unit and a lack of speed control at least in the Intel Cryo software.
Closing Thoughts:
To summarise, the cooling performance of the Cooler Master ML360 Sub-Zero is excellent under low-power conditions such as lightly-threaded workloads for hefty K-series CPUs.
Lightly-threaded workloads on a 10-core chip is clearly an oxy-moron. However, we did see sub-ambient temperatures in the sensible 'Cryo' mode as well as a 0°C reading in the more extreme 'Unregulated' mode – which is cool to observe.
As soon as the cooling requirements are increased to anywhere near the reasonable – for today's CPUs – 200W level, the Sub-Zero's performance falls off a cliff. Even the motherboard vendor's aggressive 'stock' multi-core turbo levels were unstable and resulted in quick thermal throttling at 99C. And that is despite a 360mm Asetek AIO registering sub-75C readings after a half-hour run of the same test.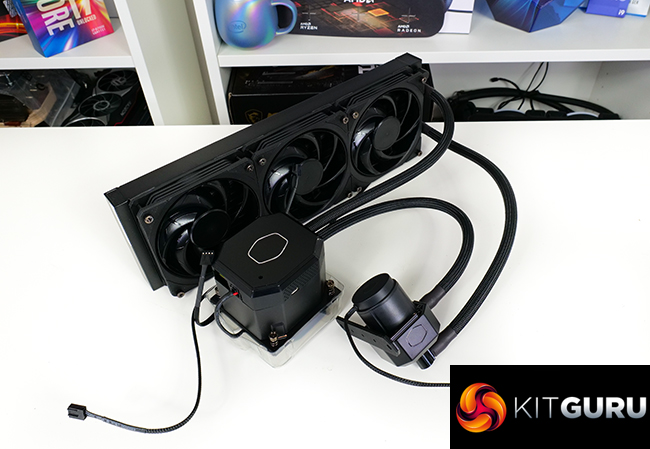 Put simply, the ML360 Sub-Zero is a pretty weird toy created by Cooler Master and Intel to demonstrate the potential benefits and use cases of TEC hardware and Intel's Cryo Cooling technology. Yes, there are some viable use cases – such as pushing for ridiculous single-core frequencies of 5.5GHz or 5.6GHz as in our testing.
But even then, the benefits aren't a given as Zen 3 still offers higher single-thread performance and some AAA games such as Shadow of the Tomb Raider demand more CPU package power than the cooler can actually deal with.
The reality is that this cooler is more of a novelty item than something a real-world user should actually consider buying. That's especially true with the ludicrous £340 price tag, poor compatibility, noticeable noise levels, and potentially extreme power draw under heavy load situations.
It is certainly not something we will be recommending anytime soon. But it was a cool piece of kit to play with that could perhaps mature somewhat going forward. And it did help us validate some of the benefits of Intel's Thermal Velocity Boost Overclocking which is solid, even if AMD's Precision Boost algorithm still seems to be more advanced and less complicated for average users.

The Cooler Master MasterLiquid ML360 Sub-Zero is priced at £339.95 at Overclockers UK.
Discuss on our Facebook page HERE.
Pros:
Sub-ambient cooling capability.
Ability to register 0°C for a Core i9-10900K.
Decent cooling capacity below around 125W.
Good lightly-threaded cooling potential.
Can work well with Intel Thermal Velocity Boost Overclocking.
Cons:
Very poor performance at higher power loads typical of Intel K processors.
Ludicrously expensive for the performance.
Significant power usage.
Only LGA1200 compatibility.
High noise output from the pump.
KitGuru says: A cool toy to test out sub-ambient cooling with TEC technology. The implementation definitely needs to mature before even considering a purchase though.
Be sure to check out our sponsors store EKWB here