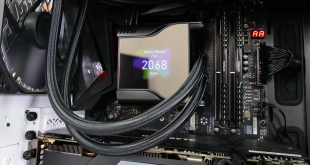 Screens on AIO liquid coolers have been one of the new fashion features in recent times. We have already examined some models from big cooling vendors such as Corsair and Thermaltake. This time, it's MSI's turn on our test system. The MSI MEG Coreliquid S360 is a £250 Asetek 7th Gen 360mm All-in-One liquid cooler with a 2.4" IPS display and an integrated 60mm waterblock fan.
Watch via our Vimeo channel (below) or over on YouTube at 2160p HERE
Timestamps:
00:00 Start
00:43 First look at the cooler
01:44 Pump/block and sizing
02:39 MEG SilentGale fans
03:22 MSI Center app
04:29 Closer look at the IPS display
05:56 Installation process
06:34 Test setup
07:52 Noise output
08:37 Thermal performance
11:40 Luke's closing thoughts
Once we open the box and remove the generic Asetek installation hardware, we see the radiator. MSI uses a conventional 27mm-thick aluminium radiator with dense fin spacing optimised for high-pressure fans. The radiator is coloured all-black to match the underlying colour scheme.
MSI uses what it calls evaporation-proof tubing on the unit which it says is constructed with rubber and a reinforced mesh. The tubes measure in at 400mm-long and have a high-quality braided outer to maintain a sleek appearance.
Flexibility of the tubing is a positive. Though MSI's other design implementations severely limit the realistic flexibility of the cooler's install and orientation.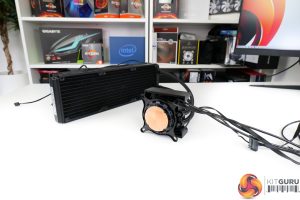 We see a bare copper cold plate in the standard Asetek form for this generation 7 cooler. The unit does come with thermal paste pre-applied, but we had already used this prior to photography. There's no spare tube of thermal paste which is disappointing.
Sizing of the cold plate should be fine for even large HEDT CPUs, as we have seen over the years with Asetek.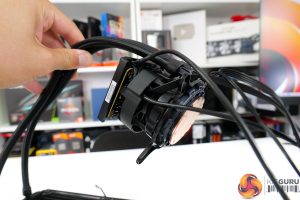 Physically, the pump-block unit is not all that big given that it is an Asetek system. However, the unit is huge in practise thanks to the inclusion of a 60mm 4000 RPM waterblock fan positioned directly above. Oh, and there's the 2.4" display mounted on top of that.
The pump unit is PWM controlled and operates up to 2800 RPM top speed. Its speed curve can be controlled within MSI's Windows software.
That software-controlled, 60mm waterblock fan is intended to aid nearby component temperatures by directing airflow to the VRM and M.2 SSDs, for example. However, it is a relatively small 60mm blower and has significant airflow restrictions above from the screen and below from the pump-block unit.
So, we will have to wait and see how useful it actually is for incidental motherboard VRM cooling.
MSI's choice of fans is a trio of the MEG Silent Gale P12, which are intended for noise-efficient cooling according to MSI. These hydro-dynamic bearing 120mm blowers operate at up to 2000 RPM top speed.
They use a 350mm-long, braided 4-pin PWM cable for connection and can operate under a zero-RPM mode. There is no fancy RGB LED lighting on the fans, which is odd given the already superfluous nature of an AIO with an LCD screen.
MSI does include rubber noise-isolating dampers on each corner of the fans, though, which is good to see.
Control for the fans and cooler operation is handled through the MSI Center software. The pre-defined fan speed settings are helpful, and the ability to set custom fan curves is useful.
There is a limitation of 70% minimum radiator fan speed when the CPU temperature is above 80C, though this is unlikely to be an issue for most users.
While MSI Center is functionally good and worked for our needs, it is undeniably basic versus the market-leading Corsair iCUE implementation. That's particularly true with respect to synchronising with other system hardware – a task that iCUE handles very well.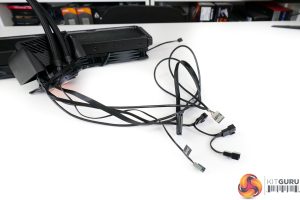 The sheer number of cables leaving the pump-block unit will make tidy management more challenging. You get USB 2.0, SATA power, 3-pin power, and three-way fan splitter cables. This is versus the far sleeker single- or dual-cable approach used by the Corsair and Thermaltake competing coolers.
Thankfully, these cables are lengthy enough to be hidden behind the motherboard tray. But you'll still have five wires trailing away from your build's CPU area.
The 2.4" IPS display is fastened to the pump-block unit and has a very large, magnetically-held cover sitting atop it. This cover is designed to allow ventilation for the 60mm fan whilst also hiding the connectivity cables and projecting the screen's image. It does, however, severely limit the angles of the tubing entering the block.
Resolution is 320×240 with 16-bit colour depth and 500-nits of brightness. 500-nits of brightness was just about fine in our testing, but the 320×240 screen lacks some sharpness versus the 480×480 resolution competition from Corsair and Thermaltake.
For the functionality it offers, I was happy with the screen's performance. Seeing things like fan speeds, CPU temperature, liquid temperature, and FPS are all useful and are clear on the screen. Plus, the ability to use personalised images or local weather updates are also useful, depending on your preference.
Control for the screen is handled through the MSI Center software and works well.
Interestingly, MSI rates the fans and pump life expectancy as 50,000 hours each, which is very low by modern PC cooling hardware standards. As such, you will have to take care as to which e-tailer you purchase this cooler from, and how much warranty support and coverage they offer.
Worth quickly noting is that MSI supports all modern Intel and AMD platforms and has already highlighted AM5 support when it releases.
Installation on our AM4 platform is as easy as we would expect from an Asetek cooler.
You screw the posts into the default AM4 backplate before fixing the pump-block unit and its pre-applied thermal paste into position. Once this is all fastened, the cables can be routed and the screen cover can be applied.
The screen cover's design does mean that it should be mounted in the correct orientation to the tubing. But the images displayed on the screen can be rotated by 90-degree increments inside MSI's software.
Be sure to check out our sponsors store EKWB here