Advanced Micro Devices this week introduced its first accelerated processing units (APUs) based on the code-named Kaveri design aimed at mobile computers . The new chips bring AMD's latest technologies, including the heterogeneous system architecture (HSA) and the Radeon graphics with the GCN architecture, to mainstream and thin laptops. The new line-up of chips includes the A-series APUs, the AMD Pro-series products as well as the all-new FX-series APUs for notebooks.
The family of the Kaveri-based chips for laptops currently includes ten models. The new accelerated processing units feature one or two dual-core Steamroller modules (two or four cores in total), 1MB or 4MB level two cache (512KB or 1MB cache per x86 core), the AMD Radeon graphics engine with three, four, six or eight GCN compute units (192/256/384/512 stream processors in total) operating at up to 686MHz, a dual-channel DDR3 memory controller with the hUMA [heterogeneous unified memory architecture] technology, 17W, 19W or 35W thermal design power and so on.
Thanks to the hUMA and the heterogeneous queuing (hQ) technology, optimized software applications can use both x86 and graphics compute cores at the same time and very efficiently. According to AMD, its mobile Kaveri APUs can run from five to twelve separate processes simultaneously, depending on the number of compute cores. Highly-parallel graphics compute units are often used to process highly-parallel workloads.
"AMD takes a major step forward today on our journey to transform and enhance the computing experience with the launch of the 2014 performance mobile APU family," said Bernd Lienhard, corporate vice president and general manager of client business unit at AMD. "With a combination of superior total compute performance, stunning graphics and efficient power use alongside industry-first technologies, these new APUs set a new bar for cutting-edge consumer and commercial PCs."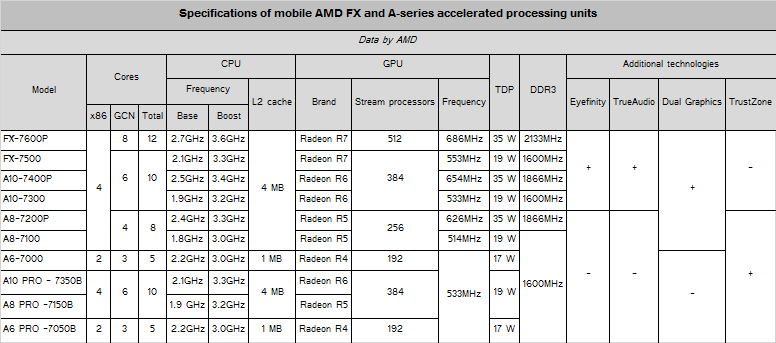 Thanks to the new Radeon graphics cores based on the GCN architecture, AMD mobile APUs now support DirectX 11.2-class graphics capabilities as well as the company's second-generation VCE and the fourth-generation UVD [unified video decoder] units that improve quality of video playback as well as add hardware-accelerated encoding to new formats (to support 60GHz wireless displays, for example). Select AMD mobile APUs based on the Kaveri design also support such technologies as EyeFinity and TrueAudio. It is interesting to note that the premium high-performance A10 and the FX-series chips do not support the TrustZone tech originally developed by ARM.
It is noteworthy that along with the new A-series APUs based on the Kaveri design, AMD also debuted two new types of mobile offerings: the AMD FX and the AMD Pro. The FX provide enhanced performance and are mostly designed for desktop replacement laptops. It is unclear whether the mobile FX APUs come with unlocked multipliers and allow overclocking. The AMD Pro chips for business PCs feature virtualization support, manageability features and robust silicon-level security along with 24-month lifecycles as well as 18-month image stability. The AMD Pro chips are not certified to run professional graphics applications, unlike the FirePro APUs.
Leading makers of notebooks, including Acer, Asus, Dell, HP, Lenovo, Samsung, Toshiba and others, have already showcased their first laptops based on the new Kaveri APUs at the Computex 2014 trade-show.
Discuss on our Facebook page, HERE.
KitGuru Says: The new chips are clearly more competitive than their predecessors, which were basically overclocked APUs from 2012. It is also nice to see that the majority of new accelerated processing units feature thermal design power between 17W and 19W. It would be even better to see AMD's high-performance APUs with integrated core-logic sets and 11.5W – 15W TDP, but it looks like high-end ultra-thin laptops are not a priority of company. What remains to be seen is how rapidly AMD ramps up the Kaveri for laptops. When it comes to desktops, the Kaveri represents only a fraction of AMD chips that power PCs from leading suppliers. The previous-generation APU offerings still represent a bigger share of AMD's shipments.