ARM Holdings, a leading developer of microprocessor technologies for mobile and low-power devices, on Tuesday introduced its new general-purpose core designed for entry-level and mainstream devices based on Google Android operating system in 2015 and beyond. In addition, ARM revealed its new cost-optimized Mali-T720 graphics processing unit.
ARM Cortex-A17 processor is claimed to offer 60% higher performance compared to Cortex-A9 processor and generally resembles the Cortex-A15. The Cortex-A17 is an out-of-order ARMv7-A architecture processor that supports SMP technology for one to four cores, 256KB – 8MB L2 cache, 128-bit AMBA 4 ACE coherent bus interface and so on. Unlike the Cortex-A15, the A17 does not support virtual 40-bit addressing and thus cannot address more than 4GBs of random access memory, which makes it useless for micro-servers. The A17 can work in heterogeneous multi-core Big.Little configurations with the Cortex-A7 cores.
Separately, ARM Holdings introduced Mali-T720, graphics processing unit, a cost-optimized graphics solution targeted at entry-level devices. It supports the latest graphics and GPU computing application programming interfaces, including Open GL ES 3.0, OpenCL and RenderScript, extending the rich visual experience previously found only on today's high-end smartphones and tablets.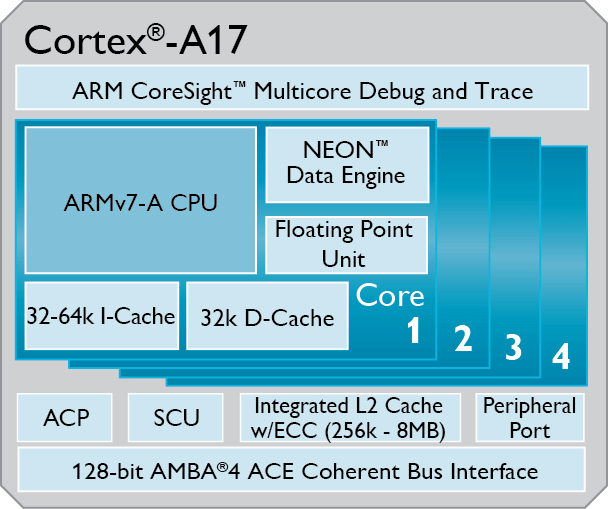 At least three system-on-chip developers, including MediaTek, Realtek and Via Telecom, plan to use the new Cortex-A17 insides their upcoming application processors.
The Cortex-A15 has not become a truly-popular solution on the mainstream market since it was designed with servers in mind and probably licensing terms were inappropriate for mainstream devices. It looks like the Cortex-A17 has chances to become a new "working horse", akin to Cortex-A9, which powered hundreds of millions of smartphones from 2010 to 2014. The ARM Cortex-A17 will power the next wave of mainstream solutions.
Unfortunately, it will further widen the gap between different Android-based devices since there will be high-end solutions based on 64-bit ARM Cortex-A57 cores, performance mainstream devices powered by 64-bit ARM Cortex-A53, mainstream products featuring 32-bit Cortex-A15 or Cortex-A17 as well as plethora of low-end gadgets with Cortex-A7 or even A5 general-purpose processors.
KitGuru Says: With the addition of ARMv7 processor, it looks like 32-bit computing will live for quite a while on the market of mobile gadgets…