A web-site has published what it claims to be the first fully-fledged review of Intel Corp's yet unannounced Core i7-6700K central processing unit code-named "Skylake". As it appears, Intel's forthcoming flagship chip for enthusiasts will be up to 29.1 per cent faster than the company's current Core i7-4790K central processing unit.
TechBang web-site has obtained a sample of the Intel Core i7-6700K processor based on the company's latest "Skylake" micro-architecture. The chip features four cores with Hyper-Threading technology, 8MB last level cache, an integrated graphics core as well as 95W thermal design power. The CPU operates at 4GHz and can accelerate itself to 4.20GHz or 4.40GHz, depending on workloads.
Based on test results obtained by the web-site, Intel's Core i7-6700K central processing unit considerably outperforms its enthusiast-class predecessor – the Core i7-4790K based on the Haswell micro-architecture.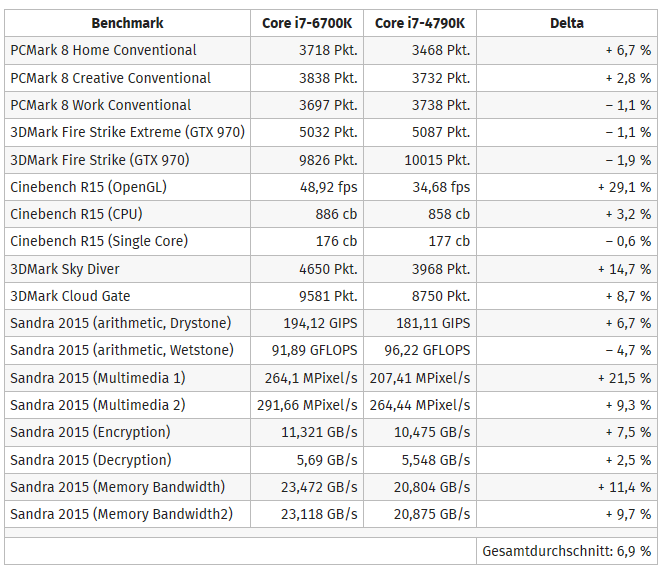 As reported before, Intel's "Skylake" microarchitecture demonstrates excellent speed improvements in applications that demand multi-threaded performance. Maximum improvement hits nearly 30 per cent, whereas typical increase nears 10 per cent. Based on the cumulative table created by Computerbase.de web-site, apps that require single-thread compute perform similarly on current-gen and next-gen processors.
Intel did not comment on the news-story.
Discuss on our Facebook page, HERE.
KitGuru Says: Given the fact that modern workloads are all multi-threaded, micro-architectural improvements of "Skylake" seem to be fine and targeted. Advantages of "Skylake" will be considerably more evident in server applications, where multi-threading performance is crucial. Moreover, thanks to the fact that "Skylake-EP" chips will support different internal architecture and AVX-3.2 512-bit instructions, expect the new server CPUs to show dramatically higher performance compared to today's offerings.