Although Intel Corp. is behind the schedule with its 14nm manufacturing process, the company claims it has not made any changes to its 10nm schedule. Unfortunately, Intel has not officially revealed exact plans regarding production of chips using 10nm process technology.
"We have done no changes or shift to our 10nm schedule, but we will not really talk about 10nm schedules until next year," said Brian Krzanich, chief executive officer of Intel, during the quarterly conference call with financial analysts and investors.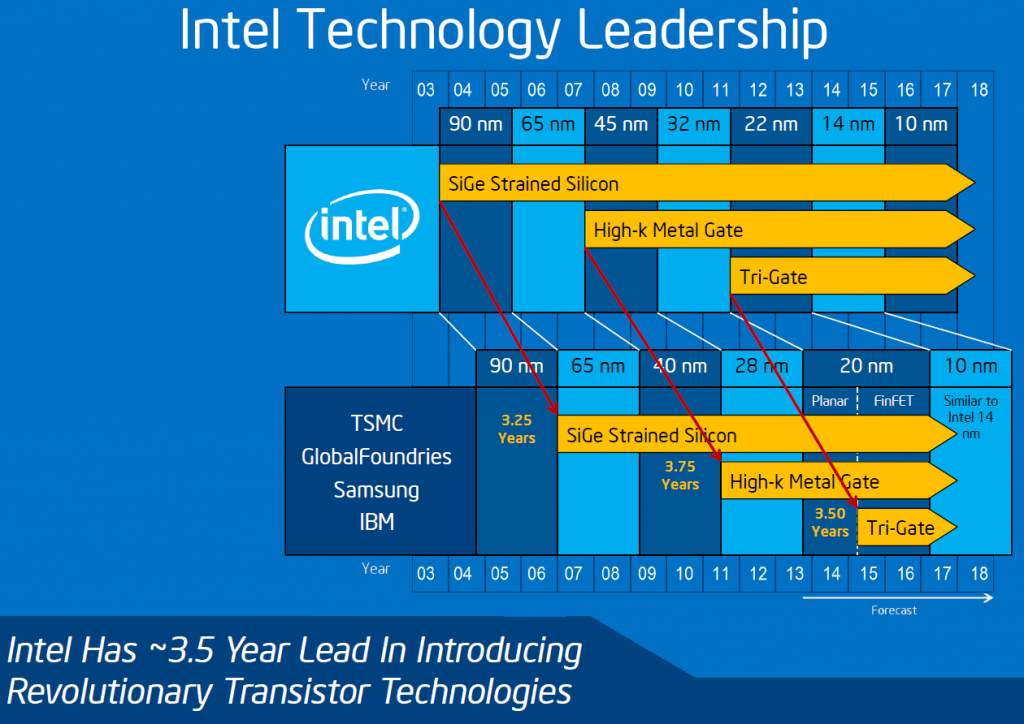 Last week a web-site reported that Intel planned to showcase its first wafers processed using its 10nm fabrication technology at the Intel Developer Forum 2014 in September. The demonstration should show Intel's investors and partners that despite of problems the company has faced with its 14nm process technology it is still about two years away from 10nm production, which is important, since that will reaffirm that the company's Tick-Tock strategy works.
When Intel introduced its Tick-Tock strategy in 2006, it worked like once in a year the chip giant delivered either a die shrink (tick) or a brand-new micro-architecture (tock). The gap between introductions was around 12 months, but at times the period was extended to 13 – 15 months. In accordance with Moore's Law, each of Intel's fabrication technology remained to be the leading edge process for about two years.
The "Broadwell" processors (tick) were supposed to hit mass production in the Q4 2013, but Intel delayed the start of volume manufacturing several times. As a result, the first commercial "Broadwell" chips with two cores will hit the market very late in 2014 (instead of mid-2014), whereas high-performance code-named "Broadwell" products with four cores and unlocked multipliers will only become available in July or even September, 2015. In fact, the high-end "Broadwell" chips will likely emerge after the brand-new code-named "Skylake" (tock) central processing units that will make it to the market in the second quarter, according to an Intel roadmap from unofficial sources.
Basically, at 14nm node Intel's tick and tock will co-exist on the market and the gap between formal introductions of the "Broadwell" and the "Skylake" will be around half of a year, not a year, like usually.
Because the Tick-Tock period at 14nm will likely be shrunk, it remains unknown how Intel sees its 10nm schedule. If the company wants to introduce the first 10nm products exactly two years after the first 14nm products, then expect the Cannonlake/Airlake processors in late 2016. However, if Intel wants to keep the Tick-Tock cadence, then the aforementioned chips will emerge a year after the Skylake, i.e., in mid-2016.
It is noteworthy that Intel has historically been ahead of its rivals in terms of process technologies. Given the fact that Taiwan Semiconductor Manufacturing Co. is rumoured to accelerate its 10nm efforts, Intel may accelerate its 10nm roadmap as well…
Discuss on our Facebook page, HERE.
KitGuru Says: It looks like Intel got careful about revealing its longer-term plans. A logical thing to do after a major product delay…