Intel Corp. is speedily transitioning its lineup of desktop central processing units (CPUs) to the "Haswell" micro-architecture. Broader availability of newer chips across various price segments ultimately makes Intel's desktop microprocessor family more competitive against its arch-rival AMD.
According to sources familiar with Intel's plans, the share of desktop processors based on Haswell micro-architecture within the line of Core i-series branded chips was around or below 40 per cent in Q4 2013. The rest of Core microprocessors were based mostly on previous-generation Ivy Bridge micro-architecture. This quarter the portion of Haswell-based offerings in the Core lineup will grow to over 50 per cent  and then will further increase to over 60 per cent in the second quarter of 2014, the sources noted.
Intel's value product family, which consists of Atom-, Celeron- and Pentium-branded central processing units, is also getting the company's latest technology. If last quarter only around 10 per cent of Intel's inexpensive desktop chips were based on Haswell micro-architecture, then this quarter their share among Intel's value chip shipments is predicted to increase to around 30 per cent; in Q2 2014 their portion is projected to hit about 40 per cent. Nonetheless, there will be a lot of Ivy Bridge Pentium and Celeron chips in Intel's family of affordable CPUs a few months from now.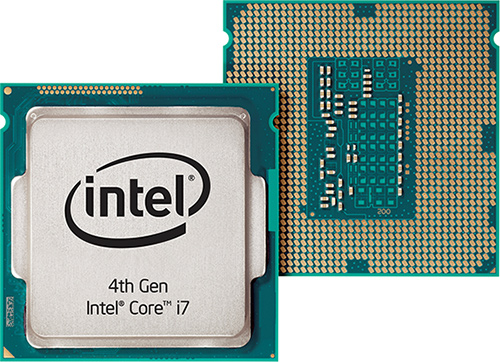 Intel's microprocessors based on Haswell micro-architecture demonstrate higher performance compared to their predecessors in general-purpose applications and also feature higher performance in graphics-intensive programs, such as video games. Since demand for power-efficient multimedia-oriented personal computers is generally increasing, transition to Haswell absolutely makes sense for Intel.
KitGuru Says: Given the fact that Ivy Bridge and Haswell are made using 22nm process technology, it is fairly easy to transit from one chip design to another. What will be interesting to see is how rapidly the world's largest maker of chips will transition to Broadwell micro-architecture in 2015 since those processors will be made at 14nm node.