Advanced Micro Devices on Friday said that Jim Keller, a legendary microprocessor architect, will leave the company, effective immediately. Mr. Keller worked on multiple future generations of central processing units (CPUs) and system-on-chips (SoCs) at AMD, his departure will have an effect on the company's long-term roadmap, but will not have any effect on products in the next several years.
No immediate effect on product roadmap
AMD indicated that Jim Keller leaves the company after just three years to "pursue other opportunities." Mark Papermaster, AMD's chief technology officer, will be the acting leader of CPU architecture development group previously led by Mr. Keller. Eventually, AMD will have to find a decent replacement for the legendary chip architect.
"Deep team was in place to drive completion phase of our next-generation 'Zen' core and associated system IP and SOCs," said Drew Prairie, director of corporate communications at AMD. "Jim Keller's departure is not expected to impact our public product or technology roadmaps, and we remain on track for 'Zen' availability in 2016 with first full year of revenue in 2017. There are no other organizational changes related to Jim's departure."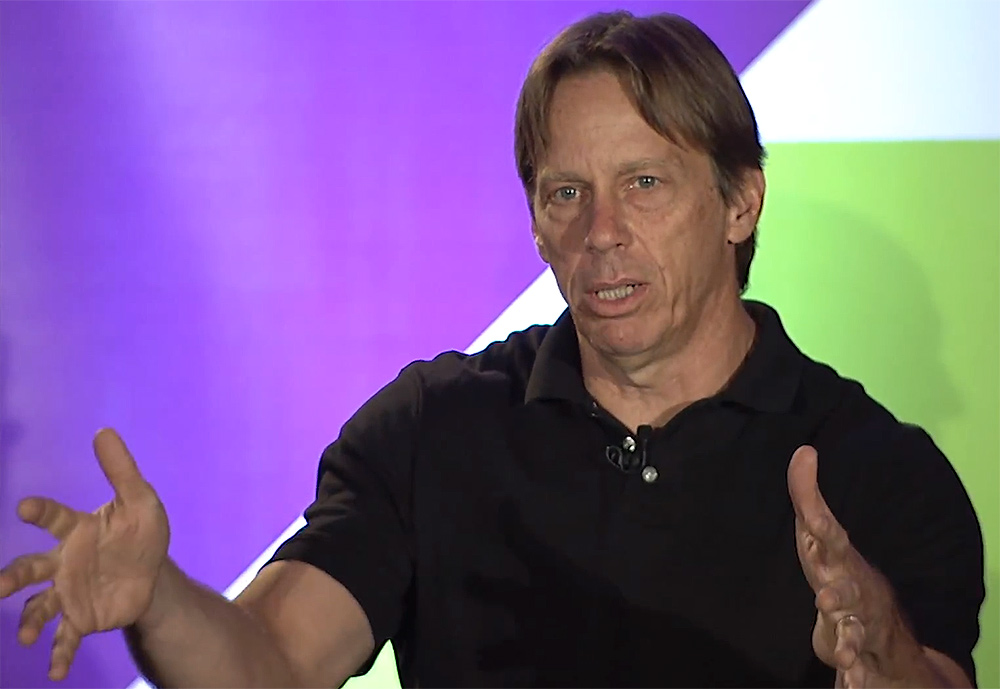 Jim Keller, a legendary CPU architect, is best known for such high-performance designs as DEC's Alpha 21164 and 21264, AMD's "K8" (Athlon 64/Opteron), Apple's "Swift", "Cyclone", "Typhoon" as well as multiple successful PowerPC- and MIPS-based system-on-chips. After Mr. Keller completed his work on "K8", he left AMD in 1999. He returned to AMD in 2012.
"Zen" and "K12"
At AMD, Mr. Keller was responsible for development of the company's next-generation x86 and ARM micro-architectures, including "Zen", "Zen+", "K12" and others. AMD claims that microprocessors based on its "Zen" cores will offer 40 per cent higher instructions per clock performance compared to "Excavator" x86 cores.
While a micro-architecture is crucially important for success of multiple generations of products, relatively small groups of people design it. Moreover, it does not take too long to create a modern CPU micro-architecture on a high-level. What does take a long time is implementation of actual hardware blocks inside processor cores (instruction fetchers/decoders, schedulers, arithmetic logic units, floating point units, etc.), development of various "un-core" components (pre-fetchers, internal interconnections, caches, memory controllers, interfaces, etc.), design and implementation of actual chips based on the architecture and hardware blocks. As a result, CPUs that are sold today are powered by micro-architectures developed many years ago.
"Architecture decisions are many years in advance of products," explained the representative for AMD. "As you may remember, he was a primary architect on K8. We launched that product in 2003 and he had left AMD in 1999."
The development of "Zen" (znver1) and "Zen+" (znver2) micro-architectures – which AMD has disclosed – has been completed a long time ago. At this point Mr. Keller's CPU architecture design team may be finalizing the third iteration of Zen (znver3) or starting high-level design of the fourth iteration of Zen (znver4). Development of the "K12" and the "K12+" micro-architectures, which share a lot of innovations with "Zen", has been finished too. It is highly likely that the departure of Mr. Keller will not significantly affect AMD's products due in 2016 – 2018, all products based on "Zen" and "K12" cores will see the light of day.
"We have a multi-generation roadmap in place to further enhance and improve the core well into the future," said Mr. Prairie. "Our focus is on high-performance, scalable, 64-bit x86 and ARM cores."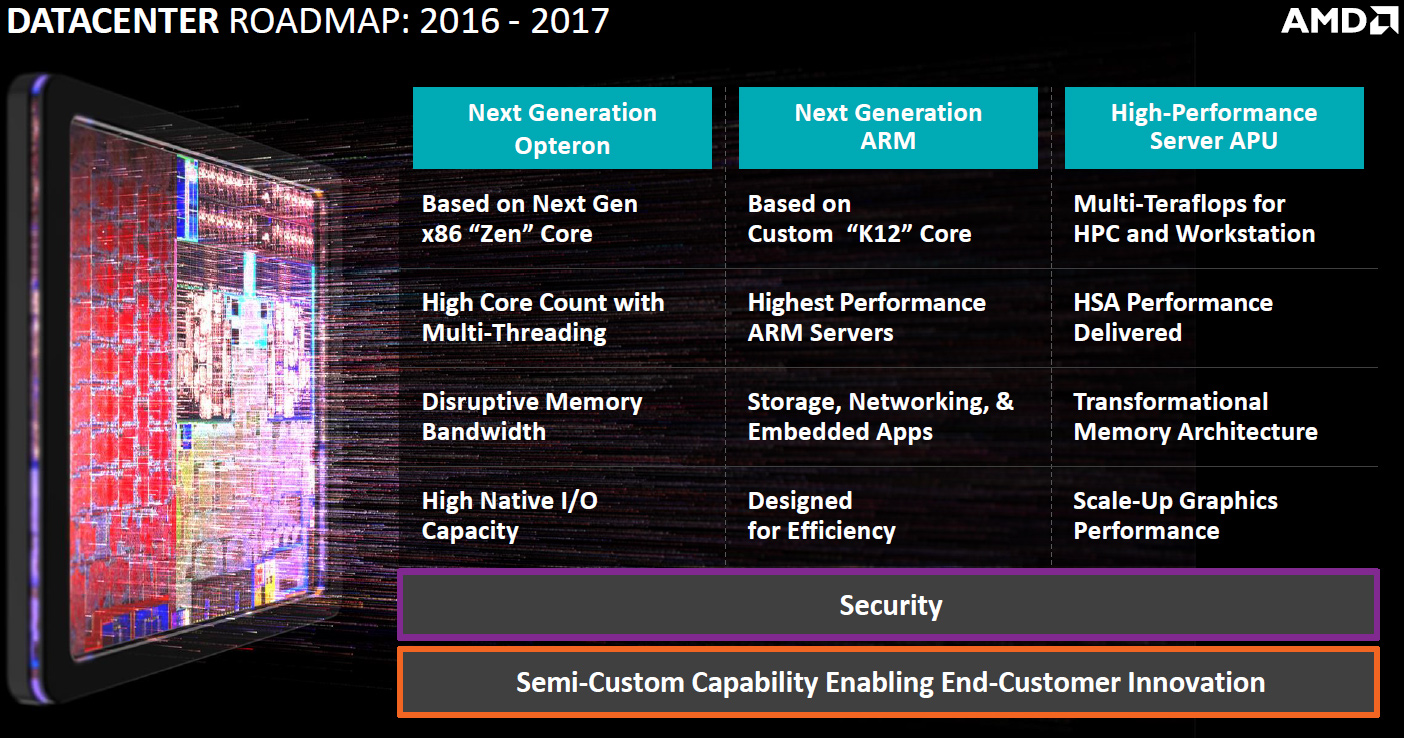 CPU development pipeline
Throughout its history, Advanced Micro Devices has developed a number of breakthrough micro-architectures and technologies that were years ahead of what their competitors offered at the time. Unfortunately, AMD did not always have enough resources to pursue new opportunities. So, when AMD decided to design two micro-architectures instead of one in 2005 – 2006, it was a risky decision, which eventually negatively affected the whole CPU development pipeline at the company. Fortunately, the pipeline has been fixed by now, thanks to Mark Papermaster and Jim Keller.
In the past, AMD had multiple CPU architecture development teams based in different locations (including Sunnyvale, California; Boxborough, Massachusetts; Fort Collins, Colorado, etc.). Different teams designed and enhanced different micro-architectures and were very dedicated to their work. While this seemed to make sense in the 2000s, when the company designed only microprocessors, it would not work nowadays. As a result, Rory Read and Mark Papermaster, who joined the company in 2011 as the chief executive officer and the chief technology officer, decided to cease development of low-power/low-cost x86 cores (known as "Cats", e.g., "Bobcat", Jaguar", "Puma") and focus on high-performance scalable micro-architectures instead. Moreover, Mr. Papermaster, who worked on design of microprocessors at IBM from 1991 to 2006, eventually unified all CPU architecture development teams into one, creating a large pool of talent ready to address various challenges.
Mark Papermaster re-assigned one of the teams (presumably the one located in Boxborough, Massachusetts) to finish the "Bulldozer" micro-architecture enhancements (that work was probably completed in ~2013 and then the team joined the global CPU architecture development group), making resources of the California-based CPU engineering team available to Jim Keller, who joined AMD in August, 2012.
Today, engineers at different locations work on the same projects, which should speed up development of high-performance x86 and ARM cores. For example, people at Fort Collins, Colorado, are working on energy-efficiency of AMD's future micro-architectures (e.g., "Zen") and chip designs. AMD's globalized micro-architecture and microprocessor development groups should be generally more agile and flexible than dedicated teams back in the days. As a result, it is logical to expect AMD to create products faster going forward. Moreover, thanks to Jim Keller's contribution, those chips are expected to be rather competitive on the micro-architecture level.
Fixing CPU development pipeline at AMD was a key thing for the company's future success. The strategic decision for this was made by Mark Papermaster, who handled a lot of organizational issues too. However, it was Jim Keller, who created a working mechanism that is ready to produce competitive micro-architectures for processors.
Discuss on our Facebook page, HERE.
KitGuru Says: Contemporary microprocessors contain billions of elements. Modern CPU micro-architectures are extremely complex and can only be developed by groups of talented people working together. Nonetheless, Jim Keller is a true legend in the world of microprocessors. Throughout his career, he managed design of so many successful products that without any doubts he is a brilliant CPU architect. It is a little sad to see him leaving AMD, but if you take a look at his career, he has never spent more than several years at one chipmaker. In fact, it was a matter of time for him to leave AMD. Fortunately, there is now a working global CPU micro-architecture development group at AMD, which can continue what Mr. Keller started. The main intrigue about Jim Keller now is what is next for him. Meanwhile, AMD's processor R&D is in good hands for now.