Advanced Micro Devices on Tuesday reported its financial results for the fourth quarter as well as for the while fiscal year 2013. Thanks to sales of chips for video game consoles, such as Microsoft Xbox One and Sony PlayStation 4, the company managed to return to profitability and boost its earnings. Unfortunately, sales of AMD's microprocessors shrank in Q4, which is a rather alarming sign.
For the fourth quarter of 2013, AMD reported revenue of $1.59 billion, up 9 per cent sequentially and 38 per cent year-over-year. The company also announced operating income of $135 million and net income of $89 million, or $0.12 per share. Gross margin was 35 per cent.
During the Q4 FY2013 computing solutions segment revenue was $722 million, down 9 per cent sequentially, primarily due to decreased chipset and notebook unit shipments. Sales of microprocessors and supporting chipsets were also down 13 per cent year-over-year. Computing Solutions operating loss was $7 million, as compared to an operating income of $22 million in Q3 2013, primarily due to lower revenue and higher expenses for marketing and employee related performance plans.
Graphics and visual solutions (GVS) segment revenue was $865 million, up 29 per cent compared to the prior quarter, driven by increased shipments of AMD's semi-custom system-on-chips for the PlayStation 4 and Xbox One as well as Radeon R7 and R9 series of GPU products. GVS segment operating income was $121 million, up from $79 million in the prior quarter due to higher revenue from the semi-custom SoCs.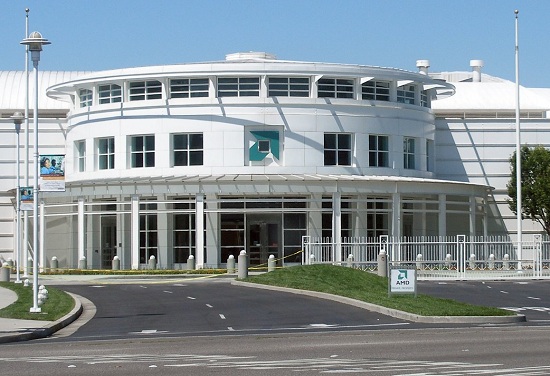 For the year ended December 28, 2013, AMD reported revenue of $5.3 billion, operating income of $103 million and a net loss of $83 million, or $0.11 per share. Gross margin for the year was 37 per cent.
The company said that in 2013, it completed the first two phases of its strategic transformation plan it outlined in October 2012, achieving key milestones in its corporate and financial transformation. The company reduced its expenses and returned to profitability. Besides, it diversified its business and earned more than 30% of revenues from semi-custom and embedded products.
AMD's total wafer purchases from GlobalFoundries in 2013 were approximately $960 million, lower than the previously estimated $1.15 billion, due to lower fourth quarter purchases. There were no penalties associated with the reduction. The two companies are working on AMD's 2014 wafer supply agreement with GlobalFoundries, based on 2014 full year demand expectations, with the goal to manage inventory flat to down year-over-year. In Q1 2014, AMD made the final $200 million payment related to the reduction of the take or pay wafer obligation commitments in 2012.
For Q1 2014 the Sunnyvale, California-based chip designed expects revenue to decrease 16% sequentially, +/-3%. AMD projects computing solutions and graphics and visual solutions business units' revenue to be down, in line with seasonality. AMD expects wafer purchases (from GlobalFoundries) of approximately $250 million in Q1 2014, non-GAAP gross margin to be approximately 35 per cent and non-GAAP operating expenses to be approximately $420 million
KitGuru Says: While AMD has clearly managed to improve its business in general and going forward sales of custom SoCs for the PlayStation 4 and Xbox One are only going to increase, it is alarming to see that sales of microprocessors and accelerated processing units are dropping. Competitive processors and graphics chips ensure that going forward AMD will be able to offer attractive system-on-chips and embedded designs. Meanwhile, it looks like AMD's central processing units are losing popularity…