For IBM, many of its low-margin business units are no longer important since they do not bring desired revenues and in many cases make losses without providing any strategic advantages. But there are companies, who are interested in acquiring select IBM's businesses in order to boost their market shares and get new technologies.
What may not be good enough for IBM, may be just what the doctor ordered for other companies. According to reports from Bloomberg and Reuters news-agencies, Dell and Lenovo are in talks to buy x86 server business from IBM. Both companies will only benefit from the acquisition because Lenovo needs to expand its global presence on the market of servers, whereas Dell would certainly like to become the world's largest supplier of x86 servers and benefit from what it can do best: volume manufacturing.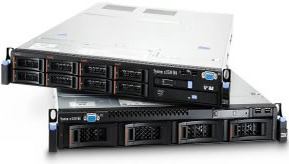 Last year IBM and Lenovo already negotiated over potential acquisition of the former's x86 server business by the latter. Based on unofficial reports, the two companies halted negotiations last May as they could not reach an agreement over the price of the business, which cost is estimated to be between $2.5 billion and $6 billion. But it looks like that the two companies have since then re-started negotiations and may ink the deal shortly. IBM is projected to retain service part of the x86 server business.
Being one of the world's largest suppliers of x86 servers, Dell is clearly interested to acquire IBM's x86 server business and is also, reportedly, in talks with the Big Blue. While the latter may consider commodity server business inappropriate for itself, for Dell, it will help to gain numerous new clients and continue its shift to enterprise systems from personal computers. No details about IBM-Dell negotiations are clear at the moment.
Since any potential transaction will require an approval from the U.S. authorities, it should be much easier for IBM to sell the business to Round Rock, Texas-based Dell, than to China-based Lenovo. On the other hand, the latter bought PC business from IBM back in 2004 and since then established assembly lines in the U.S. to fulfill orders from the governmental agencies.
KitGuru Says: Keeping in mind that IBM has been getting rid of hardware businesses for many years now, it is only a question of time before it will sell its low-end server business unit. The question is, what is going to happen then: proprietary server platforms are losing market share, without x86, IBM will be out of the server business completely in a number of years.