Towards the end of 2019, Amazon mentioned that new AMD-powered instances were in the works, and these have now finally debuted in form of 2nd Gen AMD EPYC-run instances.
Amazon's 2nd Gen AMD EPYC processors run at frequencies of up to 3.3GHz and are the sixth instance family at AWS powered by AMD EPYC processors. The new instance goes under the name "Amazon EC2 C5a" and comes in eight different configurations – with all aimed at providing good performance at a lower price point.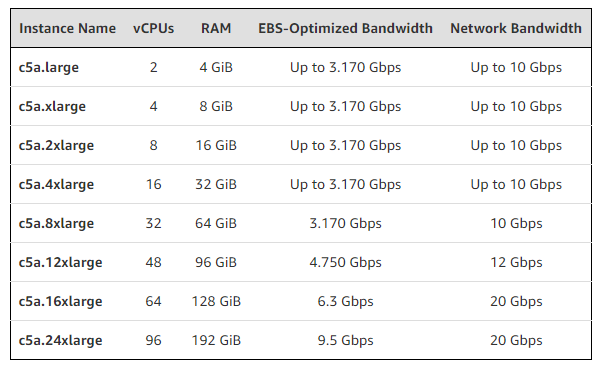 Image credit: Amazon
David Brown, Vice President, Amazon EC2, Amazon Web Services, Inc said: "Since launching Amazon EC2 R5a, M5a, and T3a instances powered by 1st gen AMD EPYC processors, we've seen customers move many general purpose and memory optimized workloads to take advantage of the AMD EPYC processor capabilities and 10% lower prices over comparable instances."
According to AMD, the company's EPYC processors offer the "lowest cost per x86 virtual CPU in the Amazon EC2 portfolio."
Additional information about how to get started with the instances can be found HERE. AMD's press release discussing the introduction of 2nd Gen AMD EPYC Processors to AWS can be found HERE.
Discuss on our Facebook page HERE.
KitGuru says: Do you use AWS for your work or your hobby projects? What are your thoughts on the new AMD-powered AWS instances?