AMD's server-based EPYC processors have been doing the rounds for the past year, making waves against Intel's Xeon offerings. Team Red took some time out yesterday to tell us just how well its current Naples line of chips are doing, as well as outlining plans for the impending Rome series.
While the duopoly presented by AMD and Intel means that there's an ongoing battle for market share, AMD's senior director of data centre and embedded solutions group Daniel Bounds has stated that the company's goal is not to beat Intel, but to make the greatest impact possible in the market through innovation.
EPYC's first year of performance is a testament to that, as AMD has formed a strong range of partnerships spanning 15 systems vendors, including HP, ASUS and Dell and built a robust IHV ecosystem across networking, storage and memory markets. According to AMD, 55% of the server market runs on virtualised infrastructure, with the need for more cores, security and I/O capability. This is exactly what AMD hopes to address with its EPYC lineup.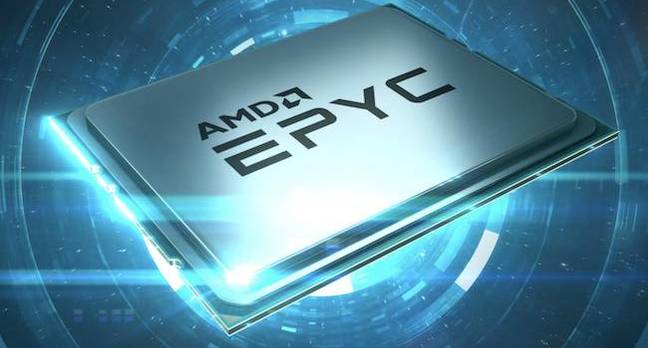 Some of this success is debatably derived from Intel's increasing amount of vulnerabilities, with Foreshadow being the latest in a long line of Spectre and Meltdown-prone chips. While Intel is forcing vendors to choose between its original performance or security via the Foreshadow-mitigating patches, AMD's EPYC line offered both without compromise. Despite the winds certainly blowing in favour of the company, it's AMD's price to performance Bounds states is the real draw.
The average server lifespan has moved from 3.7 years to 5.2 years, however we are at a time where "millions of virtualised servers" are experiencing degraded performance as they reach the end of their life cycle. This is where Bounds says AMD's EPYC comes in, reducing licensing and total cost of ownership (TCO) costs by up to $100,000 without sacrifice towards performance thanks to the increased amount of cores and single socket offering.
Although Bounds notes that AMD is in a "constant state of expansion" with its partner network, the true future of EPYC servers lies in its 7nm chips, codenamed Rome. Apparently we won't have too much longer to wait until AMD lifts the lid on what to expect, as Rome is currently sampling ahead of its 2019 launch.
"We've only just begun. Our roadmap is stable, exciting and ahead of the industry," concludes Bounds.
KitGuru Says: Given Ryzen's storming success on the commercial front, this isn't too surprising of a feat for AMD. It will be interesting to see how Intel responds, particularly given its stumble on the 10nm front.