The supercomputer division of Hewlett Packard, Cray has partnered up with Japanese chip manufacturer Fujitsu to offer high-performance technologies for the Exascale Era. The new alliance will bring the first-ever commercial supercomputer combining a Fujitsu A64FZ ARM-based processor, high-bandwidth memory implemented by the Cray CS500 architecture and programming environment.
Initial customers to benefit from this collaboration will be the Los Alamos National Laboratory, Oak Ridge National Laboratory, RIKEN Centre for Computational Science, Stony Brook University, and the University of Bristol. Cray and Fujitsu will be working together on engineering, co-development, and joint go-to-market to meet customer demand.
"Our partnership with Fujitsu means customers now have a broader choice of processor technology to address their pressing computational needs," said Fred Kohout, senior vice president and CMO at Cray, a Hewlett Packard Enterprise company. "We are delivering the development-to-deployment experience customers have come to expect from Cray, including exploratory development to the Cray Programming Environment (CPE) for Arm processors to optimize performance and scalability with additional support for Scalable Vector Extensions and high bandwidth memory."
The unique design of the Fujitsu A64FZ processor is its ability to deliver HBM and Arm Scalable Vector Extensions (SVE) to provide memory transfer speeds significantly faster than DDR4, with a maximum theoretical bandwidth greater than 1 terabyte per second (TB/s). Additionally, support for Arm SVE provides improved performance in both artificial intelligence and analytics. The Cray CS500 is able to apply this computational power to a wide range of workloads while maintaining high parallelization, low power consumption and high reliability.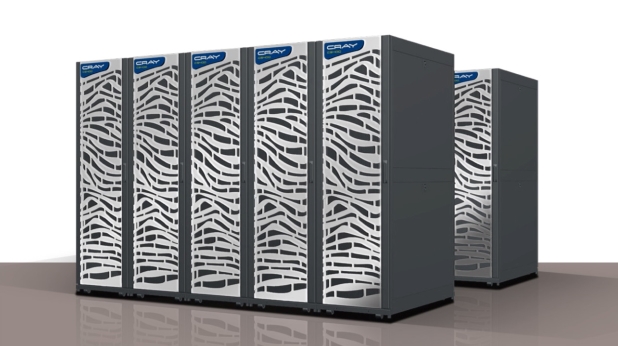 "It's a pleasure to partner with Cray on building technologies for the next era of computing," said Takeshi Horie, corporate executive officer, vice head of service Platform Business Group at Fujitsu. "Both companies have a strong legacy of supercomputing and vector processing. The A64FX Arm processor was designed to empower a wide range of data-intensive applications and is the world's first CPU to adopt the SVE of the Armv8-A instruction set architecture, specifically extended for supercomputers."
Cray supercomputers powered by the Fujitsu A64FX will be available to customers through Cray in mid-2020. For more information about Cray CS Series supercomputer systems, go to the official Cray website.
Discuss on our Facebook page HERE.
KitGuru says: Cray has recently announced collaborations with AMD using EPYC processors in its ARCHER2 supercomputer. Now Fujitsu will be helping power Cray supercomputers to offer an ARM-based, high-performance, low power solution for artificial intelligence and analytics, in a wide range of HPC and AI workloads. What do you guys think to this Cray / Fujitsu partnership?