New information regarding AMD Ryzen Threadripper 3000 CPUs has come to light online recently. Specifically, the naming scheme has been spotted which shows a 24-core version of  3rd generation Threadripper 3960X.
AMD announced last month that Ryzen Threadripper 3000 series CPUs will be coming in November, along with the highly-anticipated Ryzen 9 3950X desktop CPU. Further details have been rather sparse since then. However, a couple of leaks have popped up in the last few of days hinting at the naming scheme and potential configurations of the new Threadripper 3000 series.
Yesterday a leak of the AMD Master Product list emerged which confirmed Threadripper will feature a 280W TDP, the same as a recently introduced AMD EPYC 7H12 64-core CPU. However, the listed Threadripper shows 32-cores.
First spotted by APISAK on Twitter was the listing of a Ryzen Threadripper CPU with the title Threadripper 3960X in what appears to be the first entry of the Threadripper 3000 series in the AoTS database. This naming scheme may also have been confirmed by German site Computer Base who found a Threadripper 39x0X in the Serial ATA International Organisation listing which at least shows 3rd generation Threadripper will continue with the 3000 Zen 2 naming scheme.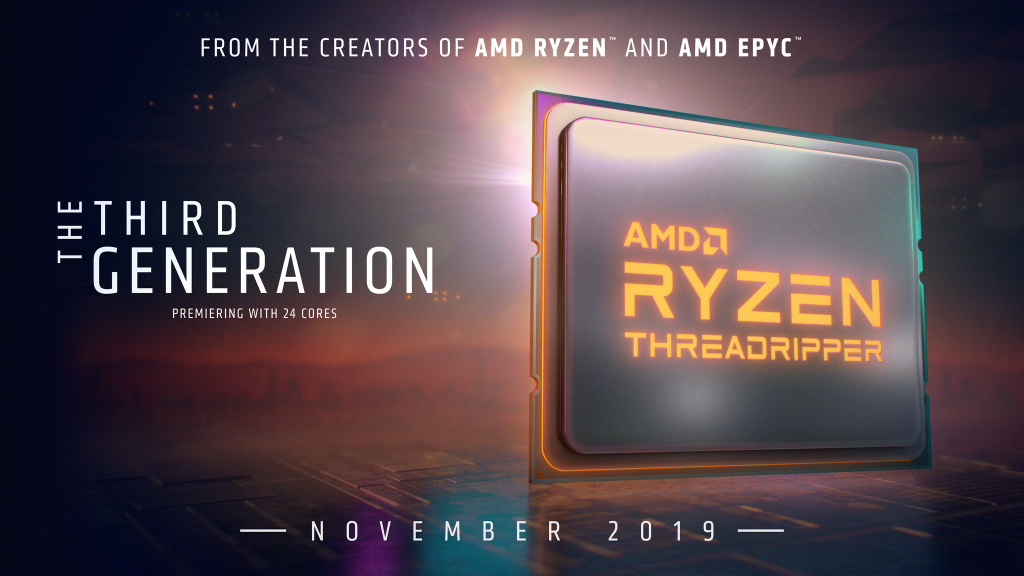 Since the upcoming flagship, AMD Ryzen desktop processor is named the 3950X, it is unlikely this will be used for Threadripper as it could cause confusion, previous Threadripper generations have had versions named 1950X and 2950X. However, this time around it is suggested the naming scheme could be tweaked a little with 3960X being entry-level and 3970X, 3980X and 3990X following on from that.
With official confirmation still to come from AMD regarding the full line up of Threadripper 3000 configurations, rumours suggest the new Threadripper CPUs will be codenamed "Castle Peak" and are expected to start with a 24-core entry-level specification, potentially going up to a 64-core flagship version with 32-core and 48-core mid-tier options in-between.
The 24-core Threadripper 3000 is due to be the first to launch in November, with the higher-spec configurations coming at a later date. Official dates and pricing are yet to be confirmed by AMD, but we will be sure to update you guys as soon as we know.
KitGuru says: Getting excited for Threadripper 3000? personally I cant wait to see what AMD has to offer in its latest HEDT CPUs. Could this be another area AMD will steal some market share from Intel? only time will tell.