One of the hottest topics of debate among KitGuru readers is the correct approach to installing a CPU cooler
We took a test system consisting of a 3.9GHz Core i7-4770K CPU (stock clock speed), an ASRock Z87 Extreme4 motherboard, Sapphire R9 290 Trix graphics card, Samsung 840 EVO SSD and Seasonic Platinum Fanless 520W power supply. Within the ASRock set-up screen we set HW Monitor to 'Performance'.
Our chosen chassis was the Phanteks Enthoo Pro with both case fans disconnected. This means the only active fan was the CPU cooler as we can pretty much discount the Sapphire graphics card. At idle the Sapphire draws a trivial amount of power and is cool to the touch.
Our chosen CPU coolers were a stock Intel cooler, £30 Arctic Cooling Freezer i30 and a £49 Noctua NH-U12S. The two tower coolers are similar in layout and each use a 120mm fan and heatpipes, however they differ in detail and in particular in terms of the mounting method. We detail this in the video above.
We loaded the Cpu to 100 percent with Prime 95 which is a severe test for any cooling system and pushes the hardware to the absolute limit.
As you'll see in the video the two tower cooler outperform the Intel cooler by a significant margin.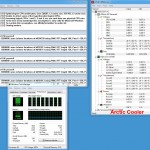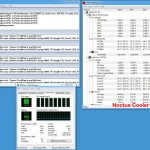 Intel cooler idles at 38 degrees, loaded at 100 degrees, Delta 62 degrees
Noctua NH-U12S idle 25 degrees, loaded 65 degrees, Delta 40 degrees
Arctic Cooling Freezer i30 idle 26 degrees, loaded 70 degrees, Delta 44 degrees
Discuss on our Facebook page, over HERE.
Kitguru says: You will have to watch the video to find our views on the application of thermal compound so be sure to post your comments to let us know what you think.