Saitek, a division of Mad Catz,  is best known for it's range of joysticks, flight yokes and racing wheels, but it will soon be adding another product to that list. In a partnership with the developers of Farming Simulator, GIANTS Software, it will soon be releasing custom hardware for the game. No longer, will you have to use a wheel designed for going hundreds of miles per hour, when you only want to go plough your field or harvest your crop.
Together the two companies plan to make these as accurate and useful as possible. With features such as having properly tilted, centre sprung steering with 900 degrees of turning and a wheel turning knob. You can see some of their early plans below but these are not final.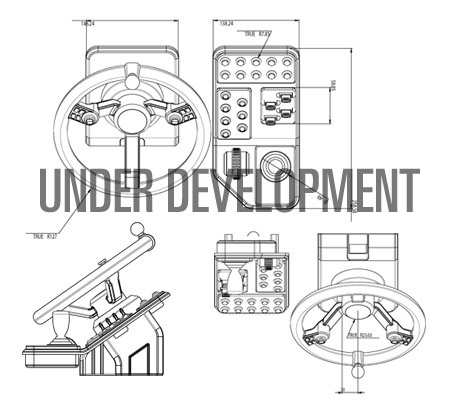 The wheel also has a mini stick, used to control your movement when not inside a vehicle and the buttons around the edge, allow you to use your in-game PDA. As well as this the package is rounded out, with the accelerator and brake pedals that you would expect to come with a high quality, simulation peripheral.
The companies also plan on releasing what they are calling the Vehicle Side Panel. This is the second bit of hardware shown above and includes a Front Loader Control Stick, for precision control of vehicle attachments, as well as a host of fully programmable buttons, that can be used to control other machinery features.
Perhaps the best news for the Farming Simulator community though, is that Saitek and GIANTS will be seeking input from them on certain features and design decisions. In fact they have a dedicated signup page for you to register your interest right now, just hit that source link below.
No pricing information has been released at this time, as the line of products is still in early development.
Discuss on our Facebook page, HERE.
KitGuru Says: Saitek produces some very high quality simulation peripherals and has a very good name in the flight sim market so I'm sure any Farming Simulator fans will be really glad to hear this news. The difference in immersion when using a suitable controller is pretty huge. What are your thoughts on hardware that is specialised to certain games?
Source: Saitek