One of the biggest stories of the past few weeks, has been the ongoing hacking of Sony by the organisation known as the Guardians of Peace. Most of it, while damaging to Sony has been rather benign, but most recently, the group threatened "9/11" like attacks on any Cinemas that showed the movie. In response, many theatres pulled it and Sony officially pushed the film's release back to an unspecified date yesterday. The Alamo Drafthouse Cinema however has taken a much more 'Merica step and announced a 10 year anniversary showing of Team America instead of the planned The Interview screening.
Of course, Team America is the last time that someone made a movie that bashed North Korea and its leader (at the time) Kim Jong Il. Although satirically critical of American patriotism, Alamo Drafthouse is going to use it for a patriotic evening involving flags, singalongs of the movie's soundtrack and American themed balloons!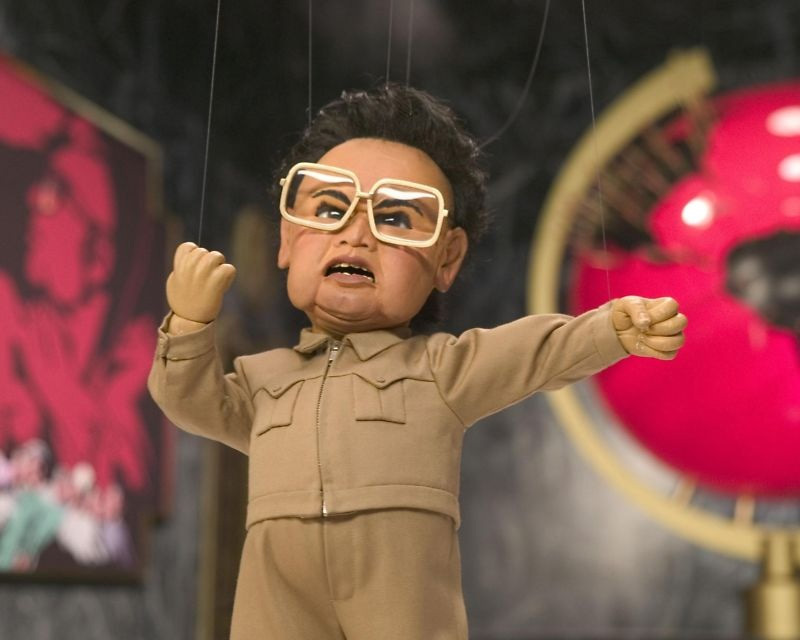 'Finally, the world will no longer laugh at North Korea!'
"The world is different in 2014 than it was in 2004. Kim Jong Il is gone. I don't know if Michael Moore is still around or not. But a lot of the brilliance in TEAM AMERICA is timeless," reads the Alamo's announcement. "Acting is still the greatest gift any human being can possess, and it's the only way to save America from the terrorists. Puppet f***cking  is still awesome. And Matt Damon is still Matt Damon."
[yframe url='http://www.youtube.com/watch?v=C_9tMpCiWRU']
Although Team America makes some great sarcastic points, South Park summed up this current quandary the best
The cinema chain also took a veiled shot at Sony and the cinemas that pulled the movie from release for fear of some sort of violent act:  "That is how true American heroes will be celebrating this year, but if you want to let the terrorists win…well, that's your prerogative."
For those that want to attend, the "Action Pack," of the Team America showing, it will be taking place at 7PM on 27th December sy the Alamo Drafthouse Richardson.
Discuss on our Facebook page, HERE.
KitGuru Says: While I know why cinemas and indeed Sony don't want to be seen to be considering money worth more than human lives, this decision has now just made it so that others will see it as worthwhile to threaten companies to stop things happening that they disagree with. That's a scary precedent to set.