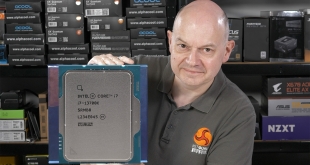 KitGuru was impressed by Intel's Core i7-12700K which delivered plenty of stomp at a reasonable price. In today's review of the Core i7-13700K we expected this mid-range CPU might deliver more of the same but instead have been amazed to discover it can actually beat the mighty Core i9-12900KS.
Watch the video via our VIMEO Channel (Below) or over on YouTube at 2160p HERE
Time stamps
00:00 Start
00:36 The technology
02:50 The setup
05:58 BIOS / Blender
07:19 Cinebench R23
07:48 Efficiency
09:26 Power and Temps
09:45 Differences in boards
10:09 Result discussion
11:36 Blender V3 Classroom
12:41 Handbrake conversion H.264/H.265
13:29 7ZIP Benchmark
13:48 3DMark CPU Profile
14:11 Gaming benchmarks
15:46 Leo's closing thoughts
In recent times KitGuru has reviewed the Intel Core i9-13900K HERE and the Core i5-13600K HERE while over on the AMD side of things Luke has reviewed all four models of Ryzen 7000. Today we are reviewing the Core i7-13700K which will wrap up the first wave of releases from Intel's 13th Gen and AMD Zen 4.
Specification:
P-Core Base Frequency: 3.0GHz
E-Core Base Frequency: 2.5GHz
Socket: LGA1700
Intel Smart L3 Cache: 30MB
L2 Cache: 24MB
Processor Cores: 16 (8P + 8E)
Processor Threads: 24
Memory Support: DDR4-3600MHz & DDR5 5200-6000MHz
Intel Turbo Boost Max Technology 3.0 Frequency: 5.4GHz
P-Core Max Turbo Frequency: 5.3GHz
E-Core Max Turbo Frequency: 4.2GHz
CPU PCIe Lanes: 20
Unlocked: YES
Chipset: Intel 600 & 700 Series Compatible
Graphics: Intel UHD 770
Base Power: 125W
Maximum Power: 253W
Be sure to check out our sponsors store EKWB here