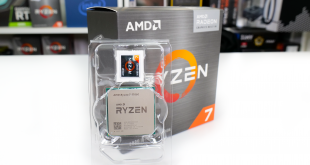 Today we are looking at a much-anticipated product from AMD; the Ryzen 5000G desktop – Cezanne – APUs are finally available for DIY PC builders to purchase. We have the Ryzen 7 5700G in for testing which is AMD's new flagship APU product that boasts 8 CPU cores with 16 threads, integrated Vega8 graphics, and a $359 USD or £310 price tag.
In a world where the discrete GPU market is still completely broken, perhaps an APU with reasonable built-in graphics capability makes more sense than ever?
00:00 Start
00:15 Introduction / pricing
01:19 5700G details (and cooler)
03:33 PCIe Gen 3 ?
03:55 Motherboard support
04:32 Test system / Methodology
06:11 Comparison Thoughts
07:41 Clock speed / OC
10:23 Performance results
12:58 Summary of CPU focused performance
13:20 iGPU gaming – AAA titles
16:01 Summary of iGPU gaming performance
16:43 Gaming Performance with RTX 3080
17:38 Power Consumption
18:00 Temperatures
18:17 Summary
19:52 Luke's Closing Thoughts
Focusing on the CPU side to start with, the Ryzen 7 5700G features eight cores and 16 threads of Zen 3 architecture. The chip clocks at 3.8GHz base and 4.6GHz max rated boost. You get 0.5MB of L2 cache per core, as with all Zen 3 – so 4MB total L2.
But L3 cache capacity is only 16MB, which is a halving compared to single-CCX Zen 3 desktop CPUs such as the Ryzen 5 5600X and Ryzen 7 5800X. That is likely to have a notable negative impact as it – in essence – reverts us back to Zen 2 levels of compute performance in some respects.
On the GPU side, AMD equips the 5700G with 8 Compute Units clocked up to 2GHz. This sounds pretty promising, until you realise that the same old – somewhat ancient – Vega architecture is being used.
No RDNA/RDNA2 here – old Vega that really isn't too dissimilar to the 11 CU, albeit slower clocked, Vega iGPU of the Ryzen 5 3400G from 2019! This is disappointing, irrelevant of what AMD has done to improve the core Vega architecture.
Why no RDNA2 like consoles?
The GPU does however support useful tech such as FreeSync and FSR.
And then on the SoC side of things, the 5700G has a 65W TDP and is bundled with the Wraith Stealth which is cheap and disappointing when Wraith Spire is entirely justifiable for $359. The old Ryzen 5 3400G got the bigger Wraith Spire back in the day.
The roughly 180mm2 SoC design features 10.7 Billion transistors fabbed on the 7nm TSMC process node. The use of a single monolithic die for this APU, unlike the Core Chiplet Die and IO Die chiplet approach for Ryzen 5000 desktop processors, is potentially advantageous for latencies when reaching out for IO operations.
This is essentially the same silicon as the Ryzen 5000 mobile APUs, albeit with subtle desktop versus laptop differences and typically higher power budgets.
AMD equips the 5700G with 24 PCIe lanes but they are only Gen 3! Ryzen 5000 desktop and even Intel's competing solutions have Gen 4 now – how can AMD justify the application of older PCIe tech on a still expensive processor?
As expected, the new Ryzen 7 APU drops into the AM4 platform with a BIOS update. B550 motherboards will undoubtedly be the sensible go-to option for buyers. Though do pay attention to video outputs on the rear IO when picking a motherboard.
We get the usual Zen 3/AM4 memory support, and that's important given the tie-in for GPU memory speeds to the system RAM clock. So 3600MHz should work fine out of the box, 3800MHz with 1900MHz Fabric Clock should be fine, and 4000MHz with 2000MHz Fabric Clock is worth trying but without guarantee that a chip will do 2GHz FCLK.
In the motherboard BIOS we can carve off how much RAM we would like to allocate to the GPU. Take that into consideration when deciding what capacity kit to opt for. We chose 4GB as a sensible option.
In terms of competition for the $359 Ryzen 7 5700G, it is an interesting one.
We have the Ryzen 7 5800X from AMD's own stable, but that does not have an iGPU and is more expensive.
We have the Core i7-11700K which is around £30-40 more expensive, so that's a valid competitor as it has the Intel UHD 750 32EU iGPU. Plus, this chip acts as a good proxy for the direct competitor – the Core i7-11700 non-K.
We have the Ryzen 5 5600X for around £60 less currently, so that leaves budget to buy a *GULP* GT 730 graphics card brand new (ignoring 2nd hand for now).
And of course you could go with a cheaper Core i5 and a dGPU, but that's getting a bit away from real APU comparisons for people actually interested in APU benefits.
Be sure to check out our sponsors store EKWB here