AMD's Ryzen CPUs have been a huge success throughout 2017 but it is time to start looking towards the company's plans for next year. AMD has said in the past that we will see a Zen 1 refresh before the jump to Zen 2 architecture, and now it looks like we know when to expect that to happen.
As part of a recent presentation, AMD began showing its lineup of Ryzen processors for 2018, which will kick off with Ryzen 2 in Q1. This means between January and March, we should see these processors launch. This is known as the '2000 series', with the Ryzen 7 1800X being bumped up to the Ryzen 7 2800X, the 1700X replacement will be the 2700X and so on.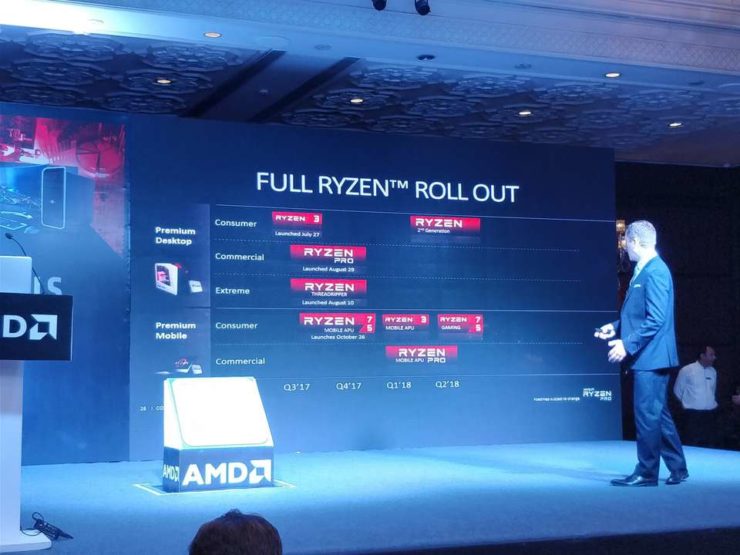 Presentation slide via moepc.net
According to the folks at wccftech, these processors will be based on the 12nm process node. We should apparently expect new Ryzen 7 chips in late February, followed by Ryzen 5 and Ryzen 3 in March. Those timings could of course change over the next couple of months. As for specific improvements we should expect, support for higher DDR4 RAM frequencies and slightly higher clock speeds are said to be on the way.
These new Ryzen Zen+ processors will be pitted against Intel's Coffee Lake chips. Intel is set to release new Coffee Lake SKUs in the first half of 2018, with rumors indicating that we will see Z390 motherboards brought to the table alongside a new 8C/16T Core-i7.
KitGuru Says: While the Q1 release date seems set in stone due to AMD's presentation slides, there is still a lot of rumor surrounding the specs of AMD's 2018 Zen refresh. We should learn more soon enough though, as CES is just around the corner.