It's the 40th anniversary of the Intel 8086 and the x86 architecture and Intel are going large to celebrate. This week at Computex Intel announced the limited edition i7-8086K processor, as an homage to the original Intel 8086 which was originally released in 1978. The 8086 was the basis on which the famous 8088 CPU was built on, which powered the first IBM PC.
The Intel i7-8086K comes with a base clock speed of 4.0GHz straight out of the box, with a boost frequency of 5.0Ghz, which is exactly 1000 times the base clock speed of the original 8086 and so it would certainly outperform the original in any benchmarks you could throw at it (if the benchmarks would even run on the original…).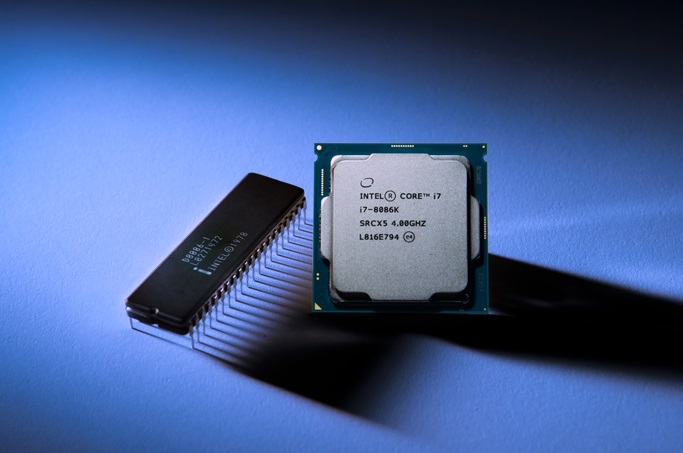 Image credit: Intel Corp. 
The Intel i7-8086K shares a lot of its characteristics with the i7-8700K, as it has the same transistor count, uses the same manufacturing process (14nm), the same die size (149mm2) and the same socket(1151v2). Therefore, owners of the i7-8700K would be hard pushed to find any technical reasons to upgrade other than the potential for slightly higher overclocks, due to being cherry picked from the factory for a faster clock speed. However, being a limited edition it would certainly be at least a worthy piece of tech history for the collectors among us.
Intel will be running a 24 hour competition on their website starting at 5PM GMT on the 7th of June, where they will be giving away 8086 of these limited edition i7-8086K processors (500 of which will be available to UK residents). These are going to exceptionally hard to come across in the open market, so it would be well worth taking a few minutes to sign up when the competition opens tomorrow.
KitGuru Says: As a tech enthusiast, seeing something like this is quite exciting. The 8086K pays homage to one of the most important moments in tech history, and that guaranteed 5GHz boost speed is nothing to scoff at. Will any of you be looking to pick one of these up?