Following the launch of Ryzen this year, AMD has briefly discussed its future CPU plans. We have already heard that the company intends to release another round of Zen processors based on 14nm+, followed by Zen 2 and Zen 3 based on 7nm later down the line. However, we may now have a better idea of when to expect these launches thanks to a leaked road map.
The Spanish website, Informatica Cero claims to have been sent an updated processor roadmap from an inside source at AMD. The plan is to launch 'Pinnacle Ridge' in 2018, which will be based on the current Zen architecture but with a performance uplift. According to a separate report from DigiTimes, Pinnacle Ridge could launch as early as February next year.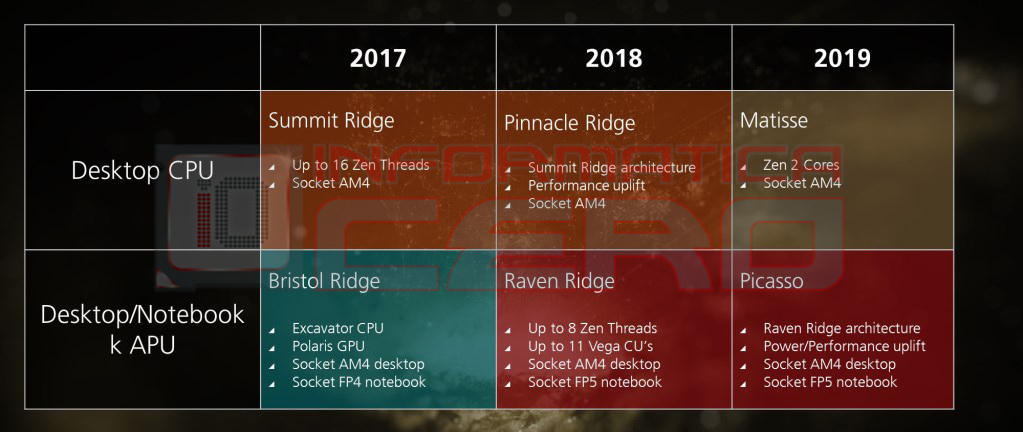 Image Source: Informatica Cero
Pinnacle Ridge will be the second round of 14nm+ based processors. However, in 2019, AMD will be upping the ante with 'Matisse', which will make use of the Zen 2 architecture. Judging by previous comments, Zen 2 will be AMD's first 7nm chip. An AMD exec did recently admit that the 7nm node is proving to be quite the challenge to get right but there is still plenty of time left given the 2019 target window.
On the APU side of things, AMD will continue to use the Raven Ridge architecture throughout 2018 and 2019. However, it will be renamed 'Picasso' with various power/performance improvements.
We can't confirm how legitimate this leaked roadmap is but it seems to tie in to statements AMD has previously made, so it could end up being accurate.
KitGuru Says: The technology world never sits still for long and now that AMD has found its footing in the CPU world again, it seems the company is aiming to keep the pressure up.