Since shipments of personal computers in the first quarter of the year dropped again both sequentially and annually, it is not surprising that sales of graphics adapters (both discrete and integrated) also contracted in the Q1 2014. Advanced Micro Devices suffered most from the declines and its overall share of the graphics adapters market dropped. GPU sales of Intel and Nvidia also decreased, but they either increased or maintained their market shares.
According to Jon Peddie Research, a leading graphics adapters market tracker, shipments of all types of graphics processing units (GPUs) were down 11.6 per cent quarter-to-quarter, and down 4 per cent compared to the same quarter last year. Shipments of graphics processors declined to around 102.2 million units, down 4 million units from Q1 2013, which suggests that declines are stabilizing (i.e. sales of graphics adapters from Q1 2012 to Q1 2013 dropped whopping 15.8 million units).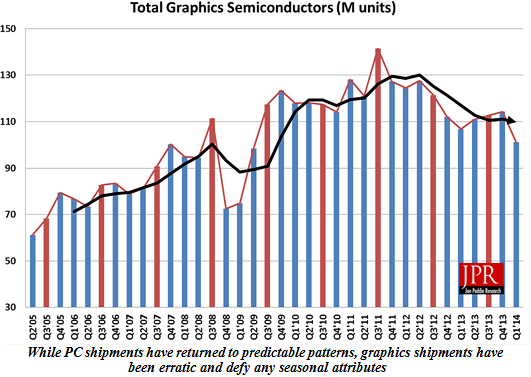 Year-to-year in Q1 2014 AMD's overall PC GPU shipments decreased 22.1 per cent, Intel's graphics sales declined 5.6 per cent, Nvidia's GPU shipments dropped 12.7 per cent, and others (i.e., Via Technologies/S3 Graphics, SiS, Matrox Graphics, etc.) essentially went away.
AMD's overall PC graphics sales decreased 18.2 per cent quarter-over-quarter. The company's shipments of desktop accelerated processing units (APUs) dropped 21.9 per cent from the previous quarter; by contrast, sales of the company's APUs for notebooks increased 3.7 per cent sequentially. AMD's discrete desktop GPU shipments dropped 6.6 per cent and notebook discrete graphics chips shipments declined 21.8 per cent in Q1 compared to the Q4 2013.
JPR claims that around 67 per cent of AMD's microprocessors feature integrated graphics cores. The company continues to ship 880G/980G core-logic sets with integrated Radeon HD 4250 graphics engines (graphics adapters integrated into chipsets are also called IGPs [integrated graphics processors]), though their share is declining, claims Jon Peddie Research. The analysts believe that one of the reasons for AMD's market share decline in Q1 2014 was a decrease of IGP sales.
Shipments of Intel's integrated graphics adapters declined 7.9 per cent quarter-over-quarter. Sales of the company's desktop processors with embedded graphics cores decreased by 5.1 per cent from the previous quarter; sales of Intel's CPUs for notebooks dropped by 9.7 per cent. According to Jon Peddie Research, 99 per cent of Intel's non-server processors have integrated graphics cores.
Nvidia's sales of graphics adapters for PCs decreased 10.4 per cent quarter-over-quarter. Nvidia's desktop discrete shipments declined 6.6 per cent from the Q4, whereas the company's notebook discrete shipments decreased 14.5 per cent sequentially.
In Q1 retailers traditionally minimize their purchases and to unload what they bought for the holiday season and what they did not sell. As a result, sales of PC companies in the first quarter are seasonably lower compared to other quarters. This year shipments of PCs and GPUs declined in Q1 as well, but the drop was not alarming, JPR claims.
Discuss on our Facebook page, HERE.
KitGuru Says: The overall trend of the graphics adapters market resembles the general trajectory of the PC market, which is on a decline these days Therefore, the results of Q1 were not really surprising. What was rather unexpected is AMD's shipments of chipsets with integrated graphics for outdated processors originally released in 2009 – 2011 timeframe. Sales of such low-end devices partly explains why AMD's microprocessor and core-logic division cannot make money and suffers from low average selling prices.