Sales of discrete graphics processing units (GPUs) for both desktop and laptop computers were down in the first quarter because of seasonality, according to Jon Peddie Research, a leading market tracker. Nvidia Corp. managed to remain the king of discrete GPUs, whereas AMD remained the No. 2.
As mainstream PCs continue their long-lasting transition to integrated graphics processors, which are getting better every year, shipments of discrete GPUs are declining. Total discrete GPU (desktop and notebook) shipments from the last quarter decreased 11.5 per cent, according to JPR. Sales of standalone GPUs also declined 14.3 per cent from Q1 2013, the market tracker claims.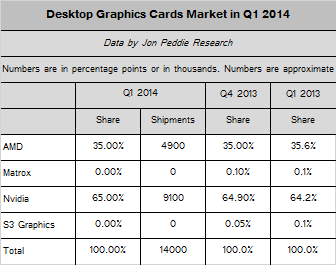 JPR found that desktop add-in-board (AIB) shipments during the first quarter of 2014 behaved according to past years with regard to seasonality. Sales of desktop graphics cards decreased 6.7 per cent from the last quarter (the 10-year average is -3.2 per cent) and 0.8 per cent from the Q1 2013 Total AIB shipments in Q1 2014 dropped to 14 million units, a decline of 0.8 per cent compared to the same quarter a year ago.
Both AMD and Nvidia experienced around 6.6 per cent drop in sales of standalone GPUs for desktop PCs.
On the discrete notebook GPU market the situation was slightly more favourable for Nvidia and less favourable for AMD: Nvidia's shipments decreased 14.5 per cent, whereas AMD's sales declined 21.8 per cent.
Nvidia dominates sales of desktop GPUs as well as notebook GPUs thanks to the GeForce brand recognition and contracts with notebook OEMs.
Jon Peddie Research reports that the gaming PC segment, where higher-end discrete graphics processing units are used, was a bright spot in the market in Q1 2014. Both Nvidia and AMD said sales of their higher-end GPUs were strong, lifting the average selling prices for the discrete GPU market.
JPR has been tracking discrete AIB shipments quarterly since 1987. The volume of those graphics cards peaked in 1999, reaching 114 million units. In 2013 the market shrunk to 65 million units. It is possible that sales of standalone graphics adapters this year will contract again.
Discuss on our Facebook page, HERE.
KitGuru Says: It is not a secret that the discrete GPU market is on its decline because integrated graphics processors are gaining performance and functionality. It is also logical that Nvidia manages to win more designs with notebook makers than AMD since many laptop manufacturers try to avoid installation of AMD Radeon GPUs into Intel-based designs. What is a bit alarming is that after multiple quarters of offering free games with its desktop Radeon graphics cards, AMD still cannot win a significant chunk of the desktop AIB market from its arch-rival.