Although it was rumoured that Advanced Micro Devices will only allow three of its partners to supply Radeon R9 290X 8GB graphics cards, a new photograph of such a board indicates that the company will let more companies to offer top-of-the-range graphics adapters with 8GB of GDDR5 memory.
Videocardz.com has published a picture of MSI R9 290X Gaming 8GB OC Edition graphics card, which is powered by the Radeon R9 290X "Hawaii" graphics processing unit and is equipped with 8GB of GDDR5 memory. The graphics board uses MSI's proprietary Twin Frozr cooling system and looks exactly the same as a version with 4GB of memory; the only difference is an indicator that it has 8GB of GDDR5 written on the box.
The fact that MSI is allowed to offer Radeon R9 290X graphics cards with 8GB of memory clearly points to the fact that such graphics boards will not be exclusively offered by Club3D, Sapphire and PowerColor. In fact, it is highly likely that all partners of AMD will ship Radeon R9 290X 8GB graphics adapters.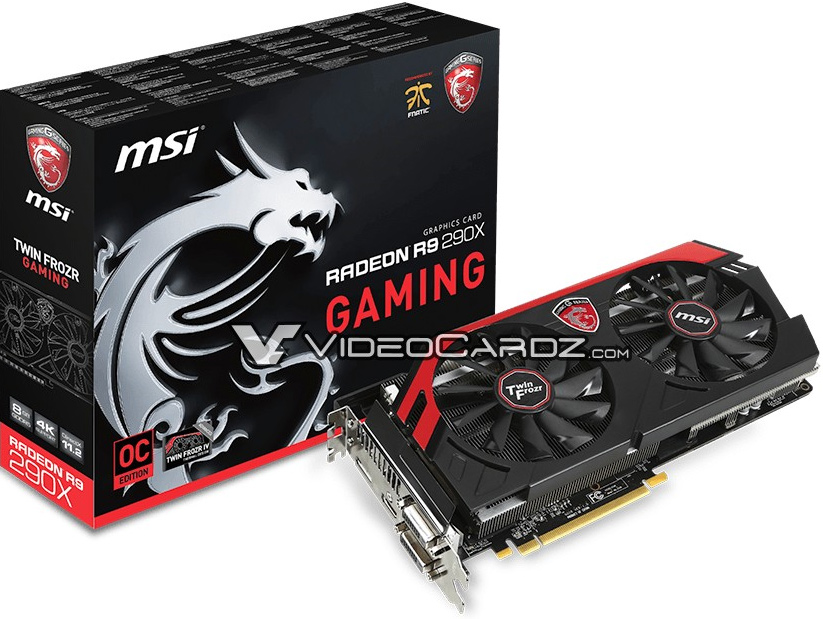 Broad availability of Radeon R9 290X with 8GB of GDDR5 means that it will be easy to get such a graphics solution and its price will not be too high. Moreover, various manufacturers will attempt to differentiate themselves and will try to significantly boost clock-rates of GPU and memory on such top-of-the-line products.
Although graphics boards with 8GB of memory are going to be widely available this holiday season, practical benefits of such frame-buffers are very limited. Select games that will be available, perhaps, next year, will take advantage of 8GB of onboard memory. In addition, those, who play in ultra-high-definition 4K (3840*2160 or similar) resolutions and/or with extreme FSAA (full-scene antialiasing) settings will benefit from enlarged frame-buffers. For the vast majority of gamers 8GB of GDDR5 will be useless for quite a while.
AMD Radeon R9 290X graphics cards with 8GB of GDDR5 onboard will hit the market on the 6th of November, 2014. Nvidia's partners plan to roll-out GeForce GTX 970 and GeForce GTX 980 graphics cards with 8GB of memory in November or December, according to unofficial information.
AMD did not comment on the news-story.
Discuss on our Facebook page, HERE.
KitGuru Says: Being unable to offer all-new ultra-high-end graphics processing units that will beat either Hawaii or GK110, both AMD and Nvidia want to address the market of high-end graphics cards with solutions featuring 8GB of GDDR5 memory. Not a bad way to boost sales for them, but if you want a performance breakthrough, wait until next year when both roll-out their next generation of "big" GPUs.