The first-generation high-bandwidth memory provides extreme performance, but is clearly not perfect for high-end graphics cards due to capacity limitations. A good news is that second-gen high-bandwidth memory is on the way and is due in 2016. Advanced Micro Devices may get it faster and in higher volumes than its arch-rival Nvidia Corp. The only question is when exactly HBM2 is set to be available.
HBM2 to solve HBM's problems
One of the key drawbacks of the first-generation high-bandwidth memory (HBM) is its low capacity. At present, it is impossible to install more than 4GB of HBM on a single-GPU graphics card, which was not a good news for AMD's Radeon R9 Fury-series adapters. SK Hynix, AMD, JEDEC and a number of other industry players are working on the second-gen high-bandwidth memory (HBM 2), which will solve a lot of problems, including capacity-related. Moreover, Advanced Micro Devices may benefit from priority supply agreement it reportedly has with SK Hynix.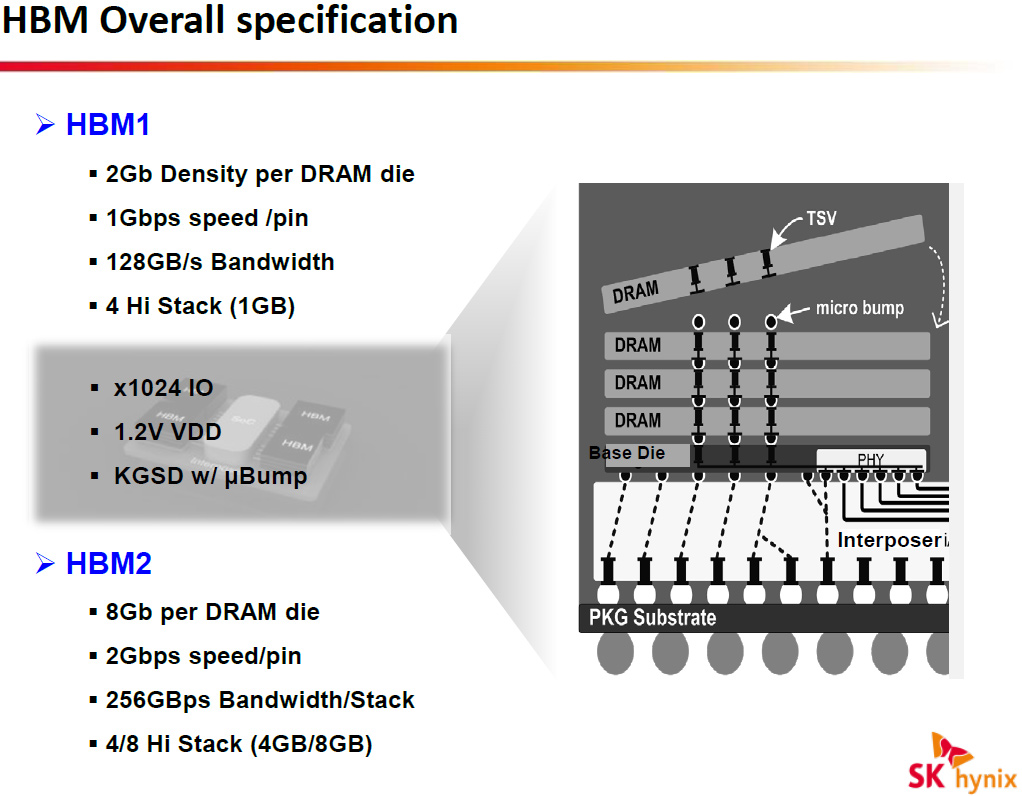 The first-generation HBM (HBM1) stacks four DRAM dies with two 128-bit channels per die on a base logic die, creating a memory device with a 1024-bit interface. Each channel supports 1Gb capacities (2Gb per die), features 8 banks and can operate at 1Gb/s data-rate (1GHz effective DDR clock-rate). As a result, each HBM 4Hi stack (4 high stack) package can provide 1GB capacity and 128GB/s memory bandwidth. The second-generation HBM (HBM2) utilizes 8Gb dies with two 128-bit channels featuring 16 banks and sporting up to 2Gb/s data-rates (2GHz effective DDR frequency). The architecture of the HBM2 will let manufacturers built not only 4Hi stack (4 high stack) packages, but also 2Hi stack and 8Hi stack devices. As a result, memory producers will be able to assemble HBM2 memory chips with up to 8GB capacity (8Hi stack) and up to 256GB/s bandwidth (2Gb/s data rate, 1024-bit bus). Architectural advantages of HBM2 will allow GPU developers to use it not only for ultra-high-end applications with 4096-bit memory bus, but also for adapters that do not require extreme performance.
The industry needs HBM2
Advanced Micro Devices has already announced that it would use HBM memory going forward for a broad range of its ICs [integrated circuits], including graphics processing units and accelerated processing units. Right now, the company is working on its all-new family of graphics processing units based on the next iteration of GCN architecture with increased power efficiency and performance. AMD's next high-end GPU code-named "Greenland" will be made using 16nm or 14nm FinFET process technology, which will help AMD to considerably increase transistor and stream processor counts compared to the code-named "Fiji" (AMD Radeon R9 Fury-series). As a result, "Greenland" will require more advanced memory and AMD plans to use HBM2 for it.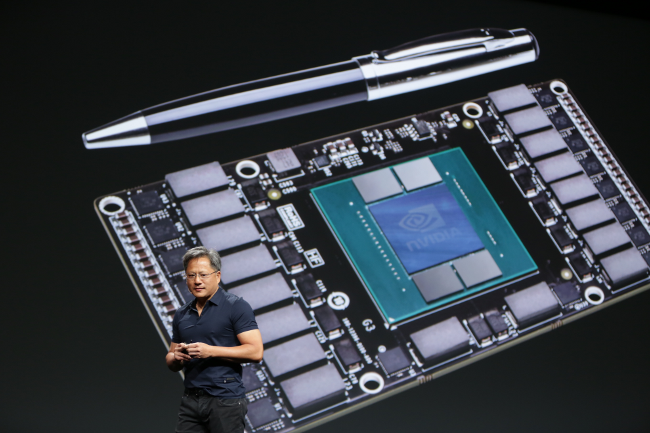 Nvidia will also produce its code-named "Pascal" chips using TSMC's 16nm FinFET process technology and will also dramatically boost transistor count vs. existing graphics processing unit. It is expected that Nvidia's code-named GP100 chip will also need a high-end memory sub-system, presumably based on HBM2. At least, Nvidia officially revealed plans to use "3D memory" with "Pascal".
Supply agreement
Since AMD has been a key developer of both HBM and HBM2, there is a contract in place that gives AMD priorities in terms of supply, according to WccfTech. While the terms of the agreement are unknown, typically such agreements mean that SK Hynix has to meet AMD's requirements first and only then ship its chips to other customers. Theoretically, this could give AMD "an edge against its main rival, Nvidia, going into the next generation of GPUs featuring second-generation HBM technology."
Supply agreements are usually signed in a bid to ensure priority treatment, high volumes and good prices. For example, Apple usually signs supply agreements to ensure that it gets what it needs from its suppliers and at low costs. AMD's share in the GPU market is pretty low these days and it may simply not need a lot of HBM2 chips for its launch next year.
HBM2 is still not quite there yet
Earlier this year SK Hynix demonstrated a 300mm wafer with HBM2 chips on it, which is an indicator that the company is testing such products internally, but this does not give any idea about when the HBM2 is ready for mass production.
At present SK Hynix uses 29nm manufacturing technology to manufacture HBM memory chips. According to roadmap leaked by SemiAccurate some time ago, the company plans to use its 21nm fabrication process to produce HBM2 sometimes in Q1 or Q2 2016. SK Hynix's transition to 21nm is generally considered to be slow, which means that actual launch timeframe may be slightly delayed.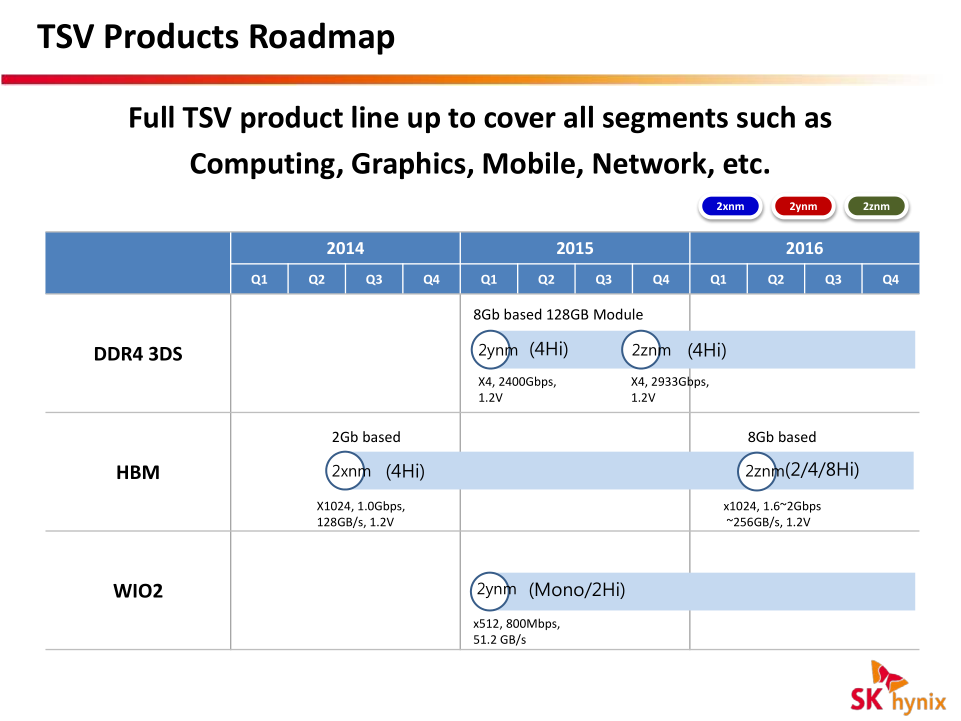 SK Hynix thoroughly lists all of its products – current, future and even some EOLed – in its catalogue that is updated every quarter. It is well known, which of SK Hynix's chips are available, which will be available in Q1 or Q2 2016 and which will be sampled in Q1 2016. At present, SK Hynix does not list HBM2 anywhere, which may be a matter of trade secrets. However, back in 2014, the company did list first-gen HBM chips as "sampling" in Q3 and as "available" in Q4. At the present time, nothing is known about availability or sampling of HBM2 chips, which may indicate that their availability timeframe is not exactly clear.
AMD and SK Hynix did not comment on the news-story.
Discuss on our Facebook page, HERE.
KitGuru Says: Without any doubts, HBM may have certain teething problems, but nobody is talking about them publicly because of commercial reasons. Before the problems get solved, it is unlikely that SK Hynix or other producers of memory start to manufacture HBM2 in higher volumes.