Advanced Micro Devices on Tuesday introduced its new lineup of embedded graphics processing units designed for various special-purpose and professional applications. Among the new embedded graphics solutions that AMD introduced, there is AMD Embedded Radeon E8950 MXM module, which is based on the highly-anticipated "Tonga XT" silicon with all stream processors activated.
The AMD Embedded Radeon E8950 MXM module features 2048 stream processors, 128 texture units, 32 raster operations pipelines and 256-bit memory controller. The chip is based on the GCN 1.2 architecture, it fully supports decoding/encoding of ultra-high-definition videos using H.265 and H.264 codecs. The GPU is compatible with DirectX 12, OpenGL 4.5, OpenCL, Mantle and Vulkan application programming interfaces. The small form-factor solution carries 8GB of GDDR5 memory and can drive up to six displays.
The AMD Embedded Radeon E8950 is the company's most powerful and feature-rich embedded graphics solution designed for high-end casino and arcade gaming machines, medical imaging devices and military/aerospace applications. The product has maximum single precision compute performance of around 3TFLOPS.
"The demand for rich, vibrant graphics in embedded systems is greater than ever before, and that demand is growing," said Scott Aylor, corporate vice president and general manager of AMD Embedded Solutions. "Our latest additions to the embedded product lineup help designers build mesmerizing user experiences with 4K multi-screen installations and 3-D and interactive displays. In addition, the powerful capabilities of our GPUs can address the toughest parallel compute challenges."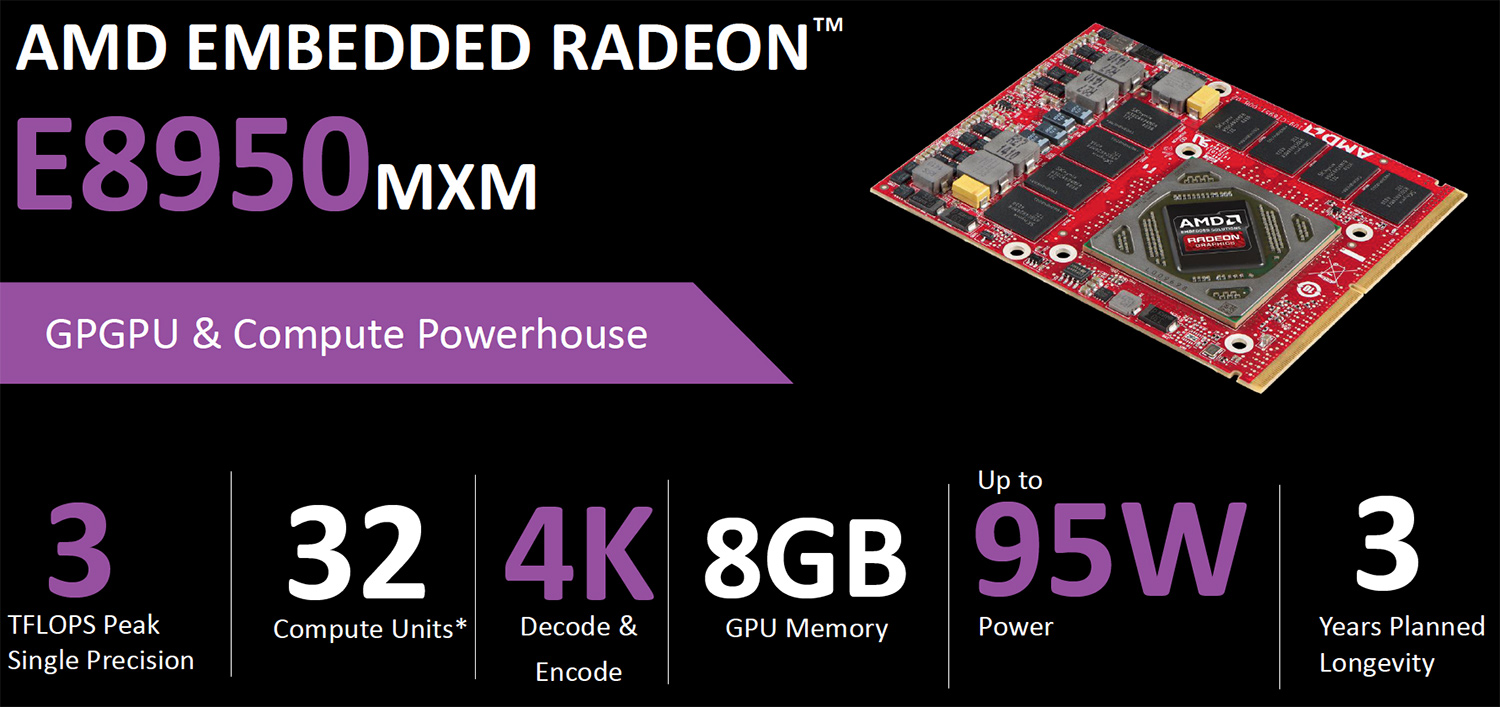 In addition to the high-performance Radeon R8950, AMD also introduced slightly less powerful solutions, including the Radeon R8870MXM and the Radeon E8870PCIe with up to 768 stream processors as well as the Radeon E6465MCM, the E6465MXM and the E6465PCIe with up to 128 stream processors.
Discuss on our Facebook page, HERE.
KitGuru Says: If AMD now offers "Tonga XT" for embedded systems, it is only a matter of time before the company rolls-out its Radeon R9 380X based on the same chip.