Even though AMD's flagship Radeon R9 Fury X is exclusively made by a contract manufacturer under supervision of Advanced Micro Devices and actual suppliers of graphics cards cannot change its cooling system or clock-rates, the upcoming AMD Radeon R9 Fury will provide a lot more flexibility for makers of add-in-boards. For example, Asustek Computer plans to use its new DirectCU III cooler on its Strix Radeon R9 Fury graphics adapter.
AMD's Radeon R9 Fury will be powered by a cut-down version of the "Fiji" graphics processing unit with 3584 stream processors, 192 texture units, 64 raster operations pipelines and 4096-bit memory interface. Manufacturers of graphics cards will be allowed to develop their own printed-circuit boards as well as cooling systems for the Radeon R9 Fury, which is why it is likely that there will be factory-overclocked versions of such adapters available.
While processing power of the Radeon R9 Fury will be up to 25 per cent lower compared to the Radeon R9 Fury X, it is possible that versions with boosted clock-rates will demonstrate performance that will be as good as that of AMD's top-of-the-range offering.
Four online stores from Germany and Austria this weekend began to take pre-orders on Asustek Computer's Strix R9 Fury graphics card with 4GB of memory and DirectCU III cooling system (ASUS STRIX-R9FURY-DC3-4G-GAMING), reports VideoCardz citing data from Geizhals.at. Nothing particular is known about the product, but since it features a cooler comparable to that used by the Asus Strix GTX 980 Ti, it is highly likely that the graphics card should be able to hit decent clock-rates. Typically, Asus Strix graphics boards use proprietary printed circuit boards the company designs in-house.
Asustek's DirectCU III cooling system features a massive aluminium radiator with thin fins, two thick 10mm heatpipes and two regular heatpipes. The new fans used on the DirectCU III cooler feature new wing-blade design that delivers maximum air flow and improved 105 per cent static pressure over the heat sink, while producing less noise compared to standard fans. Asus claims that its DirectCU III cooler transports 40 per cent more heat away from GPUs compared to reference coolers. In addition, DirectCU III shuts its fans down during light load.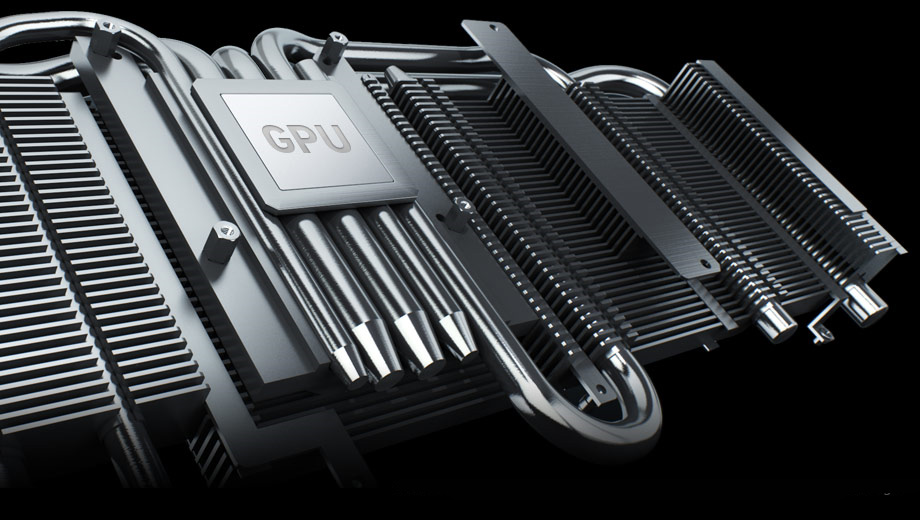 The version of the DirectCU III cooler used on the Asus Strix GTX 980 Ti sports three fans, but the Asus Strix R9 Fury may use only two because of shorter printed circuit board.
Advanced Micro Devices and its partners plan to start sales of AMD Radeon R9 Fury graphics cards on the 14th of July, but those who want to obtain the upcoming high-end graphics adapter on day one can already do it by pre-ordering it in select stores in Europe. Unfortunately, day one prices between €623 and €662 are too high to be compelling, given the expected performance of the product as well as its recommended price.
AMD and Asustek Computer did not comment on the news-story.
Discuss on our Facebook page, HERE.
KitGuru Says: Looks like AMD's partners will be ready with their own Radeon R9 Fury versions starting the first day of sales. This is a great news. However, it remains to be seen whether the cut-down "Fiji" performs really well in modern games.