A web-site has published what it claims to be the first photos of the upcoming AMD Radeon R9 380-series graphics card. If the images depict what they claim to, then it confirms that AMD's upcoming Radeon R9 300-series lineup will at least partly consist of rebranded current-generation products.
The XFX Radeon R9 380 Double Dissipation graphics card looks almost exactly the same as the company's currently available brother, the XFX Radeon R9 290 Double Dissipation: it lacks AMD CrossFire multi-GPU connectors, it uses two auxiliary PCIe power connectors (6-pin and 8-pin), it has a long "Double Dissipation" cooling system and uses reference design printed circuit board. The only difference between the existing graphics adapter and the upcoming one is the marking: the latter carries the "R9 380" label.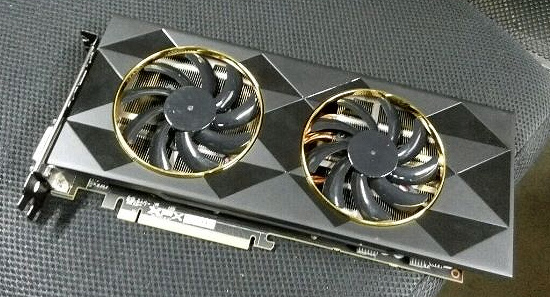 Images of the graphics card were published by Wccftech on Thursday. The web-site claimed that they were found on a Chinese forum.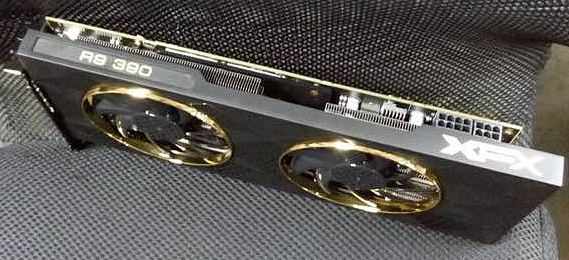 Previously it was reported that AMD intends to re-introduce current-generation products under new names in its R9 300-series lineup. The Radeon R9 380-series graphics cards were supposed to be based either on the code-named "Hawaii" graphics processing unit or the "Grenada" GPU that features the same configuration, but is allegedly powered by the GCN 1.3 architecture. It is unknown which chip does the XFX Radeon R9 380 graphics card use.
If AMD's partners already have the "new" Radeon R9 380-series graphics processing solutions at hand, it means that the launch is nearing. Unfortunately, the status of the flagship AMD Radeon R9 390-series graphics solutions based on the code-named "Fiji" GPU is unclear.
AMD and XFX did not comment on the news-story.
Discuss on our Facebook page, HERE.
KitGuru Says: If the images are legitimate, then AMD decided to simply rebrand existing graphics cards without changing their PCB design or improving them anyhow. Perhaps, the company will boost clock-rates of the "Hawaii" GPU on the Radeon R9 380-series graphics cards compared to the Radeon R9 290-series adapters. Still, it will not make the "new" solutions significantly better…