As expected, Nvidia Corp. managed to increase its desktop GPU market share lead over Advanced Micro Devices in the fourth quarter of 2014 as a result of successful launch of its GeForce GTX 970/980 "Maxwell" products as well as because of AMD's continued troubles in the channel. Declines of AMD Radeon sales are even more alarming because the market of desktop add-in-boards was down significantly last quarter, according to Jon Peddie Research.
Total AIB shipments decreased by 0.68 per cent sequentially to 12.4 million units from the previous quarter, which was not that bad. Unfortunately, on a year-to-year basis, JPR found that total AIB shipments during the quarter fell whopping 17.52 per cent. According to Jon Peddie Research, the market behaved according to past years with regard to seasonality, nothing was unexpected, which indicates that the market of add-in graphics cards in general is shrinking.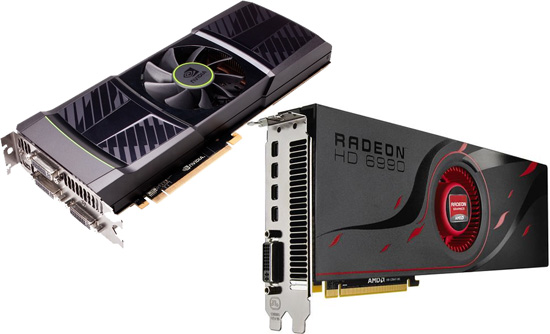 AMD's quarter-to-quarter total desktop graphics adapters unit shipments decreased 16 per cent in Q4 2014 and the company's share dropped to 24 per cent, which is a minimal figure in many years. By contrast, Nvidia's quarter-to-quarter unit shipments increased 5.5 per cent and the company continues to hold a dominant market share position at 76 per cent.
Jon Peddie Research claims that the market of graphics adapters stabilized in the Q4 2014 and did not decline significantly from the prior quarter, however, year-over-year drops indicate that more and more customers prefer integrated graphics adapters, which is a bad news for AMD, Nvidia and 48 suppliers of graphics adapters. The attach rate of discrete graphics adapters to desktop PCs has declined from a high of 63 per cent in Q1 2008 to 36 per cent in Q4 2014.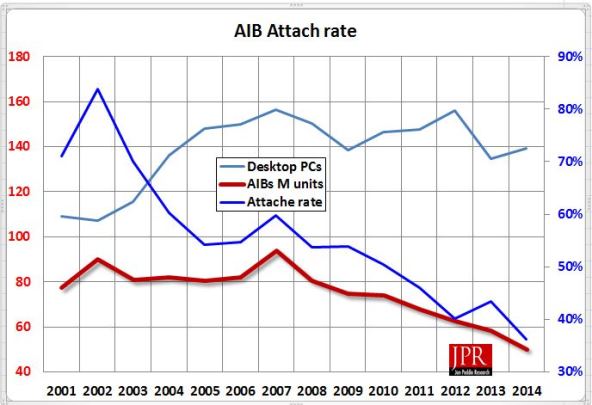 But while the popularity of standalone desktop graphics adapters is declining, gamers continue to buy expensive graphics cards to play the latest titles. As a result, GPU suppliers continue to invest in development of new graphics processors.
"The gaming PC segment, where higher-end GPUs are used, was a bright spot in the market in the quarter," said Jon Peddie, the head of JPR. "Nvidia's Maxwell GPUs continued to show strong sales, lifting the ASPs for the discrete GPU market."
Discuss on our Facebook page, HERE.
KitGuru Says: While shipments of AMD were down significantly in the quarter despite of numerous price-cuts and other actions, they did not fall dramatically, which is a good news. Unfortunately, we still have no idea when AMD's share starts to rebound. Obviously, it is hardly good for the market, when Nvidia outsells AMD three to one on the market of discrete desktop GPUs.