Since the introduction of its graphics processing units based on the second-generation "Maxwell" architecture in the third quarter of 2014, Nvidia Corp. has been steadily growing its share in the market of discrete graphics cards for desktop computers. In Q2 2015 the company's share set a record: the company shipped more than 80 per cent of GPUs.
Shipments of standalone graphics processing units for personal computers have been declining for many years as integrated graphics processors have been gaining performance and feature-set. According to Mercury Research, sales of discrete graphics processing units for desktops declined by 18.2 per cent, whereas shipments of GPUs for notebooks decreased by 34.1 per cent year-over-year in the Q2 2015. The on-year decline is the worst since the Q1 2009, when sales dropped due to the deep recession and inventory correction caused by the 2008 financial crisis.
"Both desktop and mobile GPU attach rates fell in the quarter, with mobile GPU attach rates down steeply," said Dean McCarron, the head of Mercury Research. "The declines were caused by lower OEM GPU shipments, likely due to inventory adjustments ahead of new product launches in the second half of 2015."
But while GPUs in general are losing popularity, shipments of discrete graphics processors used by gamers have been growing as the PC is gaining importance as a gaming platform. Since sales of gaming GPUs are on the rise, despite vast drops of volumes, market revenues were not impacted much at all because gaming is growing and most of the unit decline was in GPUs sold to OEMs at very low prices.
Nvidia GeForce is a particularly popular brand among gamers, which is why Nvidia has been enjoying great sales of GPUs recently. Moreover, Since Q2 2014 the company has managed to significantly increase its market share. Based on data from Mercury Research, in Q2 2014 the company shipped 82 per cent of all standalone GPUs for desktops. The slide from Nvidia's presentation (which authenticity has been confirmed) published by TweakTown reveals that AMD's share has been declining for about a year now.
It should be noted that in a bid to filter out oddities in share due to inventory adjustments, one-off events and other occurrences, Mercury Research reports its market share-related findings as a four-quarter volume-weighted average to smooth the noise of seasonal inventory cycles and reveal ongoing share trends. According to Dean McCarron, the average is done because both Nvidia and AMD have large spikes/downturns in shipments due to inventory adjustments, and because the inventory cycles of the companies are not aligned.
"This makes sell-in share very noisy; in contrast the sell-out does not see nearly so much share variation, so it's an attempt to get the sell-in data to reflect reality rather than noise," said Mr. McCarron.
While the diagram above is accurate and represents AMD's and Nvidia's GPU sell-in numbers (i.e., the share of GPUs that AMD and Nvidia sell to their partners), the diagram below is a four-quarter volume-weighted average, which may better represent actual sales of discrete desktop GPUs to the consumer.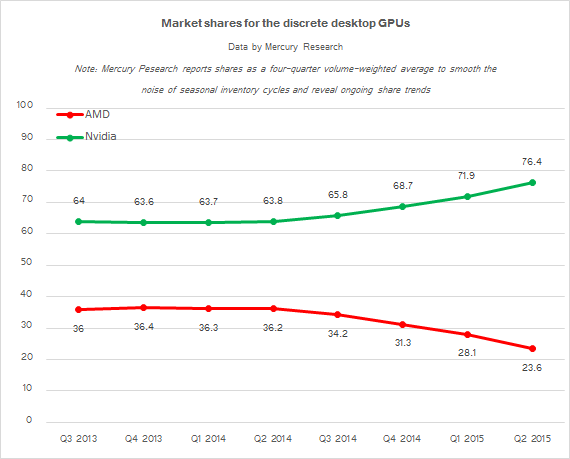 Even when possible "spikes" are "smoothed", it is evident from both graphs that AMD's share is declining, whereas Nvidia's share is growing. This is a particularly alarming trend for AMD, which is losing its CPU market share as well.
Discuss on our Facebook page, HERE.
KitGuru Says: Given current GPU and graphics cards production cycles, it is unlikely that AMD manages to regain its market share from Nvidia any time soon unless it releases a breakthrough product that simply stops Nvidia's sales. In a bid to actually fight back the share, AMD now needs to produce the right amount of competitive GPUs first, which means securing capacities and spending massive amount of cash.