G.Skill this week is demonstrating its upcoming DDR4 dual-channel memory kits that can run at clock-rates higher than 4GHz at the Intel Developer Forum. The company intends to start selling such products in the coming months or weeks.
G.Skill is working on Trident Z-series 8GB dual-channel DDR4 memory kits that can operate at 4133MHz with CL19 25-25-45 CR2 latency settings as well as at 4266MHz with CL19 25-25-CR2 timings at 1.4V voltage. The new Trident Z memory modules are based on the latest Samsung's DDR4 DRAM ICs [integrated circuits] and custom printed-circuit boards.
The new dual-channel kits are optimized for Intel Core i7-6700K and Core i5-6600K "Skylake" processors as well as Intel Z170 platforms. At the show, G.Skill uses Asrock's Z170 OC Formula and Asustek Computer's Asus ROG Maximus VIII Hero motherboards designed specifically for overclockers to demonstrate frequency potential of its flagship modules.
"We are truly excited to demo such extremely high memory speed on live demo systems, since DDR4 4000+MHz speeds were traditionally only achievable under extreme overclocking on liquid nitrogen cooling," says Frank Hung, product marketing head at G.Skill. "We see amazing performance potential for the new DDR4 memory technology on the newest Intel platform, and very excited to see where it will take us in the near future."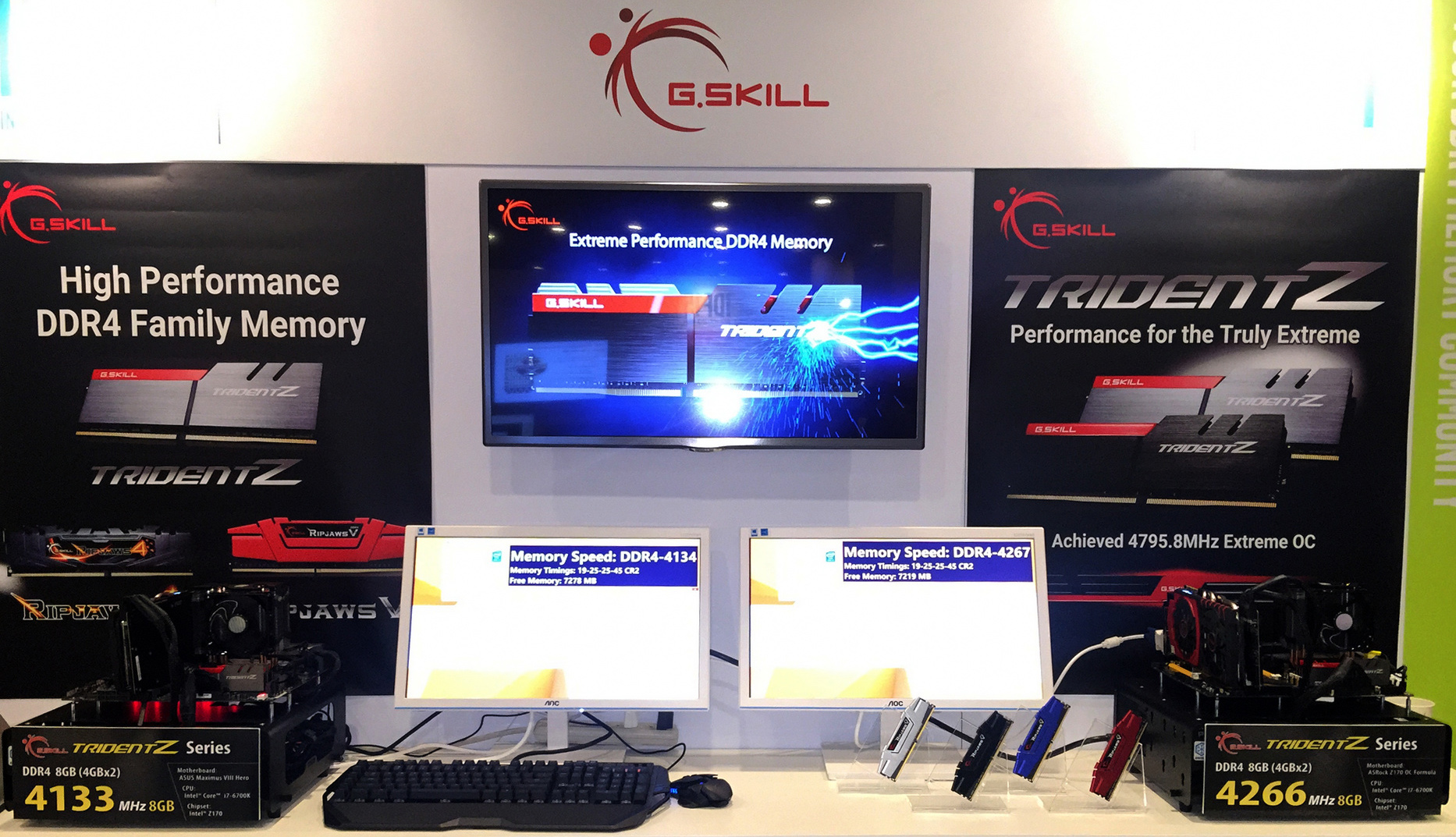 The new 4GHz+ memory modules from G.Skill can deliver up to whopping 68.2GB/s of bandwidth to a quad-core Intel Core "Skylake" processor, a massive amount. Officially, Intel's "Skylake-S" central processing units support 2133MHz DDR4 memory and up to 34.2GB/s bandwidth.
Pricing of G.Skill's 8GB kits rated to run at 4133MHz or 4266MHz is unknown, but do not expect them to be affordable.
Discuss on our Facebook page, HERE.
KitGuru Says: Assuming that Trident Z modules capable of running at 4266MHz on air get considerably better binning than even hand-selected Ripjaws 4 modules used for setting records, imagine what can be achieved using the new memory sticks.