Factory-overclocked graphics adapters offer performance and features that are simply not available on add-in-boards designed by developers of graphics processing units. Unfortunately, graphics cards with extreme clock-rates and high overclocking potential also cost considerably more than adapters based on reference designs. Fortunately, from time to time stores offer great deals on them.
Overclockers UK currently offers KFA2 GeForce GTX 980 "8Pack Edition" 4GB graphics card for £389.99 inc VAT (down from £429.99), which is on par with affordable reference design graphics cards carrying GeForce GTX 980 graphics chip. The graphics adapter not only offers 15 per cent higher performance than many GeForce GTX 980-based products out-of-box, but also has rather extreme overclocking potential.
The KFA2 GeForce GTX 980 "8Pack Edition" 4GB graphics adapter boasts with 1304MHz/1418MHz (base/boost) GPU frequencies, which means that its peak single-precision compute performance is around 5.34TFLOPS, which is considerably higher than 4.61TFLOPS offered by the reference GeForce GTX 980. In fact, FP32 processing power of the KFA2 GeForce GTX 980 "8Pack Edition" is not significantly behind that of the reference GeForce GTX 980 Ti (5.63TFLOPS), which carries a far more advanced GPU and price tag.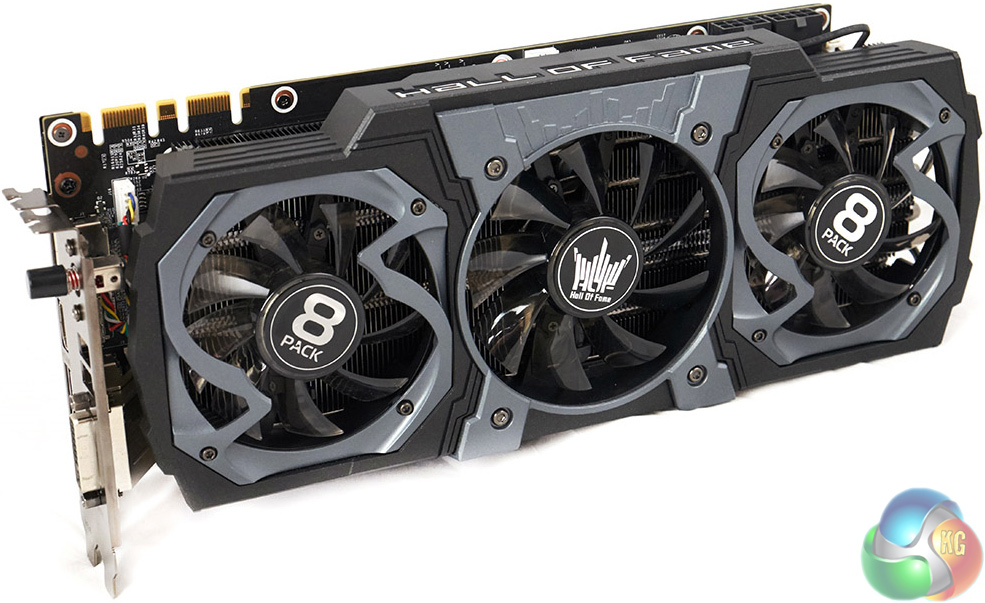 The KFA2 GeForce GTX 980 "8Pack Edition" was co-designed by Palit Microsystems, the world's largest maker of graphics cards, and Ian "8Pack" Parry, one of the world's top professional overclockers. The card uses a custom 10-layer printed circuit board with 8+2-phase voltage regulator module based on the International Rectifier IR3555 power IC. The VRM uses high-endurance inductors, solid-state capacitors and so on. The board requires two 8-pin PCIe auxiliary power connectors.
The card features very advanced cooling system featuring nickel plated copper heatpipes, 6 of which run the full length of the PCB in parallel. Four are 8mm heat pipes and three are 6mm heat pipes.
Read KitGuru's review of the KFA2 GeForce GTX 980 "8Pack Edition" HERE and buy it HERE.
Discuss on our Facebook page, HERE.
KitGuru Says: Custom factory-overclocked GeForce GTX 980 for the price of a reference card with default clock-rates? Sounds like a great deal, if you are interested in a GeForce GTX 980 graphics adapter.