PowerColor and XFX are preparing to add another graphics card into their range of adapters based on AMD's "Fiji" graphics processing unit. In the coming weeks the two companies will start to sell their AMD Radeon R9 Fury graphics cards, thus, expanding availability of AMD's latest product.
Although all partners of Advanced Micro Devices formally offer AMD Radeon R9 Fury and AMD Radeon R9 Nano graphics adapters based on the fully-fledged Fiji GPUs with 4096 stream processors, 256 texture units, 64 raster operations pipelines and 4096-bit memory bus, far not all can supply AMD Radeon R9 Fury graphics cards powered by cut-down "Fiji" chips (3584 SPs, 224 TUs, 64 ROPs). In fact, only Asustek Computer and Sapphire Technology sell AMD Radeon R9 Fury graphics cards today. Fortunately, that is going to change soon.
PowerColor, a Tul Corp.'s brand, recently quietly added description of its Radeon R9 Fury graphics adapter to its web-site. The board is currently not available anywhere, but its addition into the list of products clearly indicates that the company is on-track to start selling it in the coming weeks.
XFX, a Pine Holdings Limited's brand, is also gearing up to start shipments of its Radeon R9 Fury graphics card. VideoCardz web-site has published press images of XFX's yet-unannounced R9 Fury, which is an indicator that the product is about to be formally introduced.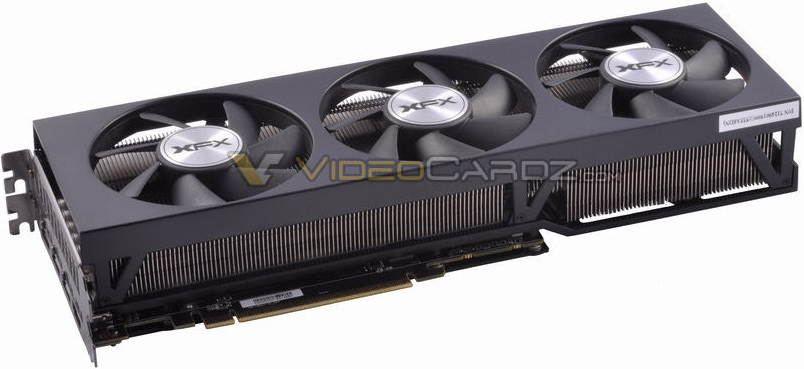 The Radeon R9 Fury graphics cards from PowerColor and XFX rely on AMD's reference design and come with 4GB of high-bandwidth memory and massive triple-fan/three-slot cooling systems with multiple copper heat-pipes to maximize their overclocking potential. The cards require two auxiliary 8-pin PCI Express power connectors. In fact, both boards will be very similar to Sapphire's Radeon R9 Fury Tri-X.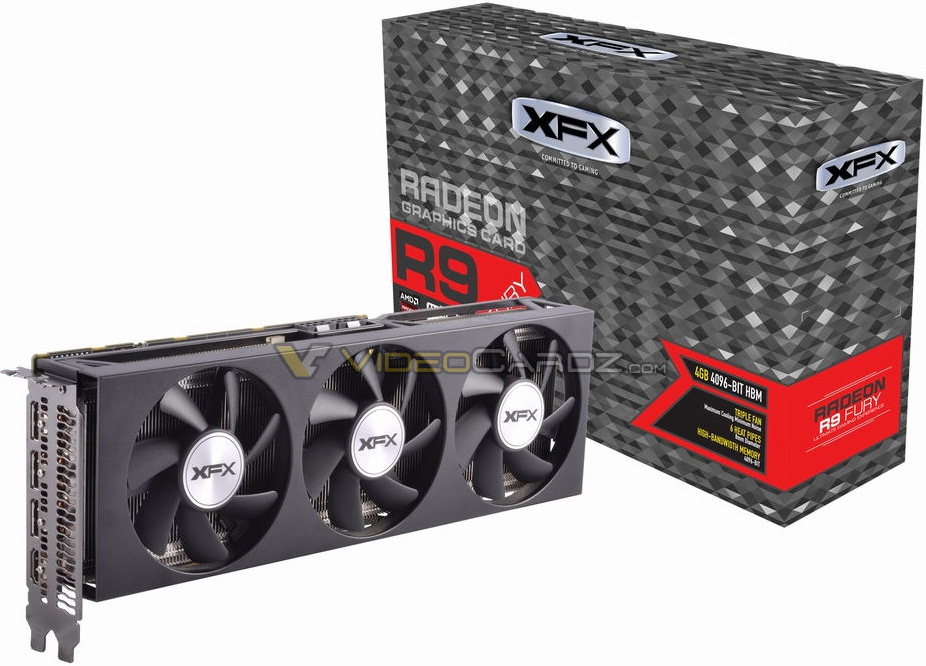 At present, it is unclear when companies like Gigabyte Technology, MicroStar International and other plan to start offering their versions of the Radeon R9 Fury.
The manufacturer suggested retail price of AMD Radeon R9 Fury graphics cards is $549/£439.
Discuss on our Facebook page, HERE.
KitGuru Says: While it is great to see that availability of AMD's Radeon R9 Fury is improving, the lack of creative touch on those cards is evident. So far, only Asustek Computer has designed a custom printed-circuit board for its Radeon R9 Fury Strix. All the others continue to use AMD's reference design, probably because they just buy actual cards from the GPU developer.