Asus has announced the release of a fan-free NVIDIA GeForce GTX 750, that should soon be available for those of us who value a bit of peace and quiet while gaming. The card uses the ASUS DirectCU Silent cooler, to radiate heat away as fast as possible, with ASUS claiming that it will be 16% cooler than other passively chilled graphics cards.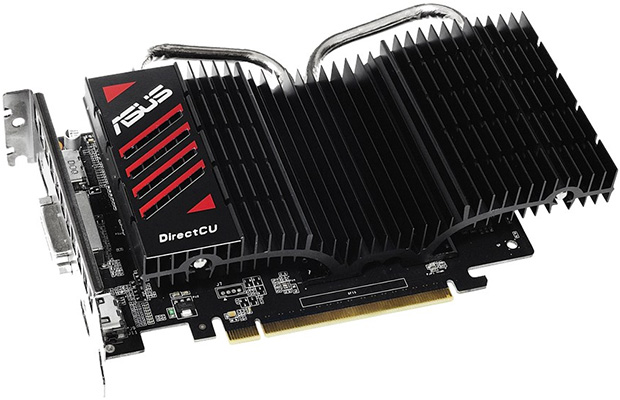 Although it is not yet available to buy here in the UK, you can preorder it for around £109. Unfortunately it will not be quite as capable as the 750 Ti version, which is also available as a passively cooled card from Palit (Palit GeForce GTX 750 Ti KalmX) and costs only slightly more.
The specification differences between the two cards are relatively small, with the Palit 750 Ti having more CUDA Cores (640 vs 512) and slightly faster clocked memory (5400MHz vs 5010MHz). This will make a difference for anyone playing more demanding games, but how big that difference is we do not yet know.
Full specifications:
NVIDIA GeForce GTX 750
2GB of GDDR5 Video Memory
GPU Boost Clock : 1085 MHz
>GPU Base Clock : 1020 MHz
>512 CUDA Cores
5010 MHz ( GDDR5 ) Memory Clock
128-bit Memory Interface
DVI, HDMI 1.4a, DisplayPort 1.2
Discuss on our Facebook page, HERE.
KitGuru Says: While not ideal for serious gaming, this card would be great in a home entertainment PC where you don't want the sound of a full powered graphics card's fans spinning up during the middle of  your movie night. Anyone running a passive graphics card at the moment?
Source: ASUS