The introduction of GDDR6 has significantly closed the gap in memory standards, resulting in Samsung revising its high-bandwidth HBM2 architecture. Introducing HBM2E at Nvidia's GPU Technology Conference (GTC) earlier this week, the manufacturer promises up to 33 percent faster speeds and larger memory buffers while targeting artificial intelligence.
Samsung dubbed the revision 'Flashbolt', following its previous Aquabolt and Flarebolt naming conventions. Beyond this, the company takes a radically different approach to HBM2E architecture, allowing Flashbolt to accommodate double the memory of Aquabolt with 16 gigabits (Gb) per die and offer transfer rates of 3.2Gbps per pin. Across 16 gigabytes (GB) of capacity, 3.2Gbps on a 1,024-bit bus would equate to an unprecedented 410GB/s of memory bandwidth.
Using the current HBM2 standard, AMD managed to push its 16GB Radeon VII GPU to 1TB/s of memory bandwidth across four stacks. Should manufacturers pack four 16GB HBM2E stacks, it would result in a staggering 64GB of memory with a peak bandwidth exceeding 1.64TB/s.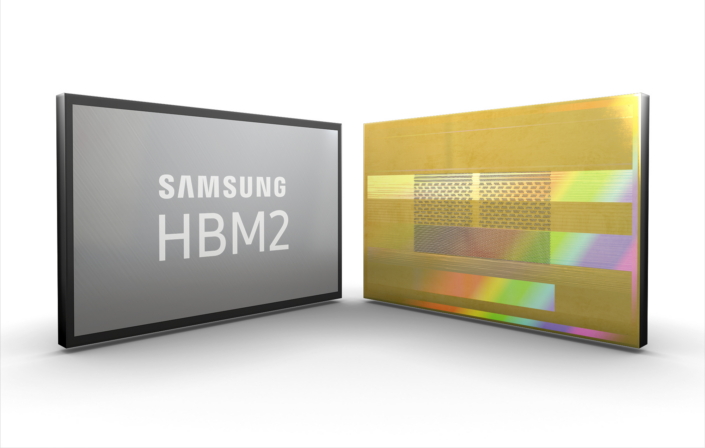 "Flashbolt's industry-leading performance will enable enhanced solutions for next-generation data centers, artificial intelligence, machine learning, and graphics applications," said Jinman Han, senior VP of memory product planning and application engineering at Samsung. "We will continue to expand our premium DRAM offering, and improve our 'high-performance, high capacity, and low power' memory segment to meet market demand."
It remains to be seen when HMB2E, or the more catchy 'Flashbolt' moniker will be seen on the consumer market and even more worrying is the uncertainty of the price. HBM2 is notorious for increasing the cost of graphics cards in comparison to the relatively inexpensive GDDR standard, meaning that Samsung will be initially targeting artificial intelligence. Professionals will still have to wait however, as Samsung hasn't disclosed when the chip will enter mass production. On the bright side, we could see a decrease in the cost of the original HBM2 once HBM2E finally releases.
KitGuru Says: It's good to see Samsung once again pushing a gap between the standards. Here's hoping a tentatively titled GDDR6x or GDDR7 can once again close it when it rolls around.