When Battlefield V first launched on the PC with ray tracing features enabled, it is safe to say the performance was not great – the RTX 2080 seemed barely able to cope with DXR at 1080p, whereas RTX 2070 performance was essentially non-playable. The game was recently updated to improve performance, though, so let's take a look and see what sort of frame rates we can expect now.
Watch via our Vimeo Channel (Below) or over on YouTube at 2160p HERE
Starting with the improvements made, it seems DICE and Nvidia have been working very closely to improve RTX performance since the launch of BFV, with improvements made to the overall stability of the game, as well as to 'several components of the ray tracing implementation.'
If you've already played BFV with DXR enabled, you will know there are four different DXR quality settings to choose from – Ultra, High, Medium, and Low. According to Nvidia, 'the DXR Reflections Quality options and their underlying values have NOT been changed. The two things that change between quality settings are what materials have ray tracing applied and the maximum ray count per frame.' For an idea of differences made by using the four different settings, Nvidia also provided this explanation:
Low applies ray tracing to materials with 0.9 smoothness or higher, and sets maximum ray count to 15.0 percent of the total number of screen pixels
Medium applies ray tracing to materials with 0.9 smoothness or higher, and sets maximum ray count to 23.3 percent of the total number of screen pixels
High applies ray tracing to materials with 0.5 smoothness or higher, and sets maximum ray count to 31.6 percent of the total number of screen pixels
Ultra applies ray tracing to materials with 0.5 smoothness or higher, and sets maximum ray count to 40.0 percent of the total number of screen pixels
If you want a proper look for yourself at the difference in image quality, I pieced together a short video comparing DXR Ultra with DXR Off. Performance testing is outlined below.
Performance
For our performance testing, we used our usual GPU benchmarking rig provided by Overclockers UK. This consists of an Intel Core i7-8700K overclocked to 4.9GHz, alongside 16GB DDR4 3200MHz Team Group Dark Hawk RGB memory and the ASUS ROG Strix Z370-F Gaming motherboard.
For our graphics cards, we used the latest Nvidia 417.22 driver with the following cards:
We benchmarked a section of the game within the Nordlys: Wolf and Dog single-player mission, as the player ventures down into a snowy village. We tested the game 3 different ways – DXR off, DXR Low, and DXR Ultra – at 1080p, 1440p and 2160p (4K) resolutions. The Ultra preset was used each time, with the only adjustment made when turning DXR to 'Off' and 'Low'. Each result presented is an average of 3 runs through our benchmark to ensure a consistent performance figure.
1080p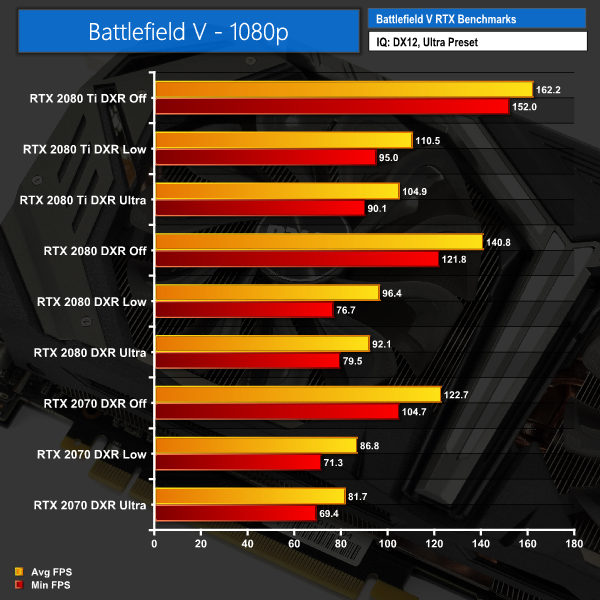 1440p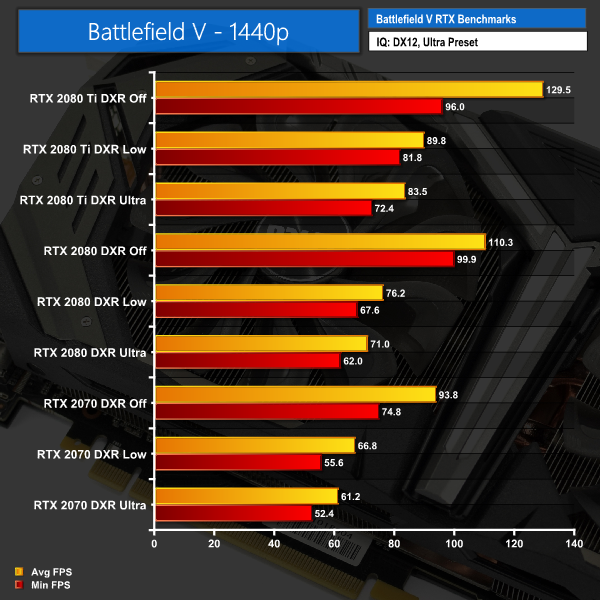 2160p (4K)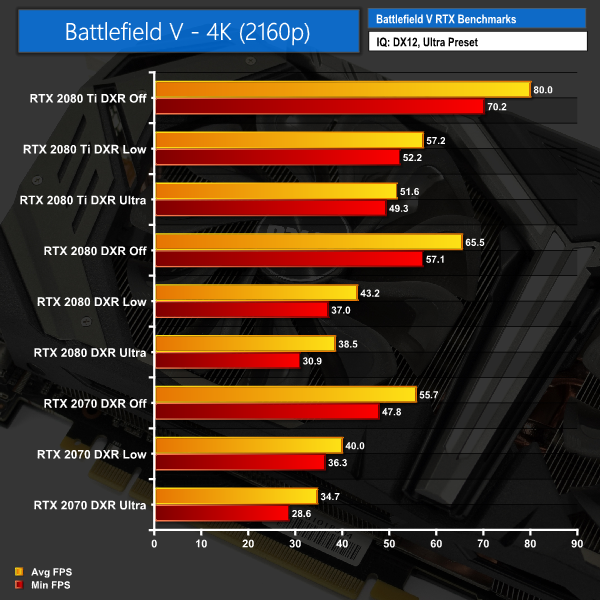 Overview
I have to say, I am now much more impressed with the RTX performance of Battlefield V. Prior to the update, the figures were not at all good, but now you can get some very playable frame rates across a range of different resolutions.
Of course, there is still a fairly significant performance hit – RTX 2070 loses 41FPS on average when switching from DXR Off to DXR Ultra at 1080p, for instance – but the thing is, gamers now have a choice in how they want to play. What I mean is, you can either game with RTX features turned off and get the maximum frame rates for a smoother experience. Or, you can crank the RTX features all the way for maximum eye candy and settle for lower – but still very playable – frame rates.
I'd still expect a lot of people to prefer the higher frame rates – the rise of high refresh-rate monitors, for instance, would suggest to me many people would rather play with those higher FPS counts rather than cranking the image quality and settling for a less smooth experience. That's fair enough – but I do know plenty of people who would also be happy at 60FPS with RTX turned on – and now even the RTX 2070 can achieve that at 1440p.
4K is still quite a push with DXR set to Ultra – the RTX 2080 Ti averages just over 50FPS, which is still very impressive in my book – but the other two cards do fall further behind. RTX gaming at 1440p seems the best balance between frame rate and graphical fidelity at the moment, though we will have to see how things develop when more games start to support the technology.
The last thing I would address is that if you do want to enjoy real time ray tracing with an RTX card, I think Battlefield V is perhaps not the best game to do so. It's a fast-paced first person shooter, so you're often moving around frantically trying not to get killed – or at least, that's how it usually ends up whenever I play… What I mean, though, is that it is very easy to miss the in-game ray tracing effects.
You will still be able to tell the difference between DXR on and DXR off – take a look at the video above if you don't believe me – but I find you really have to stop and look to make the most of the ray tracing lighting, or it is very easy to miss – and to me, that just isn't how people play FPS games like BFV. I do think, however, that a slower paced game – something like the Witcher 3 springs to my mind as a game that would work very well with RTX – would really benefit from ray tracing as you have more time to explore the environment and take in all the different areas where RTX is present.
Still, for now, RTX does seem to be finding its feet and the latest patch to Battlefield V is certainly a step in the right direction. It's still very much a waiting game as we see how other games implement the RTX technology – but at least you can now set 'DXR Ultra' and get playable frame rates, which we couldn't say before.
KitGuru says: Battlefield V is now very playable with RTX features turned on – when you couldn't really say the same thing just a couple of days ago. There's still a sizeable performance hit, and I think real time ray tracing is better suited to a slower-paced game, but if you have RTX hardware the future is looking a little brighter.