Those of you waiting for AMD's next big GPU reveal will be happy to hear that the company has announced a new graphics card is launching this year. However, this will not be the high-end consumer desktop card previously referred to as the 'Nvidia Killer' but a GPU for the professional market.
AMD is launching the new Radeon Pro W5700 graphics card that will be primarily focused on professionals in the design area and will provide high-end performance in applications such as 2D/3D CAD and to a lesser extent in digital media, software development and scientific research. AMD says there is a gap in the market for high-end users which the Radeon Pro W5700 will fill.
The AMD Radeon Pro W5700 is the world's first 7nm PCIe Gen 4 professional workstation graphics card optimised for today's design workflows and is built on AMD's RDNA architecture, which is found in its current generation of consumer desktop products.
"Today's professionals need high-performance professional graphics hardware to better interact with their product concepts and make more informed decisions sooner in the design process," said Scott Herkelman, corporate vice president and general manager, Radeon Technologies Group at AMD. "We designed the AMD Radeon Pro W5700 to deliver significant performance gains in top design and manufacturing applications. Architects, designers and engineers now have the horsepower to drive demanding real-time and VR experiences, enabling a better and faster design creation process."
In terms of specification, the Radeon Pro W5700 features a total of 36 compute units providing up to 8.89 TFLOPS of graphical processing power. The Pro W5700 will include 8 GB of GDDR6 memory with a total memory bandwidth of 448 GB/s. The Radeon Pro W5700 features a total of six display outputs to provide support for 8K displays and also features a USB Type-C port which can provide 15W of power.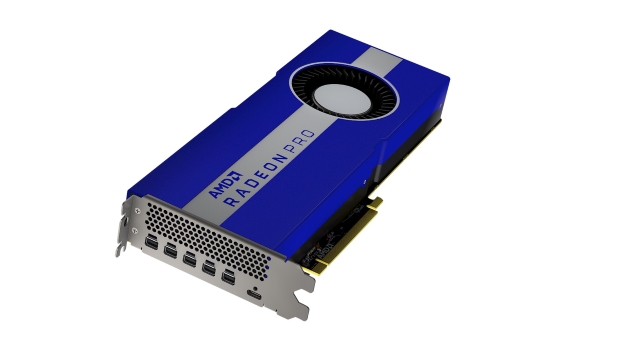 AMD claims the Radeon Pro W5700 is the company's most efficient professional GPU by offering up to 41% higher performance per watt than previous AMD GCN architecture cards when tested in applications such as SPECviewperf 13, Enscape and Unity Automotive Benchmark. In addition, the Radeon Pro W5700 is expected to provide up to 18% better system efficiency with intelligent power usage when compared with the Nvidia Quadro RTX 4000.
When it comes to core power, the Radeon Pro W5700 features a core base frequency of 1680 MHz-1880 MHz with a maximum core boost frequency of 1930 MHz. Power is applied to the Radeon Pro W5700 via 6+8 pin power connectors. The Radeon Pro W5700 power draw is rated at 200W, so uses a little less power than its desktop cousin the Radeon RX 5700 XT.
AMD plans to release quarterly software updates throughout 2020 for the Radeon Pro W5700. The card will support features such as AMD Remote Workstation meaning users can continue working on projects started in the office later at home or on the move. Radeon Pro also supports AMD Radeon ReLive for VR, allowing professionals to wirelessly visualise projects using VR headsets such as the HTC Vive Focus Plus. On release, the AMD Radeon Pro W5700 will be priced at $799 USD.
Discuss on our Facebook page HERE.
KitGuru says: Stay tuned for our full review coming soon!