Water cooling a graphics card is a great way to improve performance by keeping the temperature under control, which allows boost core frequency to remain higher for longer periods. However, finding the correct water block for your graphics card is not always a simple process and removing a stock GPU cooler can sometimes void warranty.
Gigabyte has come up with a solution to those problems with its new GeForce RTX 2080 SUPER GAMING OC WATERFORCE WB 8G graphics card. Gigabyte Waterforce is a great choice for users looking to enjoy the benefits of custom CPU and GPU water cooling, along with the performance improvements it delivers.
The Gigabyte GeForce RTX 2080 SUPER GAMING OC WATERFORCE WB 8G is equipped with a top of the line pre-overclocked GPU that has been certified by Gigabyte's in-house GPU Gauntlet sorting technology. The Waterforce WB provides cooling of all critical areas of the graphics card, including the GPU core, VRAM and MOSFET, to ensure stable operation and durability.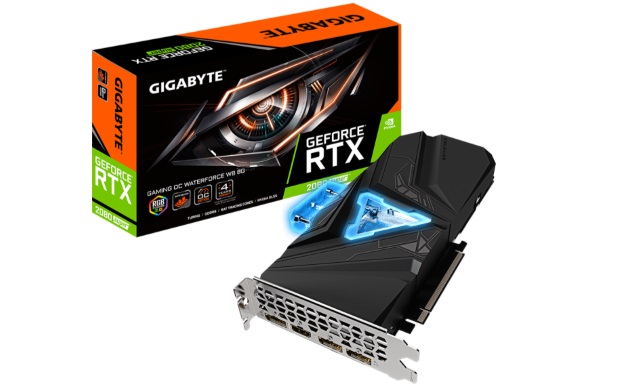 Additionally, the Gigabyte Waterforce graphics cards feature excellent RGB lighting effects, a protective metal backplate and are built with Gigabyte's Ultra-Durable materials. For just a little more investment than a standard air-cooled card, Gigabyte Waterforce graphics card owners benefit from liquid cooling performance without the worry of voiding warranty by installing an aftermarket GPU water block.
Gigabyte claims the GeForce RTX 2080 SUPER GAMING OC WATERFORCE WB 8G water block is able to quickly remove heat generated by the GPU, VRAM and MOSFET to keep the graphics card cool and stable, even when aggressively overclocked. Gigabyte is also providing customers of the new Waterforce GTX2 2080 Super with the standard three years warranty with an additional one year thrown in for free.
Discuss on our Facebook page HERE.
KitGuru says: Personally, I quite like the idea of graphics cards with pre-installed water blocks, as it keeps the warranty intact, but only if it is cost-effective. What do you guys think to the new Gigabyte GeForce RTX 2080 SUPER GAMING OC WATERFORCE WB 8G?