Basemark database entries of an "AMD Radeon RX 6900 series" GPU have surfaced, placing it above both the Nvidia RTX 2080Ti and the RTX 3070. Despite being named "AMD Radeon RX 6900 series", the entry details show that it is indeed a Radeon RX 6800.
As a benchmark, Basemark isn't widely used. Nonetheless, it's still fair to compare the scores produced by systems that have run the same benchmark.
The system running the Radeon RX 6800 has an MSI MEG X570 Godlike motherboard with an AMD Ryzen 9 3900X processor and 16GB of DDR4-2133 memory. This system has the 27.20.14501.1206 driver with Radeon RX 6000 support installed. For those who don't know, the MSI MEG X570 Godlike received a BIOS recently that adds supports for Smart Access Memory, so these benchmark scores might have been affected by that same feature.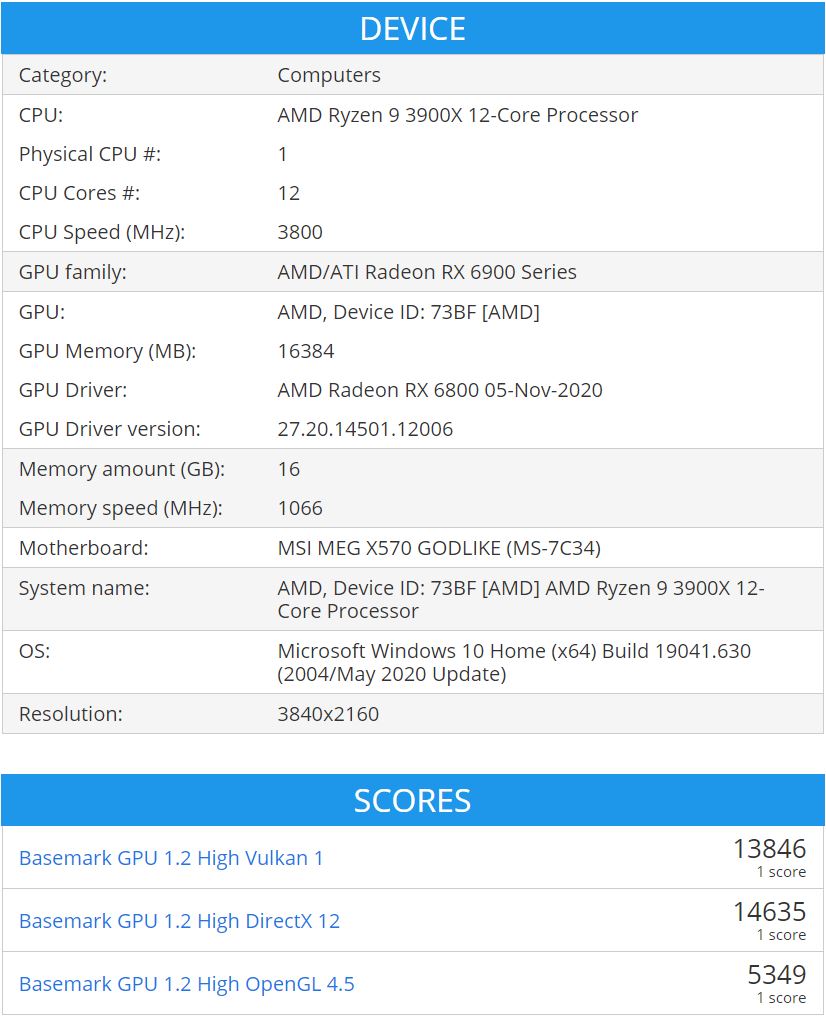 As per the Basemark entry, the Radeon RX 6800 scored 13846 in the Vulkan benchmark, 14635 in the DirectX 12 benchmark, and 5349 in the OpenGL benchmark, topping the average results of the RTX 3070 on both Vulkan and DirectX benchmarks, and the RTX 2080Ti on the DirectX 12 one. On the OpenGL benchmark, the Radeon RX 6800 hasn't performed that well, scoring about the same as the Nvidia GTX 1070. This low-score might be due to the lack of optimisation of the Radeon RX 6000 series running OpenGL workloads.
AMD has scheduled the release of the Radeon RX 6800 and the Radeon RX 6800XT for November 18th.
KitGuru says: What do you think of all the early performance leaks for the RX 6800? Are many of you planning on upgrading?