MSI has listed 29 new Nvidia graphics card in the EEC database. The listing doesn't clearly name these graphics cards, but based on timing, it would appear that these will be MSI's custom versions of the upcoming Nvidia RTX 3000 series, which is due to be announced next week. 
With Nvidia's announcement event coming on the 1st of September, there have been quite a lot of leaks and rumours about the RTX 3000 series coming in over the last few weeks. One of the latest bits of information is MSI's listing in the EEC database, which shows three new GPUs, each with different variations. Starting with the 602-V388, there are 14 variations of this code, while the 602-V389 has 11 variations, and the 602-V390 has only four. There's also a 602-3889 code, but it looks more like a typo than an actual code.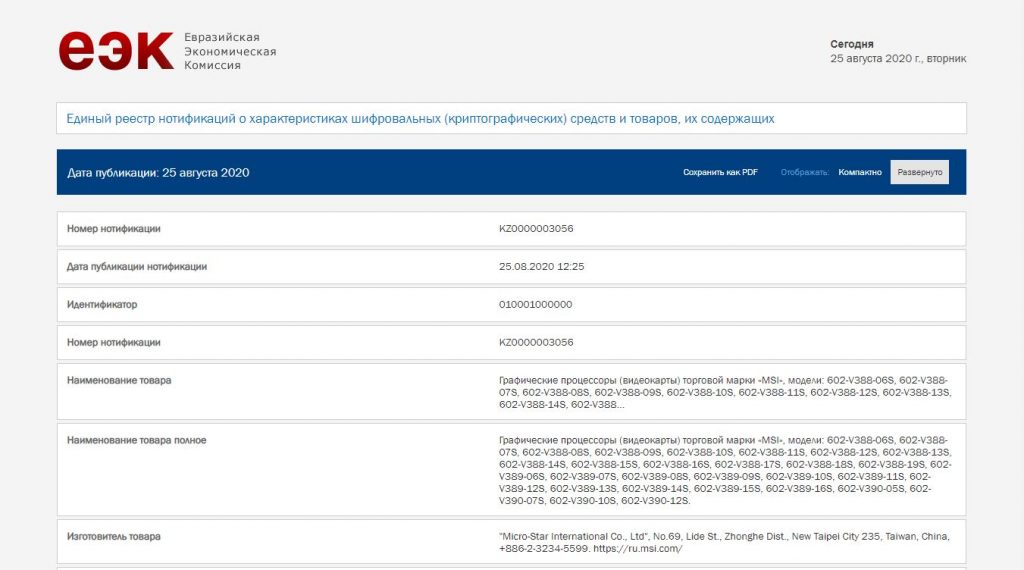 MSI previous listings had the V371 code for the RTX 2080Ti, V372 for both the RTX 2080 Super and 2070 Super, V373 for the RTX 2070, and V375 for the RTX 2060. Based on the same logic, the V388 should be the most powerful out of the three (3090?), while the V389 should be placed in second (3080/3080Ti?), and the V388 the last (3080/3070?). The RTX 2000 series was also appended with an "R" at the end of the code, while the RTX 3000 series comes with an "S".
Just because MSI listed 29 new cards, it doesn't mean that they will all release at the same time. Nonetheless, we will know for sure once Nvidia officially announces the RTX 3000 series GPUs.
In other news, a photo of the GA102-300-A1 GPU die was posted on Chiphell. This is the same die expected to be used on the RTX 3090. The photo shows that this die is a qualification sample (QUAL SAMPLE), but it has the segment with the date and location of the chip's production blurred out to avoid any identifiers that could lead back to the leaker.
Discuss on our Facebook page, HERE.
KitGuru says: Are many of you looking forward to the RTX 3000 series launch? Is there a particular model you will be looking to get your hands on?