As the official announcement of the AMD Radeon RX 6000 series of graphics cards comes closer, new leaks about the GPUs have been popping up on the Internet. The latest one reveals some key specifications of two GPUs, more specifically the ones codenamed Sienna Cichlid and Navy Flounder.
The AMD Radeon RX 6000 series will allegedly debut three Navi 2x GPUs. Sienna Cichild is believed to be the codename for Navi 21, also known as Big Navi, while Navy Flounder should be the codename for either the Navi 22 or Navi 23.
Given the GPU specifications leaked by u/stblr, found in ROCm 3.8, the Navy Flounder should be the Navi 23 GPU, aimed at mid-range users. The Navi 21 is expected to be the top tier GPU, so the higher the x in Navi 2x, the less powerful is the GPU. If the data in the table is believed to be true, Navi 21 will feature 80 CUs and the Navy Flounder will come with 40CUs, the same amount as the Navi 10 used in the Radeon RX 5700 (XT) graphics cards. Theses CUs numbers are achieved by multiplying the "gc_num_se", "gc_num_cu_per_sh", and the "gc_num_cu_per_se" of each GPU found on the table.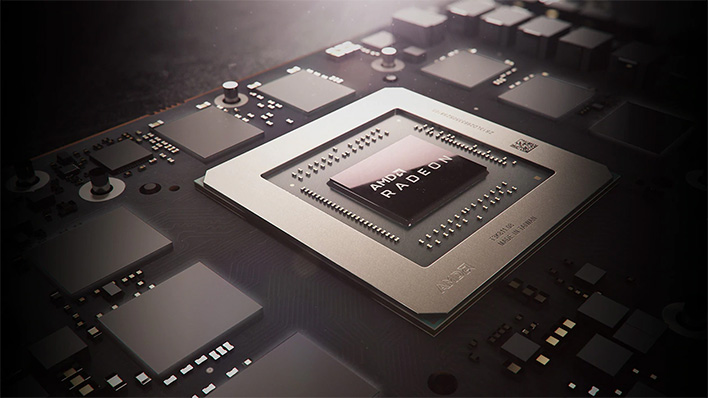 If we multiply the number of CUs by the stream processors, we get the number of unified cores of each GPU. Supposing that each CU has 64 stream processors like the Navi 1x GPUs, the Sienna Cichild should come with 5120 cores and the Navy Flounder with 2560 cores. The memory interface is also obtainable through the "gc_num_tccs" row of the table. The Navi Sienna Cichild is expected to come with a 256-bit memory interface, while the Navi Flounder seems to use a 192-bit one.
AMD has scheduled an event to announce the Radeon RX 6000 graphics cards for October 28th.
KitGuru says: Are you in the market for a new graphics card? Do you think AMD will be capable of rivalling Nvidia Ampere graphics cards? Are you excited about AMD's graphics card launch on October 28th?