KitGuru was one of the first adopters of Ultra HD 4k testing in graphics card reviews – back last year. We are regularly asked when 120hz or 144hz 4K monitors will be available and we decided to try and get some answers for you all. ASUS engineers responded and were very helpful indeed.
They said "4K at 120Hz (or 8K at 60Hz) will require DisplayPort 1.3 (which is not a finalised spec yet), and we estimate 1-2 years before there is the DP 1.3 spec, GPU support, and a scalar chip for the LCD electronics that could support this. HDMI 2.0 is only good for 4K at 60Hz."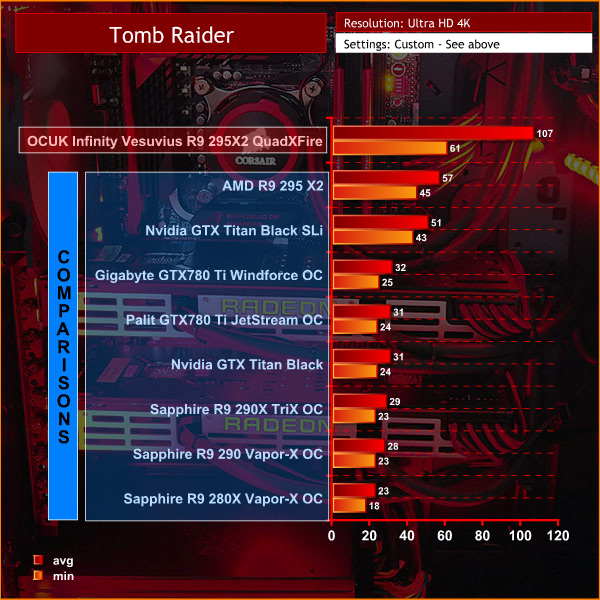 Even two of the world's most powerful (and expensive) AMD R9 295X2 graphics cards can't guarantee a solid 120 FPS at 4K resolution.

While this all seems like a long wait, bear in mind that having a display that can do 120Hz doesn't necessarily mean you're going to be able to output these kind of frame rates.
To get smooth, consistent 120 fps game play at 3,840 x 2,160hz (4k) resolutions, you would need massively powerful graphics hardware if you want to play the latest DX11 games at high image quality settings (we see no reason to be dropping image quality at 4k, as moving to 4K is all about 'image quality'). In one of our latest reviews, we pitted 2 x R9 295 X2 graphics cards against some of the most visually impressive games available today and even those two couldn't hold a constant 120fps.
We feel that practical super smooth 120hz or 144hz 4K gaming is still some time off. We also believe that within a few years time, you won't be needing to spend £500-£900 on a graphics card for 4K – even £300 graphics cards will be able to power many games at 4K with smooth 60 frame rates.
Discuss on our Facebook page, over HERE.
KitGuru Says: It's the curse of being a PC enthusiast, wanting to next greatest thing before it's ready. The question is, will you guys take the plunge and get 4k screens that can 'only' do 60Hz, or will you wait for a couple of years to upgrade and get one that will do 120Hz instead?