Overclockers Uk announced today that it it would be running a joint promotion with both Gearbox and Nvidia to give away free copies of Borderlands: The Pre-Sequel with select Nvidia graphics cards, including: GTX 770, 780, 780 Ti and the monstrous Titan Black.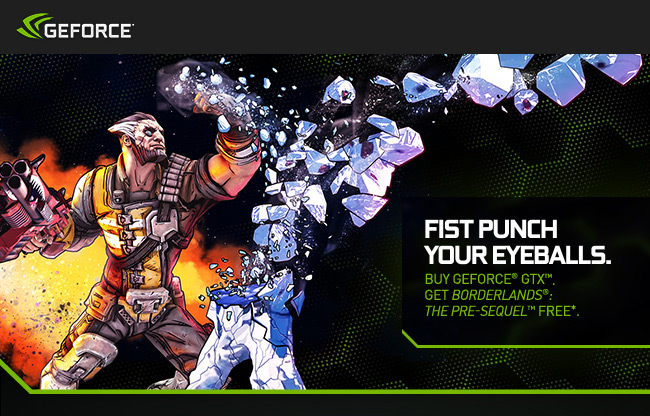 Of course this will mean a sizeable investment on your behalf, as even the cheapest of the bunch, the 770, will set you back at least £230 and you can go all the way up to £1000 if you want the fanciest, most customised Titan Black. But you will get a free game out of it at least.
[yframe url='http://www.youtube.com/watch?v=77IR2fjgMBU']
"If you have a high-end Nvidia GPU, Borderlands: The Pre-Sequel will offer higher-fidelity and higher-performance hardware-driven special effects, including awesome weapon impacts, moon-shatteringly cool cryo explosions and ice particles, and cloth and fluid simulation that blows me away every time I see it," said Randy Pitchford, president of Gearbox.
For more information on the promotion and links to the cards in question, head here.
KitGuru Says: So regardless of whether you buy an Nvidia GPU to add more particles and physics to your gaming experience, who's excited about the next Borderlands?